Mark VIIII electric fan in a 79 460 Bronco
09-08-2013, 06:57 PM
Mark VIIII electric fan in a 79 460 Bronco
---
I got a Mark VIIII 2 speed electric fan because it is supposedly the best CFM fan out there. My 466 was reaching 230 degrees when I was in the mud giving it hell.
So I ordered this relay kit that has a 185 and 200 degree switch (turns on lo when at 185 and turns on high when it reaches 200 degrees) and it also has a A/C hook up to where your fan turns on HIGH speed when you have the A/C on
Got the kit in 2 days. Quick shipping!
Here it is: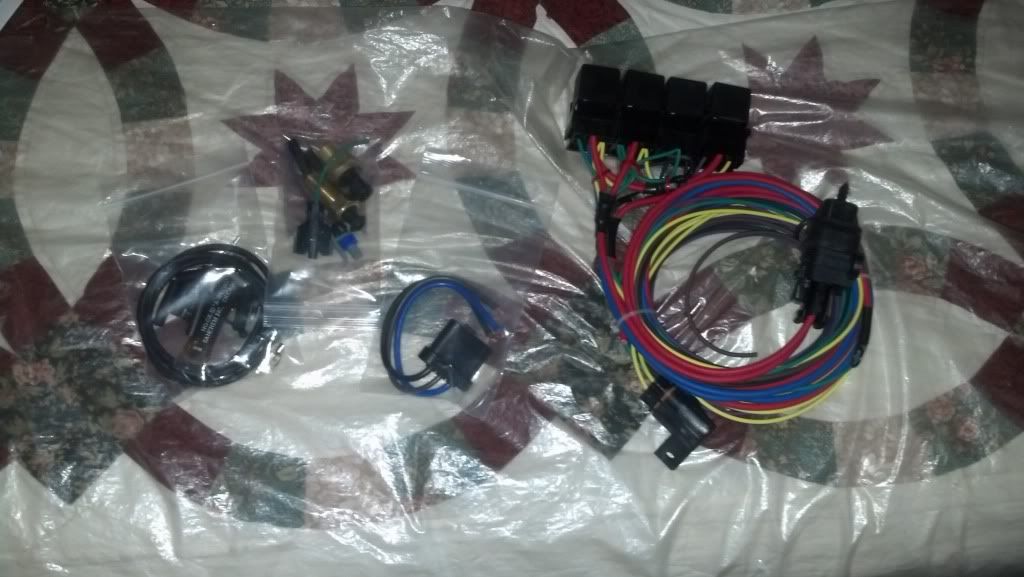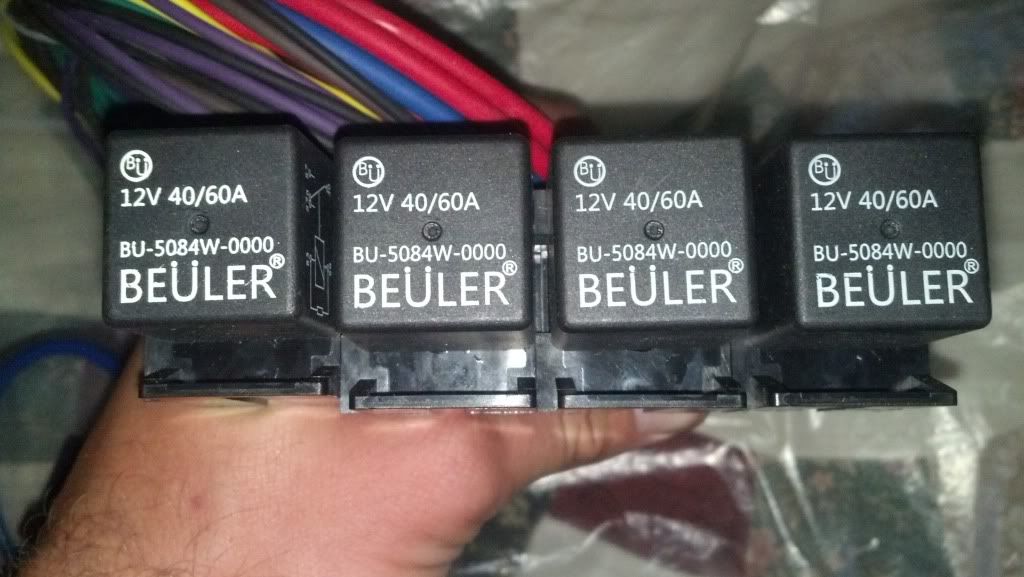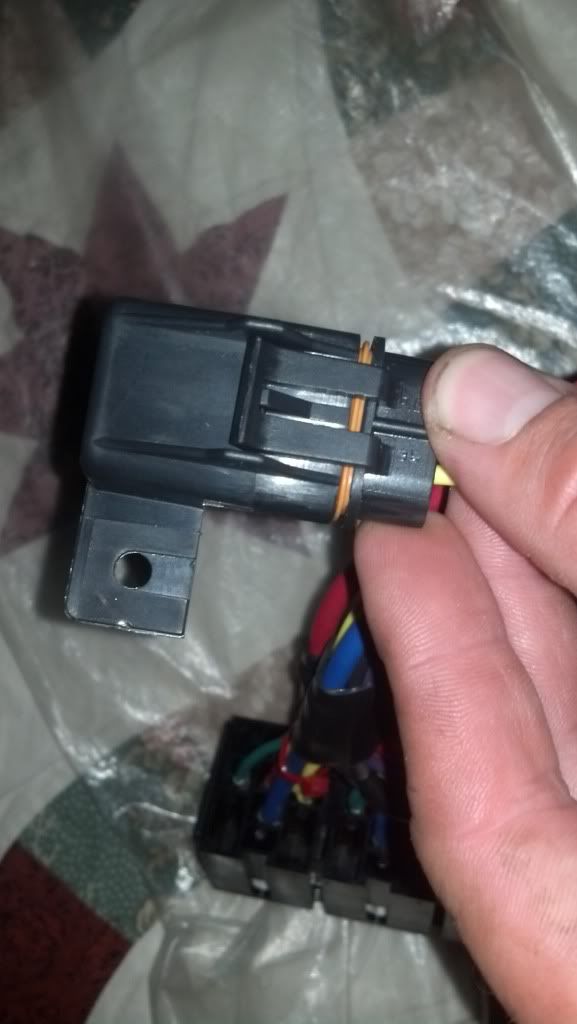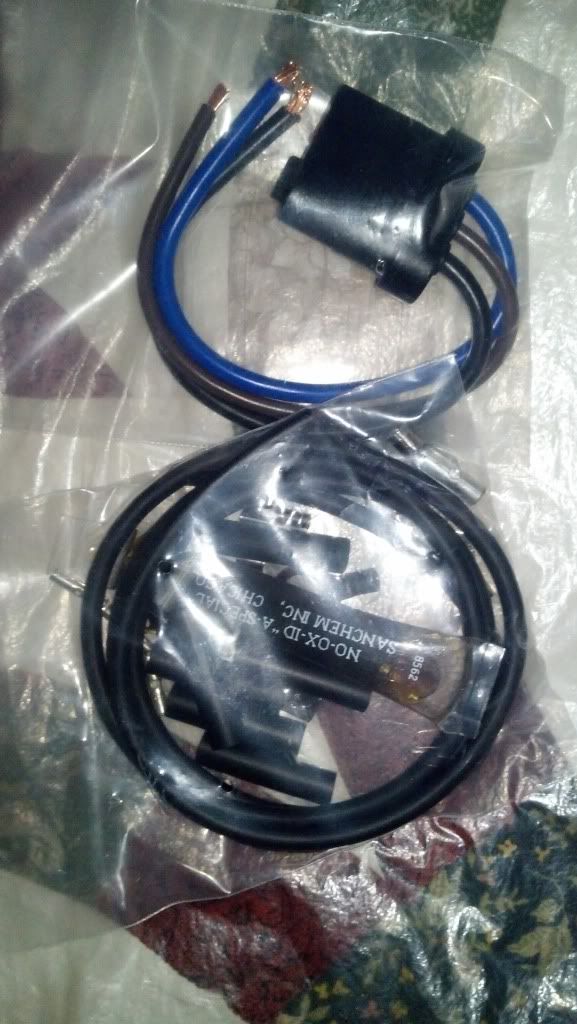 Now I have ran into a problem before I have even started.
Looks like my Mark VIIII fan won't fit due to the water pump!!!
WTF!!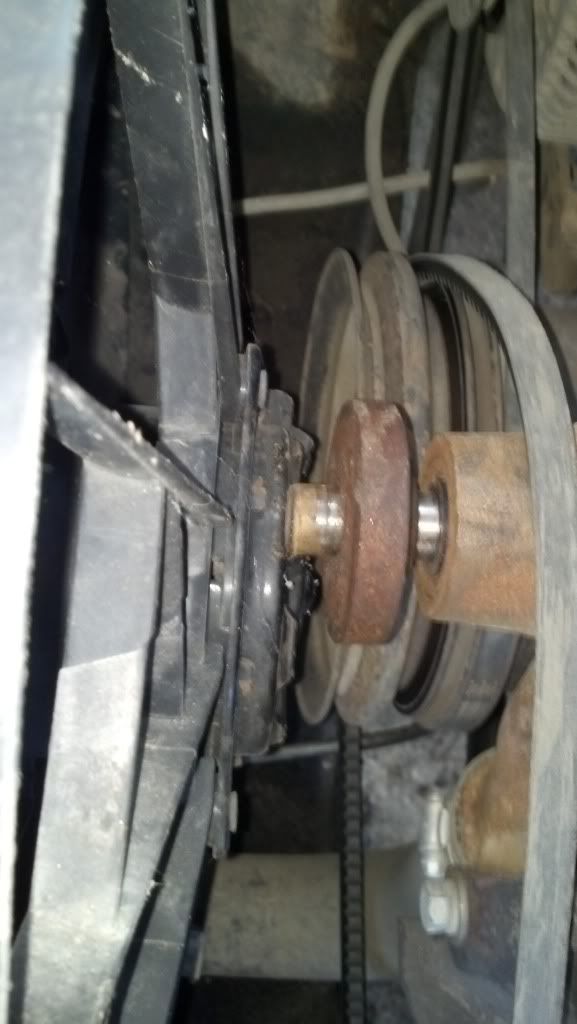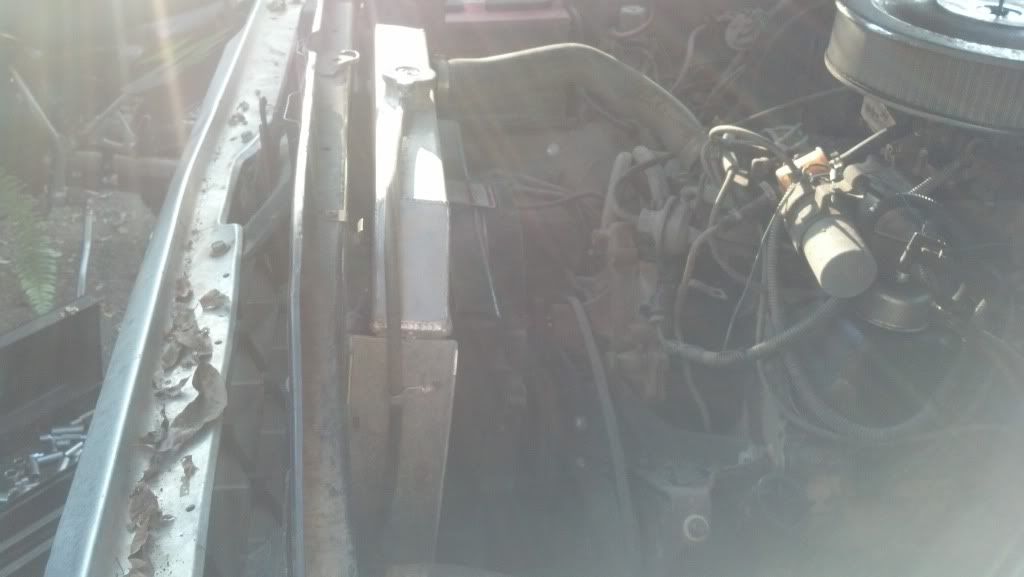 I think the radiator mount is one problem. Sticking out too far BUT that's how it is made.
09-08-2013, 08:05 PM
You can trim a little bit off the shroud of the fan and see if you can get the space you need. I'm not sure how much, because I either had WAY more room than I needed, when I had a 400 or WAY less when I swapped to something a little more economical.

I have seen posts on other forums about trimming it, though.

If that doesnt work, there are thinner OEM options. There's always after market. I was able to get an after market fan that fit inside 2". Doesnt pull near the air that the Lincoln fan did...but I dont need the cooling any more.

That 2 speed fan was awesome...
09-08-2013, 08:20 PM
Well I can use this one..just went back out and checked it. I can use this fan only if I have it all the way to the driverside.
09-10-2013, 10:35 PM
GOT IT IN! DONE! Just got to fire it up tomorrow and see if it turns on!
I got a new 180 degree thermostat...the sensor is a 185 so knowing me the LOW setting will be on.
Anyways, I trimmed the fan shroud up
Installed the temperature sensors
Mounted the relays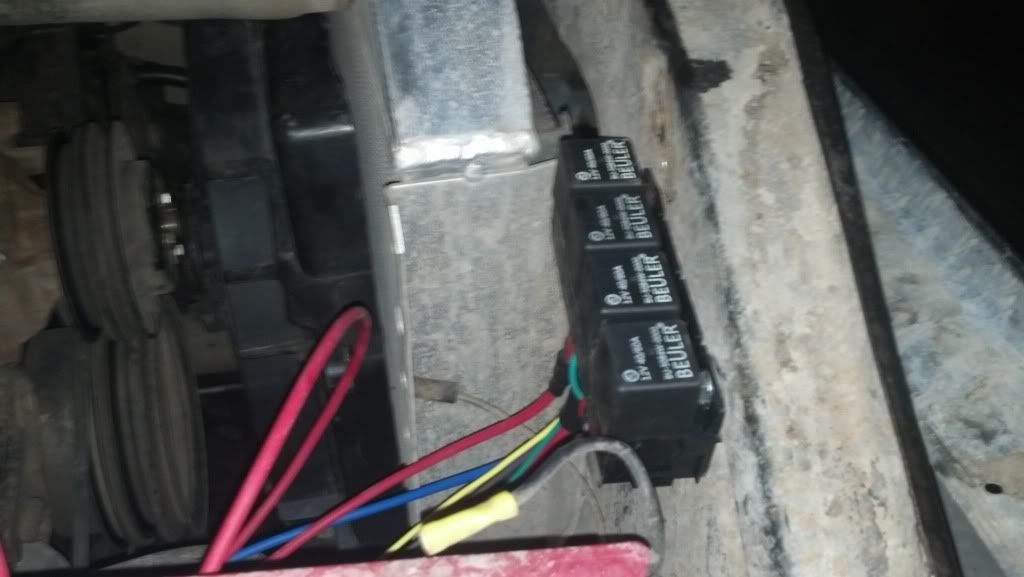 Connected all the wires together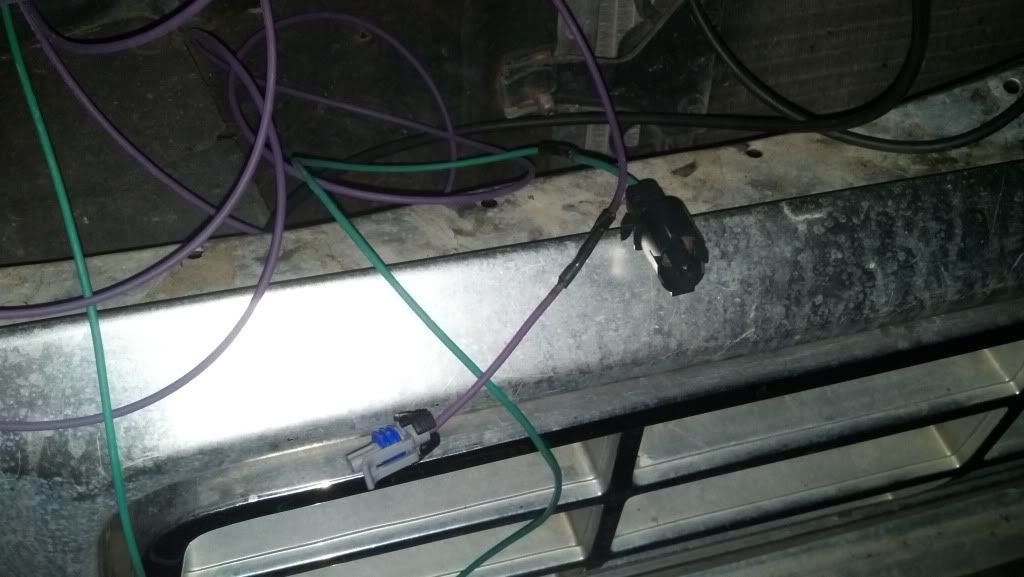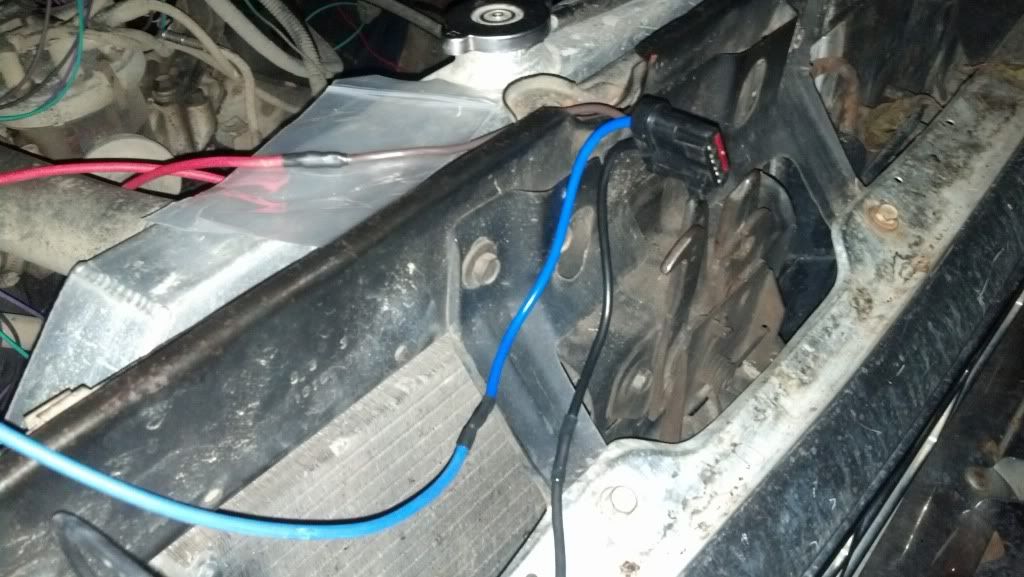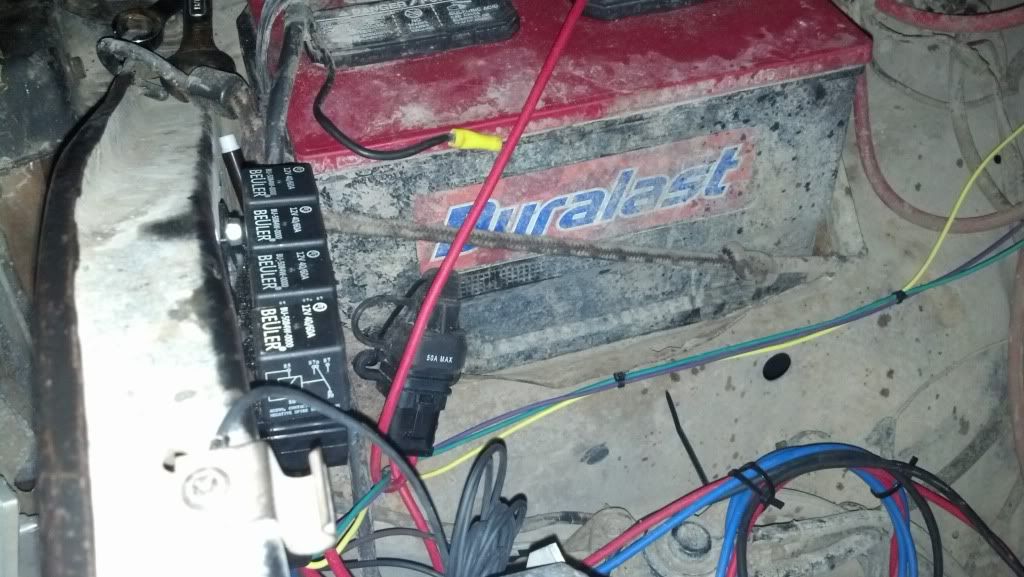 Connected the temperature sensor wires.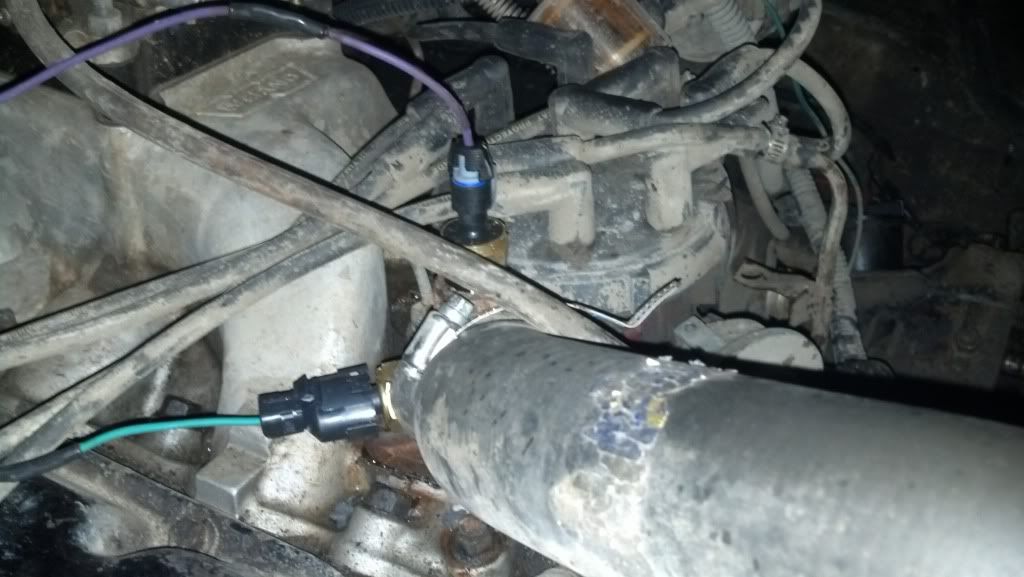 09-11-2013, 07:18 AM
That looks like a pretty trick setup. I used a temp switch from a VW or something or other that switched on both speeds at some particular temperature that seemed appropriate and had a machine shop tap my water neck for it to thread right into.

I just used generic 70 amp relays for the first while, then found some that I pulled outta a junk yard that were cheap, weather proof and had snubbers in them; Plus, they had a nifty factory looking mounting bracket.

I'm sure you'll be happy with it.

There are plenty of detractors from going to an electric fan, citing that it wont improve mileage or anything else...but I did the swap because I was bored. So it fit my needs.
09-11-2013, 09:09 AM
Yeah it is a great thing to do I've heard but will find out. I got the fan held up by zip ties for now haha until I can get a mount made.


Going to air up the flat tire on the bronco today and carry it for a spin. Maybe I will get 1-2 mpg improvement since I took the 160 degree thermostat out.
Thread
Thread Starter
Forum
Replies
Last Post
1999 - 2003 7.3L Power Stroke Diesel
Brakes, Steering, Suspension, Tires, & Wheels
1980 - 1986 Bullnose F100, F150 & Larger F-Series Trucks
1999 - 2003 7.3L Power Stroke Diesel