evap/ A.I.R hard lines
07-30-2013, 08:40 PM
evap/ A.I.R hard lines
---
OK, trying to search on mobile sux.
Had a small motor fire on 89 302. Trying to route new lines from DPFE solenoid etc around back of the upper to the right side. Comparing to my 88. Connected red manifold vacuum to the charcoal can, but the 89 has an extra red , didn't trace to source, sorry. Anybody have any ideas what
its purpose was? Tan, yellow and blacks are done. Under Hood decals are different, new part# for 89. They didn't tell much anyway
*edit not charcoal, to the vacuum "coffee" can
07-31-2013, 08:53 AM
There is a split(Y) in the red line, it should go to the vacuum can and then feed the TAB, TAD, and EVR solenoids located nest to the coil, and then different colored lines come from each of those devices and go to respective control valves.
07-31-2013, 03:13 PM
The y musta burned up then, I will see if it is routed to source the controls when I get back.

On the evap line from the TB, there must be some sort of check valve between the ported and manifold taps on the TB. Am I correct, only makes sense that way.
07-31-2013, 04:20 PM
I know it ain't an F150, but it should be close.
The EGR gets unchecked vacuum, while the TAB and TAD have a check valve in their supply line.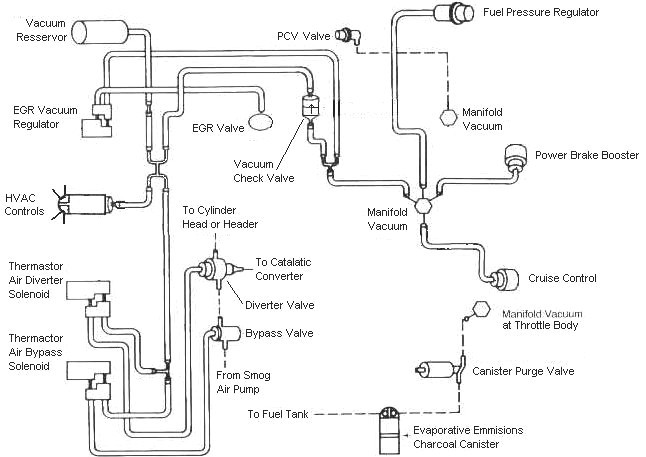 07-31-2013, 10:15 PM
I have two taps on the TB, one ported one full. Looks as if they were hooked together (?????) with a T and ran to the charcoal. It is melted so I can't tell if it was some sort of check. Poor mans IAC I guess, this makes no sense. Did somebody Jack a purge valve and start hooking hoses together? ? They list one for an 89 but never seen one installed . BTW 89 150 302 T18 4X w ac
07-31-2013, 11:48 PM
hope this helps
and heres a Guide.....
http://www.fordtruckclub.net/forum/s...ead.php?t=6050
The Power of The Internet.
08-11-2013, 02:39 PM
Ok, yes the other red is the source vacuum for the TAB and TAD. The tee melted in the "situation" Now I think I got this back together, I'm actually proud if myself for hooking it back up, not like me.
Thread
Thread Starter
Forum
Replies
Last Post
1973 - 1979 F-100 & Larger F-Series Trucks
1987 - 1996 F150 & Larger F-Series Trucks