Click the link to watch the Truck U StableLoad feature
:
StableLoad - Lowest Cost, Most Effective Suspension Upgrade Available
Torklift is offering StableLoads to FTE members only as a group buy for a limited time.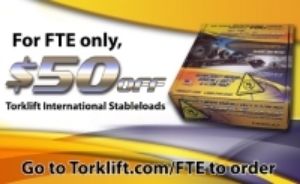 Exclusive StableLoad offer for Ford Truck Enthusiasts
As a special thank you to FTE members for allowing Torklift International to join your online community, we would like to extend an exclusive offer not found anywhere else to purchase one of our hottest products: The StableLoads. They are $50.00 off and include free freight in North America. (Contact us for shipping into Canada, Alaska or outside North America)
The Torklift StableLoad product is the lowest cost, most effective suspension upgrade available---and we want to make a special offer just for FTE members!
FTE Exclusive Member Special
· $50 Discount on any set of StableLoads
· Free shipping to lower 48 states (contact us for shipping into AK, HI, Canada or outside North America)
· Free Torklift International collectors edition hat with every order.
How to order
· FTE members must use the link included on the FTE forum to access this special.
http;//www.torklift.com/fte
· Once the FTE members are on the special StableLoad web page, they must click on the "Buy it Now" button, then complete the order form including physical shipping address (We do not ship to P.O. Boxes)
· FTE members must enter their FTE Username (forum handle) as the Promo Code for this special
· Submit to place your order and we will process within 1 business day
· Orders can also be placed via our toll free number 1-800-246-8132 from 7:30 AM-5:00 PM Monday- Friday, Pacific Standard Time.
Program Guidelines
· Program starts 6/29/13 and runs through 8/5/13.