2 new trucks and questions.
06-13-2013, 12:44 PM
2 new trucks and questions.
---
The past few weeks have been really busy for me. Got married on May 30th wich also happened to be my 30th birthday. Then bought 2 trucks from a member here on 6-9-13. Been looking them over and trying to figure out what to do. I currently have 6 vehicles. I know I'm selling my 80 F100, but not sure about one of my f250s. The wife said I can keep all 3 as she knows I will not sell either of my 2 cars.
Well enough jabbering, now to the good stuff.
1992 F250 146K miles, 7.5L was an auto but it's getting a 5spd swap. It's 4x4 with auto hubs (but those will be replaced) and has a CLEAN frame!! It still has paint on it!!!! It has what I would call very light surface rust on the frame and a couple small spots on the floor boards. But it is solid. So aside from needing the 5spd swap finished and a few small things what else should I do to it? I know a tune up and fresh fluids are coming. I haven't been able to find much problems with the 7.5L other than it loves gas. Were any 7.5L roller engines like the small blocks? Any upgrades that are recommended? Also I did search and it seems it's easy to replace the auto hubs but I haven't found what parts I need. Sound like a locking nut and a keeper along with the locking hub kit. Is this correct? they have 5 screws that hold the locking hubs on and it's a D50.
My plan with this truck is to "restore" it (replace rusty panels) and use it as a tow rig and drive it every now and then. I want this truck to last as I don't plan on finding one nicer for the price I paid for it.
1989 F250 200K miles, 7.3L IDI 5spd 4x4 manual hub. This truck is a whole new thing to me. It's my first diesel and I want to check it over well. It also has a clean frame and floor boards. I need to replace the front fenders and doors. I'm going to get those parts on Friday 2 fenders 2 doors tailgate and rear bumper all rust free for $150!!!!!
My question on this is what do I look for on these 7.3L? I have read up on cavitation and not to use Autolite glow plugs. It doesn't appear to have any cavitation with close to 200k miles and is kinda hard to start so I think plugs are original. How hard are the plugs to change? Also is there anything to do to extend their life?
My plan for this truck is to get it road ready and drive it while I fix up my 88 F250 that I use as a plow truck. If I like the Diesel I'll keep it if not I'll sell it. My 88 has a 351W with a 5spd 4x4. Runs great but leaks oil and needs a good freshen up. The frame and cab are much worse on it vs the other trucks.
PICTURE time!!!!!
Bringing home the 92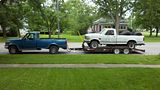 http://i210.photobucket.com/albums/b...pse4f19527.jpg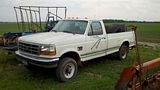 http://i210.photobucket.com/albums/b...psedab9f16.jpg
Door sticker on 92. Anyone able to decode it?
http://i210.photobucket.com/albums/b...psf46a2176.jpg
The 89 in the shed due to wanting her to stay dry.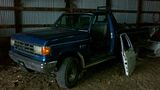 http://i210.photobucket.com/albums/b...ps915aca5a.jpg
Door sticker for 89, anyone want to decode this one as well?
http://i210.photobucket.com/albums/b...psac57100b.jpg
Is this a D44HD or D50? It's on the 89.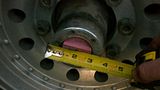 http://i210.photobucket.com/albums/b...ps5da70e3c.jpg
I take it this one would be the same. It's a spare axle that came with the trucks.
http://i210.photobucket.com/albums/b...ps06968a52.jpg
I posted the direct-link to pics also so you can view better pics.
I will post more pics latter. This is all I could take at the time, was in a rush to beat storm. The trucks are at a friends house so I gotta go there to work on them. Thanks for any help guys. I'll keep you all updated.
06-17-2013, 10:45 AM
Anyone able to help with the questions?
06-17-2013, 01:26 PM
Check the link for the Front End Rebuild in my signature, mine is a Dana 44 TTB, but it's pretty much the same deal regarding the locking hubs. In this case you just need the Manual Hubs to replace that Autos. Do a search for 460 performance, you'll find plenty of info, it isn't usually a topic here, but there are some good threads on performance mods for these, I would advice going for exhaust mods first.
06-17-2013, 03:25 PM
Changing glow plugs on an IDI is easy as long as the tips of the glow plugs aren't swollen, and it is hinted at that the most reliable glow plugs to use are motorcraft and some use bosch, most people stay away from autolites, but I have not had a single issue with them. It should be a 10mm deep socket for the plugs, just unhook the wire, and use a test light to check for continuity, that touching the tip will ground the tester and the bulb will illuminate. you can find a lot more info in the Prepowerstroke 6.9/7.3 IDI section on this stuff.
06-18-2013, 11:03 AM
Encho: Thank you for the great write up you did. I will for sure be following it when I rebuild the front.

FordTruckfan89: Thank you for the tips. I have been looking thro that section. I need to sharpen up my searching skills. I plan on having this truck on the road soon.
Thread
Thread Starter
Forum
Replies
Last Post
1967 - 1972 F-100 & Larger F-Series Trucks
1967 - 1972 F-100 & Larger F-Series Trucks
1967 - 1972 F-100 & Larger F-Series Trucks
1980 - 1986 Bullnose F100, F150 & Larger F-Series Trucks