1989 F-250 IDI Diesel & 1992 F-250 460
05-14-2013, 05:25 PM
Join Date: Jun 2012
Location: Olney, IL
Posts: 4,044
1989 F-250 IDI Diesel & 1992 F-250 460
---
Year: 1989
Make: Ford
Model: F-250
Price: $1
Mileage: 1
Color: Blue
Private or Dealer Listing: Private Listing
Location (State): IL
Transmission: Manual
Drivetrain: 4WD & AWD
Color: Blue
Engine: 7.3L IDI, 7.5L

Hey guys. Iv got two trucks up for sale. Both are open for offers. Depending on my current mood with the trucks, they'll sell to the highest bidder or Ill keep them.
Up first is what USED to be called Ol Reliable. 1989 Ford F-250, RC LB, 7.3L N/A IDI Diesel, 4x4, 4.10, ZF5, 197,000
One heck of a truck. Will pull a trailer anywhere and get 14-16 mpg doin it. Might not be the fastest though. Recently, the "stick" broke off from the transmission. Easy fix with a piece of pipe. This happened as I was pulling out of my drive to go camping and in a huge rage, I kicked the holy crap out of the drivers door. To get the door open, I had to pry on it which in turn ruined the front fender, which wasn't in good shape anyhow. It now has a decent door on it (not aligned. Just hangin there) of the wrong color and the same wrinkled fender. It has bad rust on every corner. The rear tank also developed a leak so I removed it. I had planned on installing a Bronco tank but never got around to it. The old tank is included. Has brand spankin new brakes all the way around including a new caliper on the drivers side. Its not a show truck. Its a work truck. Fix the shifter and the door and itll give ya many thousands of miles of service.
The other truck is a 1992 F-250. Its the project truck. 460, ZF5, 4x4, RC LB, 146,000, 3.55s
This one was also a good truck... til the tranny went out. Swapped the old junker of a E4OD for a ZF5. Its mostly complete minus the pedal assembly and the front driveshaft needs installed. I would suggest the buyer go over the truck once more to make sure I didn't miss anything when installing the tranny. This will be one FUN truck when done! Interior is the best part. It is RED! And in good shape. Only problem I can think of is the lense that goes on the gauge cluster is gone and the drivers door interior piece is cracked from slamming the door too hard. Seat is worn but no rips. Exterior is white, has a rust hole that just recently poked thorugh on the drivers side bed. Some rust bubbles everywhere else. Finish the swap, drive it everywhere.
If a good price is met, Ill include the old burned up E4OD with t-case attached and all automatic stuff. I owe money on this truck, so Ill be a little slow getting the title.
If someone wants both trucks, Ill give ya a hell of a deal. If someone is a Ford fanatic, I have several Ford parts laying around that I will include if the price is right. Im getting clean out of the old Ford scene altogether.
05-15-2013, 05:16 PM
Join Date: Jun 2012
Location: Olney, IL
Posts: 4,044
Some pics. Obviously the campers not included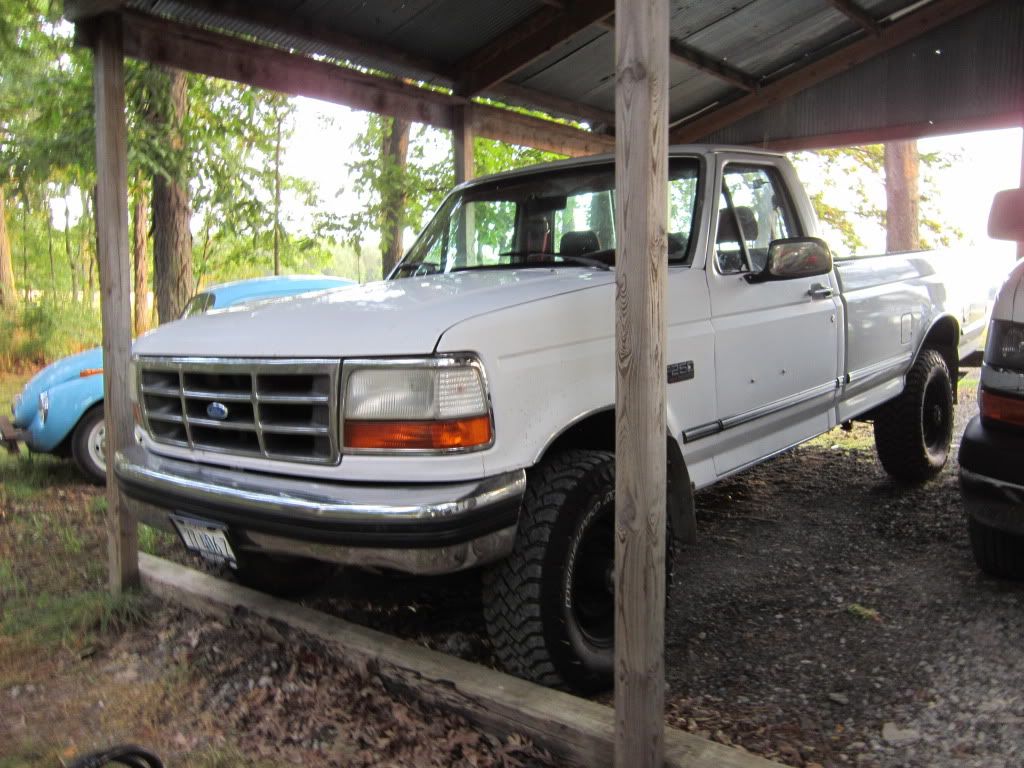 Forgot to mention: The white truck has a trashed passenger door. I didn't quite make it out of my lean-to last winter and caught the mirror on the pole. Also, youll notice both trucks have the exact same tires. They come with the blue diesel only. The white truck will come with some white rims and street tires. I will include the black steel rims in the photo if the buyer desires
05-16-2013, 05:32 PM
Join Date: Jun 2012
Location: Olney, IL
Posts: 4,044
Ill make someone a heck of a deal if they want em both
05-17-2013, 01:16 PM
How are the frames on both trucks? Typical rust ares, like the leaf spring hangers ect. How are the floors of both truck cabs? Does the 89floors have a D44HD or a D50? Any more pics of the frame and floors would be great.
05-17-2013, 05:49 PM
Join Date: Jun 2012
Location: Olney, IL
Posts: 4,044
Thanks for the interest! I am about to leave for work so Ill check the floor pans when I get home tonight and reply if I remember lol.

As for diffs, they both have D50s
05-18-2013, 09:07 AM
Join Date: Jun 2012
Location: Olney, IL
Posts: 4,044
I checked it out. Both floor boards are unbelievably solid! Both trucks have a small amount of surface rust on the passenger sides and possibly pin holes but I didn't see any.
05-18-2013, 10:04 PM
Sounds good, let me do some checking on funds and I'll get back with you next week.
05-21-2013, 05:33 PM
Join Date: Jun 2012
Location: Olney, IL
Posts: 4,044
Both trucks still up for grabs. Someone shoot me an offer on these trucks, I don't care the price. Worst I can say is no. As mentioned earlier, make me a decent offer on both trucks and their GONE! If the price is right, Ill give ya EVERYTHING I have acquired with these trucks including a spare 460, the old burned up E4OD with t-case attached, everything that goes with the auto tranny, spare D50 front and posi rear axle w/ 4.10 gears, 36/12.50R16.5 Military rims and tires, and possibly other odds and ends. Please shoot me an offer! This stuff needs gone!
05-24-2013, 09:20 PM
I have some interest in the diesel. I am curious if you would be confident in it making a cross country trip as the truck is currently?

Thanks,
Boomer
05-24-2013, 10:39 PM
Join Date: Jun 2012
Location: Olney, IL
Posts: 4,044
Itd be aweful windy lol. The drivers door isn't adjusted right whatsoever, itll still need something done about the shifter, and it is missing all the brake components on the drivers side rear.
05-27-2013, 06:39 PM
Join Date: Jun 2012
Location: Olney, IL
Posts: 4,044
Thread
Thread Starter
Forum
Replies
Last Post
1994.5 - 1997 7.3L Power Stroke Diesel
Clutch, Transmission, Differential, Axle & Transfer Case
Pre-Power Stroke Diesel (7.3L IDI & 6.9L)