FS 1978 F100 Custom - Alabama
03-14-2013, 04:46 PM
FS 1978 F100 Custom - Alabama
---
Year: 1978
Make: Ford
Model: F-100
Price: $4000
Mileage: 85000
Color: Primer
Private or Dealer Listing: Private Listing
Location (State): AL
Transmission: Automatic
Drivetrain: Rear Wheel Drive
Color: Blue
Engine: 351 Windsor

Hey guys, wanted to throw this out to you guys first...we have just recently adopted a new born, (long story short, found out in late December, baby was born Jan 1, 2013; all court hearings are complete and finalized as of March 4th)...now the bills come rolling in...so I need to sell my '78 as quickly as possible
... I really don't want to, but I've got bills I need to get paid this weekend...
1978 F100 SWB, 2WD, 351w, C6 transmission...from front to back...
Engine
Edelbrock Intake, Valve Covers, and 1406 4bbl Carb, Edelbrock performance cam. New Plugs and wires, new fuel pump, new battery. No leaks, or fluid loss. Oil has been changed every 3,000 miles, and new oil filters with ever change. Castrol GTX oil, no issues...
C6 Transmission
Rebuilt less than 1,000 miles ago, super strong, still have the receipt to show...rebuilt by Built Right Transmissions, shifter is in the floor (previous owners had converted it from manual to auto, never relocated shifter or removed clutch pedal). Drive Shaft is brand new as well, had it built when replaced engine.
Exhaust
Stock Manifold that run into straight pipes that have Flowmaster 40 series mufflers, dual pipes all the way out the rear.
Fuel
As stated earlier, new fuel pump, with new lines from front to rear. New fuel tank (19 gal), new sending unit, and an electric fuel pump mounted under the truck as a back up (capped off to keep junk out of it)...if mechanical were to ever go out, electric could be hooked up in about 5 minutes.

Towing
Has a custom tow hitch installed (reason I have it listed as Custom, I've searched high and low and haven't seen another one like it...it is mounted to the rails and drops under the bumper. Also has the correct pigtail adapter hooked to the wiring harness, so no wires were harmed in the towing make up...
Exterior
Previous owners had "primered" the truck...still has the original pin stripping under the primer. It will need to be sanded and re primed before paint...overall it's in decent shape, there is a dent in the driver door and it looks like something has ran into the back passenger corner under the tail light...it has surface rust on top of the cab, but no where else. The bed floor has deep rust, but is fairly solid...the edge in the front of the bed has some rust holes, but it is still solid. The FORD letters have been removed from the hood, but I have new ones to go back on it. Tires are like new...Douglas Performance wrapped around chrome bullet hole rims (15").

Interior
Carpet is Black and the interior had been sanded down and painted a dark grey. It has an aftermarket radio, and factory heat (you'll sweat in the winter). Will need a new windshield (was planning to do that when it got painted). I have newer vent windows to go with it as well (old ones are ok, the latch on the driver side is just bent, requiring something to be stuck between the latch for a tight seal). Back glass is solid and great, I do have a new rear sliding glass to go in for extra air flow during summer...the rear sliding is tented. It has the original bench seat, which has the normal split in the front driver seat on the vinyl. It has been covered with a seat cover for 4+ years. Steering wheel has been replaced with a smaller "race style" chrome with black wrap (original wheel is still in my possession). The doors are solid, both have new window manual controls, and new black door covers (also have 3 additional sets of door covers I can throw in). As stated earlier, the shifter is in the floor, works well, looks good. A cheap set of speakers are behind the seat, but produce good sound. When carpet was replaced, floor was spayed with bed liner, dampening material applied, and juit (sp?) applied with carpet. The original headliner is there as well, has been covered in black carpet to help with noise reduction. There is a "rifle rack" mounted above the dash where the visors would be (still have visors as well), and it adds extra storage space. Spedo cluster was swapped out to the 100mph cluster (still have the original as well) .
Overall
This was my daily driver for the longest time! It is reliable, and starts up every time! Gas mileage isn't horrible if driven properly, but has enough power to make you stop and think...I know for sure it will do 100+mph...after that it gets a little nerve racking especially with a 1/4 pedal left...I've driven this truck from one end of AL to the other, with no worries...would do it again.
It's very short notice, if I can sell it by this weekend (15-16) it would be awesome...would like to get at least $4,000 for it...I know you don't ever get back all you've put into it, but the money will cover my expenses...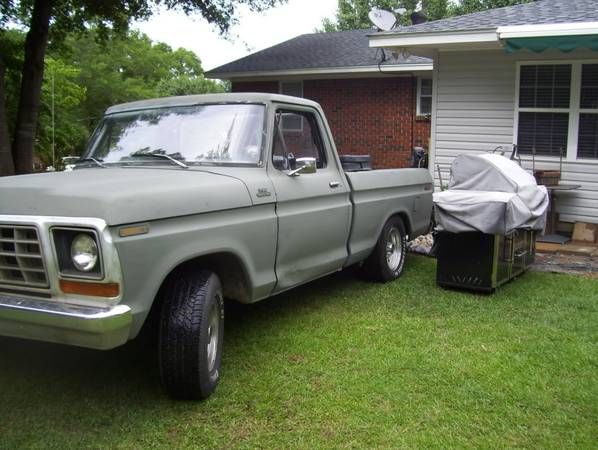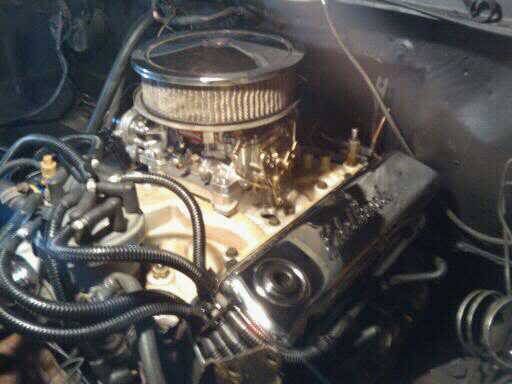 Thread
Thread Starter
Forum
Replies
Last Post
1973 - 1979 F-100 & Larger F-Series Trucks
1980 - 1986 Bullnose F100, F150 & Larger F-Series Trucks
1973 - 1979 F-100 & Larger F-Series Trucks