51 F1 on a 77 F350 drw frame
01-22-2013, 10:38 AM
Join Date: Jan 2013
Posts: 10
51 F1 on a 77 F350 drw frame
---
Just wondering if anybody out there has tried putting an F1 on a 77 F350 drw 2wheel drive frame. frame rails are same with and it sits on it pretty good but the steering geer on the 77 is offset about 5-6 inches of the F1 column, looks like its going to be a pain, any suggestions would be great.
01-22-2013, 06:43 PM
As you noticed the steering doesn't quite work:
And the tires stick out:
There are ways around it but none are a direct fit. I'm adapting 1985 spindles and steering assembly to make it front steer. I also have wider fenders from a F-6 with dump axle and going to be making the frame from scratch as I want a better fit.
Honestly there are better ways to update the suspension like AX said. I'm just stubborn.
01-22-2013, 09:48 PM
Frame swaps are probably the #1 most frequently asked questions on here. The large majority of the ones attempted never see a highway again. They either end up in the crusher or passed on to become someone else's nightmare. They look easy at first, but the death is in the details.
01-23-2013, 06:47 AM
Join Date: Jan 2013
Posts: 10
Axracer, the problem with the F1 frame is that it is very thin and questionable in several spots.I already owned the 77 F350, it was my wood hauler and mechanically in great shape with a 460/c6 with low miles but the cab rotted off.I have had the F1 sitting in my dads barn for over 25 years. Cab and doghouse in great shape but no bed.I would like to build a cool looking wood hauler. My brother keeps telling me its nothing money won't fix,maybe he's got some he will give me,lol.
01-23-2013, 07:01 AM
Join Date: Jan 2013
Posts: 10
51 dueller, I know all about the stubborn thing.That first pic is exactly what I got. I got a buddy who used to build drag racers doesnt think its thats big of a deal with a shorty column and a few u-joints,we'll see I guess.I would post pics if you could explain it to me crayons, I'm not that good with computers.
01-23-2013, 08:02 AM
I thought about a shorter column but it would have ended being only like a foot long and I didn't want that look. This is why I'm converting to front steer as the steering box is ahead of the axle allowing the use of a full length column in the right location.
01-23-2013, 09:31 AM
Join Date: Jan 2013
Posts: 10
Its not that looks don't matter, I want it to be cool looking and I really like the heavy duty 77 frame it can haul alot of wood.I have been building and fabricating things all my life and like a good challenge.
I am thinking the shorty column might free up some leg room. I'm 6'2" and 250ish the extra space might be good.The front steer option is something to keep in mind,thanks.
01-23-2013, 09:50 AM
1978: Tilt wheel introduced in F100/350's, Bronco's and Econolines. Was not available with 3 M/T. Tilt wheel operated by pressing the T/S handle forward.

I've never owned a 1948/52 nor have I ever sat in one. There is no way, none that at 6-5, 325, I can fit behind the steering wheel in these tight cabs.

33 1/2" between the inner frame rails behind the cab: 1973/77 F250 4WD (High Boys) / 1973/79 F350 Cab & Chassis / 1973/79 F350's on the 140" wheelbase.

All other 1973/79 F100/350's have 37 1/2" rear frame rails.

Take into consideration that the wheelbase will be longer on 1957 and later F100/350's than it is for 1948/52 F1's, 1953/56 100/350's.
01-23-2013, 10:18 AM
Join Date: Jun 2003
Location: Black Hills of SD
Posts: 8,213
I'm in Axracer's camp on this. Frame swaps are oft attempted and seldom finished or look like crap if they do get on the road. Older cab on a newer chassis almost always ends up with a front track width that is too wide for the body.
Here's a really nice F3 that some honyocker tried to mate to a 70s Chevy pickup frame and this is as far as it got. I've been trying to buy it for a couple years but it doesn't belong to the land owner but some dorky nephew or something.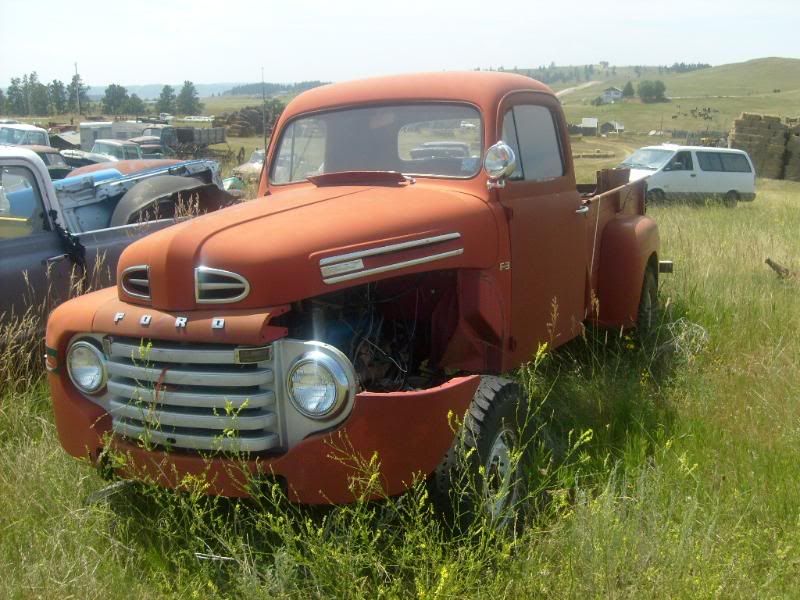 Thread
Thread Starter
Forum
Replies
Last Post
1973 - 1979 F-100 & Larger F-Series Trucks
1987 - 1996 F150 & Larger F-Series Trucks
Brakes, Steering, Suspension, Tires, & Wheels