Year: 1996
Make: Ford
Model: F-350
Price: $12000
Mileage: 220000
Color: red
Private or Dealer Listing: Private Listing
Location (State): MO
Transmission: Manual
Drivetrain: 4WD & AWD
Color: Red
Engine: 7.3 powerstroke

well I am thinking about sellling my pulling truck. I would like to go to an open driveline, mechanical 7.3, 3.0 pulling truck and it just seems to make more sense to sell this one and start off with a different truck. it currently has a blown head gasket but you can hear it run.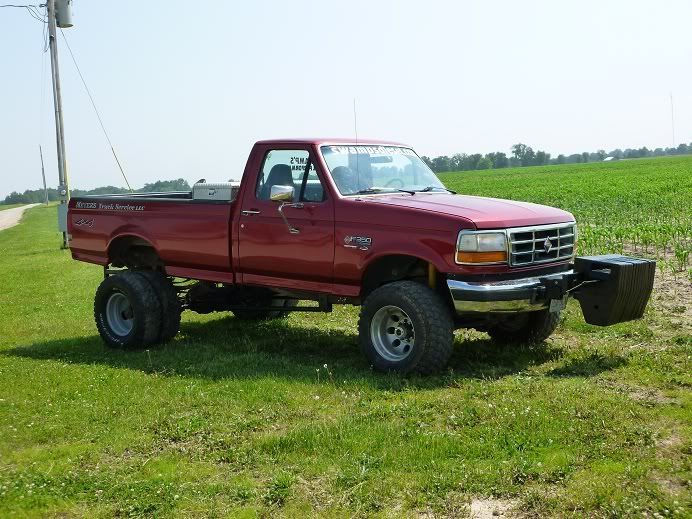 specs:
truck
-96 f350, regular cab
-5-speed with SBC 3600 double disk clutch, with iron disks (clutch only has about 6 hooks)
-dana 80 dually rear. dana 60 front 5.13 gears with both diffs welded
-33/12.50 pitbull growlers on 12in wide rims up front and 285/75/16 bfg at's on the rear
-custom drive shaft loops, traction bars, hitch, weight rack, and all that other pulling stuff LOL
-truck was repainted about 6 years ago has one small rust spot on a front fender and the left bed side is a little rough were something under the paint caused it to wrinkle up. other than that it is in pretty decent shape, so it looks good on the track
engine
-7.3 powerstroke
-swamps 450cc 400% injectors (gone through last spring only have about 6 hooks on them)
-swamps BFH turbo 80/88 (I have a 80mm and 66mm cover for it and a 74mm clipped wheel and a 66 and 74mm cover that go with that wheel)
-BTS dual HPOP setup
- a-1000 fuel pump with 5/8 sump in the tank and custom fuel system feeding the banjo bolts in the back of the heads
-upgraded valve springs and push tubes
-h-11 studs
-electric fan
-custom air to water setup, and will throw in piping to run a regular air to air if air to water is not legal in your area
-engine has been live dyno tuned by swamps diesel performance
like I mentioned above it dose have a blown head gasket right now but it will run, it is just missing and putting a lot of pressure in the radiator. i have a spare running engine I will throw in if you just want to swap all the parts over or the heads can be pulled on this one and have them fire ringed.
$12,000 as is
I would be willing to do the repair work for a little more money but thought I would price it as is first incase the new owned wanted to make any changes while it is apart. and I also know where there is a billit rod shot block sitting that could be bought pretty cheep if you are interested in that.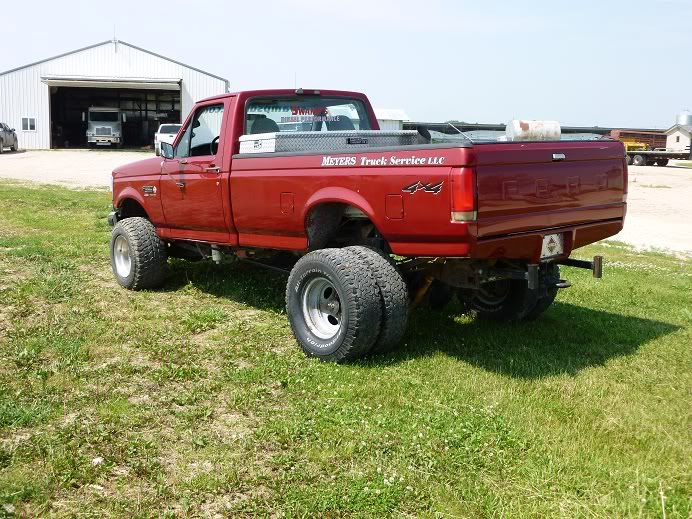 dynoed just under 800 with the 80mm housing on, a stock fan, no air to water, and about the 20th run of the day. we did some changing around with the turbo there and weren't able to get any numbers with the 2.6 housing on.
this isn't the highest hp pull we made but it is my favorite because of the peak hp rpm and the fact that it was over 700 from 3200-4400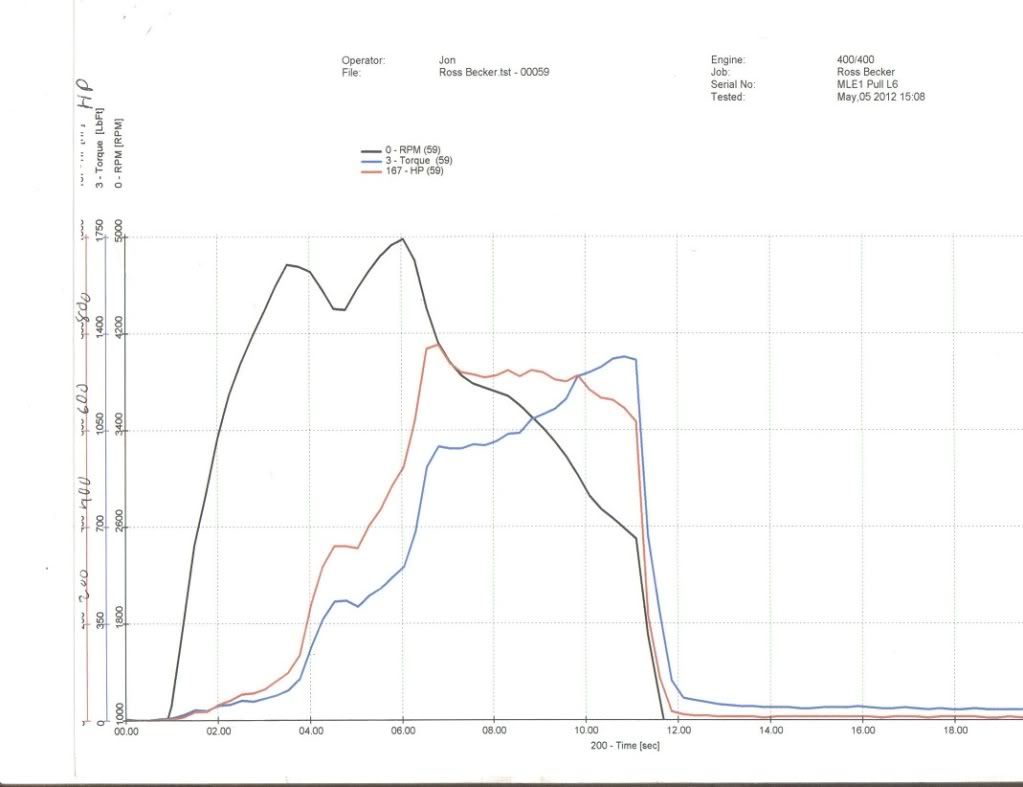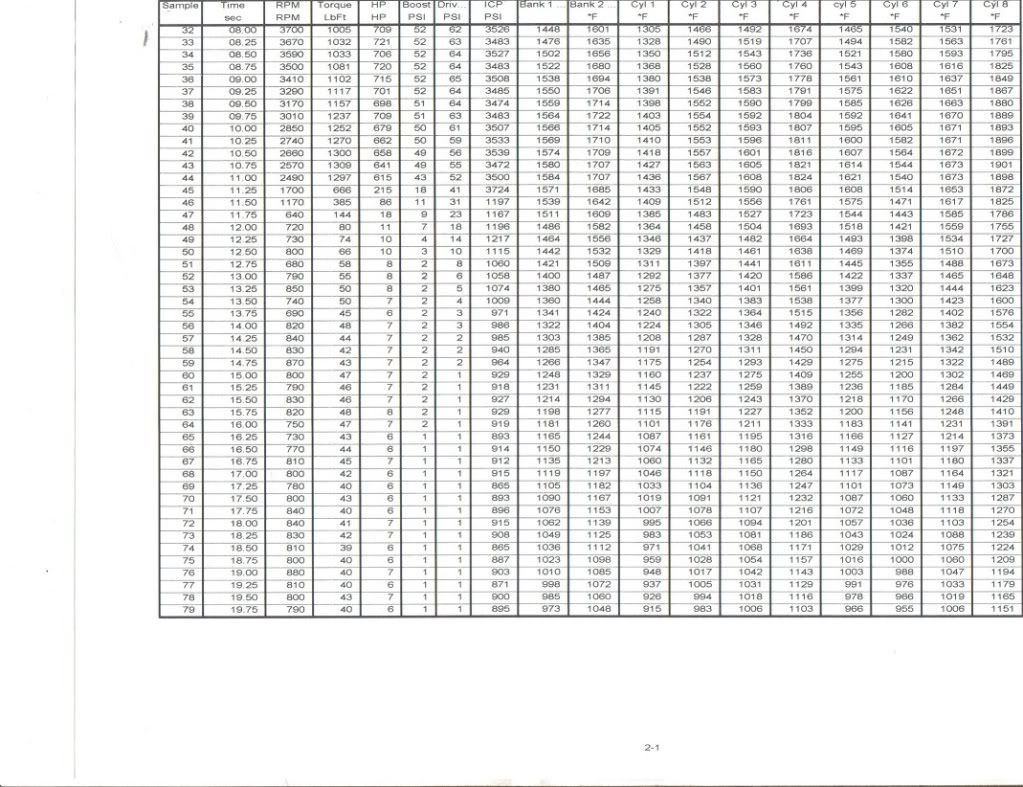 I didn't have any wins the last couple of years but I was in the money quite a bit (top 4) and I was consistantly in the top 1/2 to 1/3 of the pack. I have pretty much the only ford in the area. There are a couple chevys around but mostly pull against dodges
Thanks
Ross
573-721-0735