Hi Forum...new member here. I like all the info that's available here! I recently bought my 2007 Expedition EL Eddie Bauer and I just love this SUV! It's smooth, bold and feels so safe when I'm transporting the kids. I previously owned an Explorer so this is so much bigger and better.
When I bought the EL from the dealership, they had slapped on a new set of 22" bling bling type wheels/tires which I was not so fond of, but they offered to include a set of 17" chrome stock F150 wheels with the sale (the stock Expedition wheels weren't chrome, so I opted for the F150 chrome wheels). After I bought the EL, I took it to the company that outfitted the 22" wheels and they offered to do a swap of a set of brand new tires for the 17" (plus TPMS, mount, balance) and take back the 22" set, which I gladly did. (I know I lost out more value on the swap, but it saved me time from having to try and resell the 22" wheels on my own).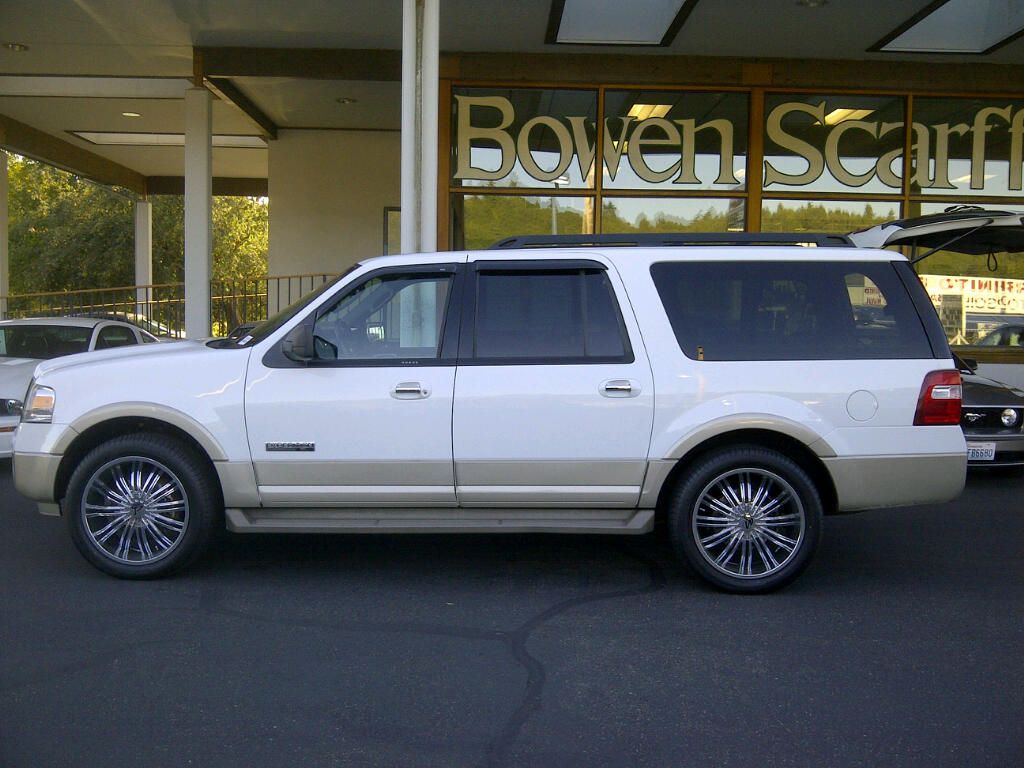 Now my EL looks like this, with 17" chromes and P265/70/17 tires. I like how it looks, and the style of rims is shiny and easy to clean/wipe.
But last week I came across of a set of 18" F150 Lariat chrome wheels w/caps for $300 on Craigslist, so I swooped it up just because it looked so nice. Now I am contemplating putting these wheels on my EL, with P255/70/18 or P275/65/18 tires. The problem is that the price of 18" tires vs 17" is quite a bit of an increase...AND I already have a brand new set of tires on the 17s at the moment....
So now do I:
1) just keep the 17" on since the tires are brand new; and then put the 18" on when I need new tires a few years from now
2) just keep the 17" on because 17" tires will always be less costly than 18"; and resell the 18" wheels and try to make $100 profit or so
3) just put the 18" wheels on and buy new tires too; then try to resell the 17" wheels/tires to recover some of the cost of the 18" set since the 17" set was really no cost to me to begin with.
What do you guys think? What would you do? Does anyone have a picture of their Expy with these type of Lariat wheels on for me to compare? I'm so torn haha. Anyways, glad to be here and be able to talk shop with other Ford Expy enthusiasts. Thanks for your input or feedback.