What did you do to the Bronco Today?
09-21-2012, 03:17 AM
Originally Posted by
AbandonedBronco
Replaced the power steering pump and steering box from a parts truck I bought. I know they're not new, but going from a pump and box with 500,000 miles on them to a set that has 120,000 miles on them is a HUGE HUGE improvement.
The pump is SO much stronger and the steering box is way tighter. Plus, the other pump had bearings that were going out, so less stress on the engine. Turns so much easier and doesn't wander all over the road.
Yet, my favorite part is the sound. I've dealt with that miserable whine for 8 years now and it's GONE!!
This had to have been the noisiest pump I've ever heard. The whine some people get while they're turning is the whine I had at idle when it wasn't doing anything. I couldn't post engine videos because you couldn't hear the engine, all you heard was WHIRRRRRRRRRRRRR. Then, it got about 20x worse when I did turn. My wife could tell when I was coming home because she could hear it out the window a half a mile away.
And now....it's quiet.
Stock pump and box? The saginaw is great hint hint
You that isn't anything exciting, all i did was drive it to the state fair and back. I git some nice potholes and almost got my buddy in the back to hit his head. It was fun.
I also snagged this awesome flag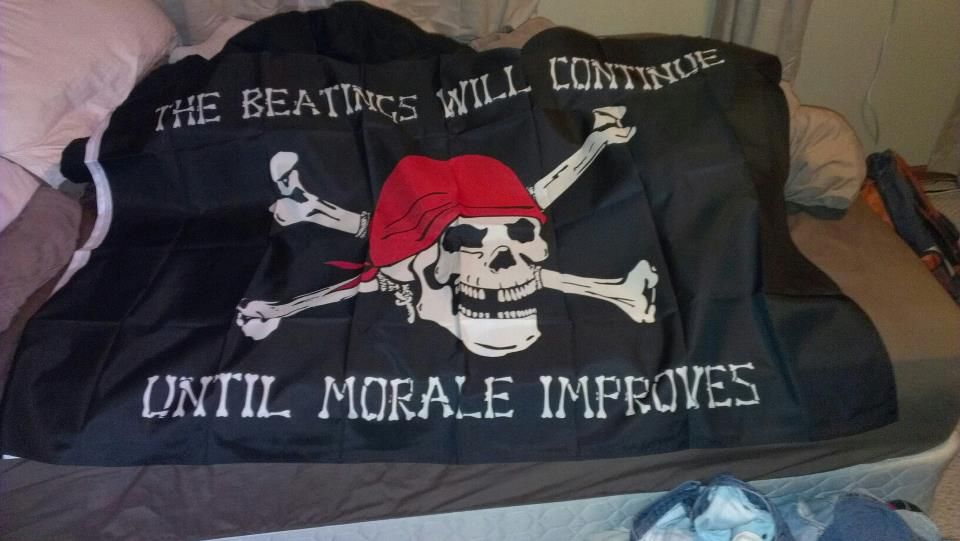 09-22-2012, 06:14 PM
09-22-2012, 10:49 PM
09-23-2012, 03:30 AM
Haha that looks pretty close to mine
I was tempted to string mine up on the tailgate of TGM but figured it wouldn't be worth it over all if it happened to rip and fly away. The good thing is, it was only $15 for a 3x5' flag.
As for me and TGM i look at it... Then my parents piled a bunch of old crap from our storage room out behind it with a free sign on it. Maybe i will do something someday..
09-25-2012, 08:32 PM
This is what I did today
and shazaam!
I was planning on having it running tomorrow. But me and a friend are main witnesses in a car vs motorcycle accident and the MC driver just passed from his injuries. So we have to go to the police station and go over everything that happened. So not really looking forward for tomorrow.
---
Last edited by Boss351Bronco88; 09-25-2012 at

08:35 PM

. Reason: Spelling
09-25-2012, 09:35 PM
Join Date: Jan 2006
Location: Princeton, BC
Posts: 31,309
The engine looks good. Going to the police station sucks.

I tried getting some locking wheel nuts off today without the special socket. Got one off but split two sockets in the process. Pulled the door lock cylinders off my parts bronco.