Bought a '66 F250 4x4
08-14-2012, 05:57 PM
I've had dogs since I was a young 'un (born when FDR was prez), never bitten by any of my own.

I have been bitten twice, once by my MIL's Chihuahua, once by my sister's Wheaton Terrier, a breed with a nasty reputation.

After it took a chunk oughtta my thumb (left a long scar), I wanted to take it out and drown it in her swimming pool, but thought better of it.

It passed away within two years after she got it (good riddance), now she has a Maltese.
08-14-2012, 08:45 PM
08-14-2012, 08:51 PM
08-14-2012, 09:40 PM
Here's a picture of the tailgate. It was stored inside the camper closet so no major damage or rust. The original Wimbledon White paint could practically be used for a color match. Paint code M on the build sheet. They lost one of the two tailgate brackets and all but one bolt since the tailgate was never on.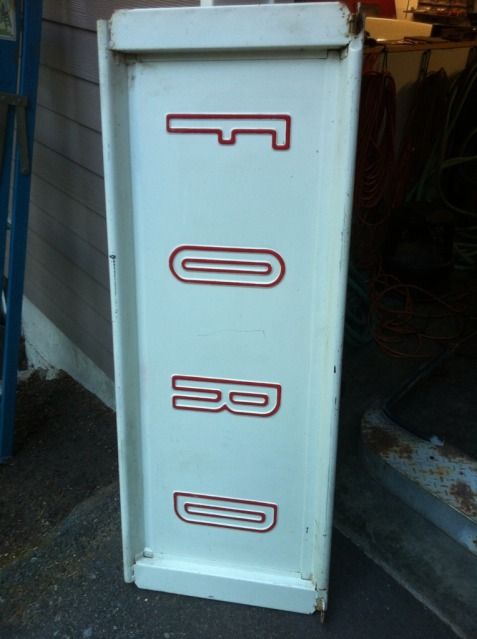 08-14-2012, 10:38 PM
I traded a 66 F250 for this box cab and gate over 20yrs ago. The gate was sitting out side but not seeing any road time. Straight gates for these long wrong beds are hhhhhhhhhhhhhaaaaaaaaaarrrrrrrrrrrrdddddddddddddd to find in any kind of desent shape. Ive passed up 2 of them in the north p & s in the last month as they needed to much work.
DSCN4788
by
HiBoy63-65
, on Flickr
08-14-2012, 11:14 PM
Sweeeet lookin ride,,,, I personally would keep the 300 I6,,,, such a great motor,,,, rebuild it,, nice cam,,, Offy 4bbl intake, Hedman dual-oulet headers,,,, would be a great driver,, you could go to 255/85/16's,, a nice tall/skinny 33.5" keep your RPM's down a bit,, probably even 35's and still have plenty of go! But it depends on your uses!!
Welcome to FTE and to the Slick 4x4 club!
08-14-2012, 11:51 PM
Join Date: Jun 2008
Location: Nanaimo, BC
Posts: 280
Great find, looks super solid. I have 4.56s in my truck also and run the 255/85/16s and find them to be a good fit in the wheelwell, not too big or small. Find yourself an old camper and you've got it made.

ND, Do you really have 5 bassets? Forget the paper towels you must need to follow them with a mop for all that slobber. I had one when I was a kid. Hound dogs and old trucks, what could be better...
08-14-2012, 11:59 PM
Sooo glad to be here. Thanks for the replies. Keep 'em coming.
Those are some clean looking tailgates. Bill W, I looked at your garage and that '63 looks like it has come a long way. Good work there. Looks great.
I like the ideas of keeping the 6. Always loved an Offy manifold. My Uncle used them in his midget racecars. (no jokes, please)
Here's a scan of the original invoice. One of the interesting "options", if you will, on this truck is the 550 lbs overload springs.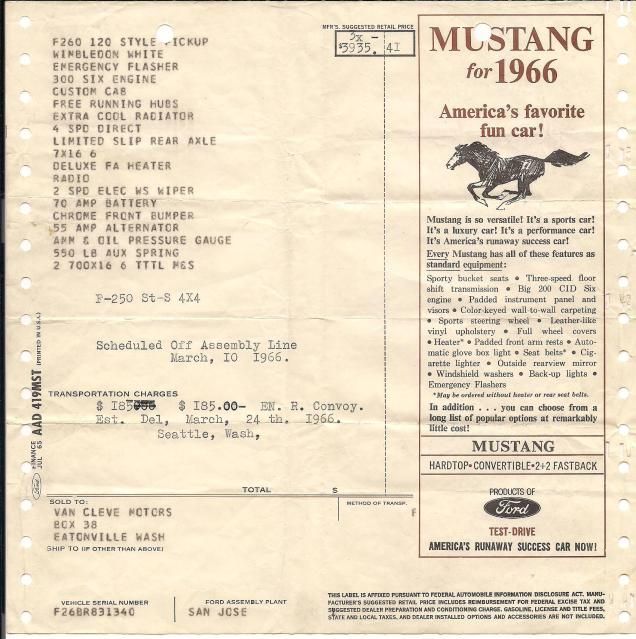 ---
Last edited by TA455HO; 08-15-2012 at

10:29 AM

. Reason: Correct spring weights.
08-15-2012, 03:13 AM
Join Date: Mar 2004
Location: seattle
Posts: 4,374
NP Bill on passing my info on...I do trust ya...as to me PM ing TA455HO...I cant as he doesnt have 25 posts yet...But if you have passed him my info Bill, he can definitely contact me...

I dont have rotties at the moment but have had 2...best dam dogs Ive ever had...intimidating to when need be...But if you were a friend of mine...all you would get was a big ole wet tongue bath...


ive got TONS of literature..some quite hard to find I would be more then willing to show you TA...drop me an email if you have my addy...Im pretty easy to reach via email...as Bill knows :-)

I just looked at some of the pics...I have a Styleside gate...or 2...LOL...Ive got more gates then most wrecking yards that are good...LOL...been lucky with some scores over the years...As for the window sticker...Van Cleve is still in business...I also have a build sheet and based on some homework ive done, i can decode much of it for you as well...Email me when you get a chance...




- cs65