Bought a '66 F250 4x4
01-28-2018, 12:43 PM
Hi Matt,

Is your truck a 1965 F100? I see leaf springs in front and 5 lug wheels.

Just FYI: the fender emblem insert is correct for 1966 F100 4x4 only (coil spring front suspension) - but that's just some info - I like them.

I've always felt that any used vehicle valuation is what another person actually pays for it. There are just too many variables to give any firm numbers.

What I'd do if it were me is figure out what I would be comfortable selling it for and price it accordingly - if I get no bites at all then lower the price some.

I have seen some far less interesting 2WD examples sell for north of $15,000 lately - as one data point.

Chad

.
01-28-2018, 01:36 PM
One of the things that was changed out on my white truck (300 6 cylinder) was the spark plug wires (no real surprise there) and I was interested in something more authentic. Tailored, radio resistance. Autolite, not Motorcraft.
I saw an incomplete set - missing the coil wire - on eBay for
$120.00
. Seemed ludicrous for an incomplete set.
https://www.ebay.com/itm/NOS-OEM-For...ZZwtnx&vxp=mtr
C5AZ-12259-A
- replaced by D1AZ-12259-D
I searched around a little bit and found 5 complete sets for a price I couldn't refuse. Boots are nice and pliable and they are just what I was hoping for.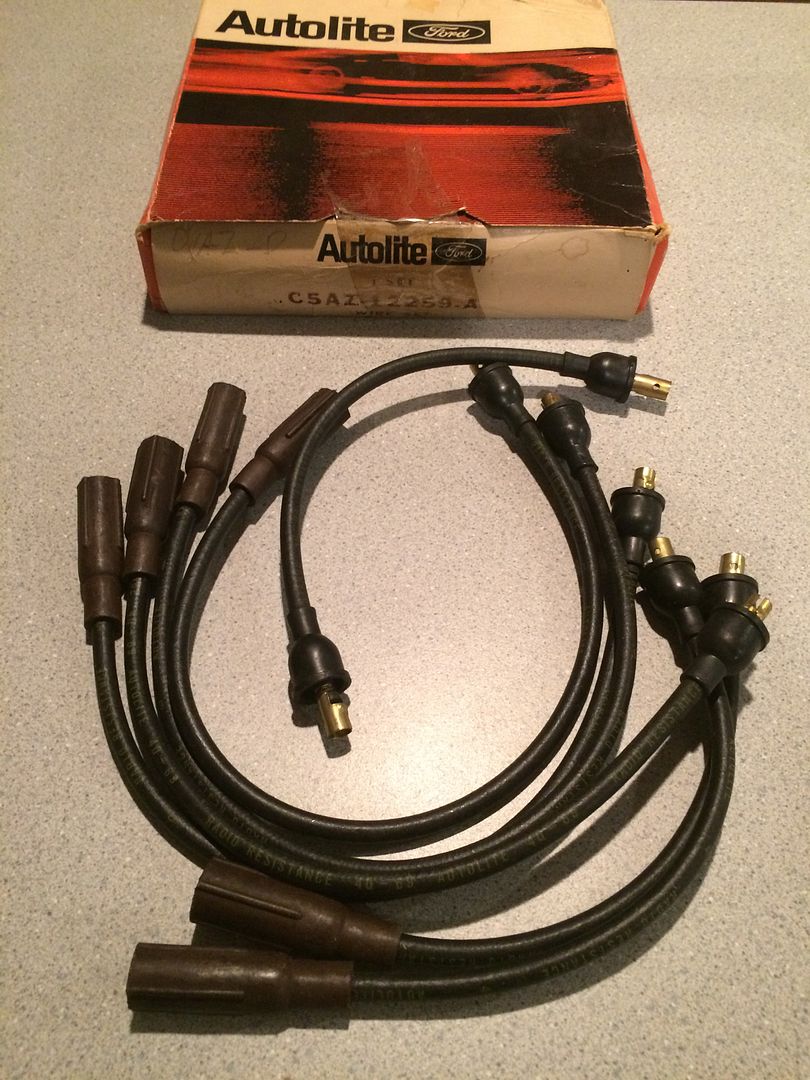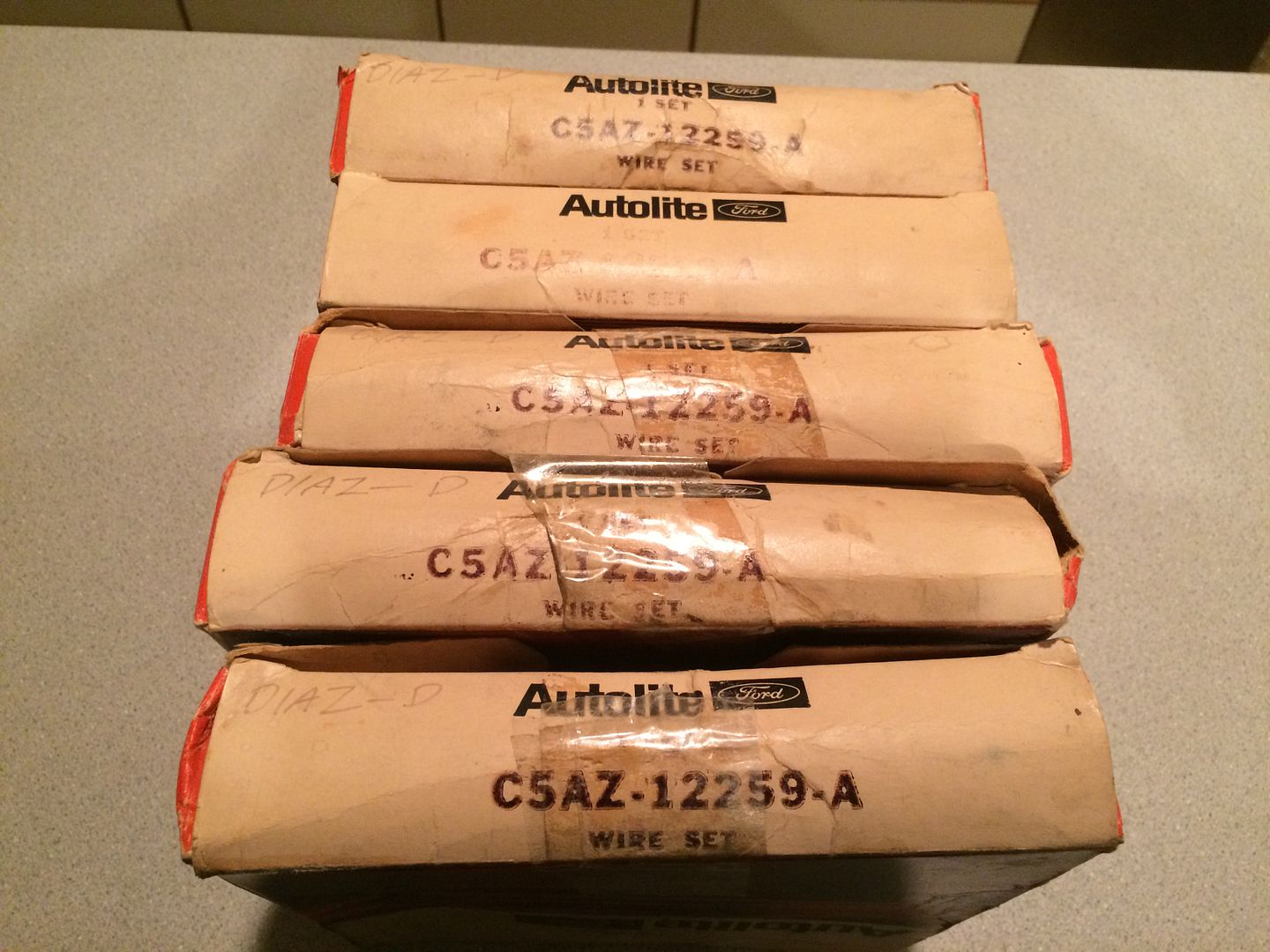 Sort of interesting that the wires have numbers 2 through 6 on them so you know which cylinder they go to. No number on the #1 plug wire.
Chad
.
08-05-2018, 12:29 PM
One of the other guys sent me a PM about the seats that I got from the 1966 Ford dump truck. Some people don't think these seats were available in the light-duty trucks, but they were through the DSO system. As Bill will tell anyone - just refer to the Master Parts Catalog! Lol. Here's some info.
The seats are called the Bostrom Viking T-Bar. You can google that if you want more pictures or info. They are considered a bucket seat. Here's a picture from the Master Parts Catalog covering 1964-1972, but the same applies to 1961-1963 if you look in the older MPC that applies to those years (1957-1963 MPC). You can see the seat tracks and the mounts. In 1966 they changed to the mounts to the left, the |_| shaped channels. Look for the small symbol that looks like a church cross and see how it refers to 1966 while the
#
symbol refers to the setup for 1961-1965 toward the lower right. Not sure if you'll be able to see that detail here, but hopefully so.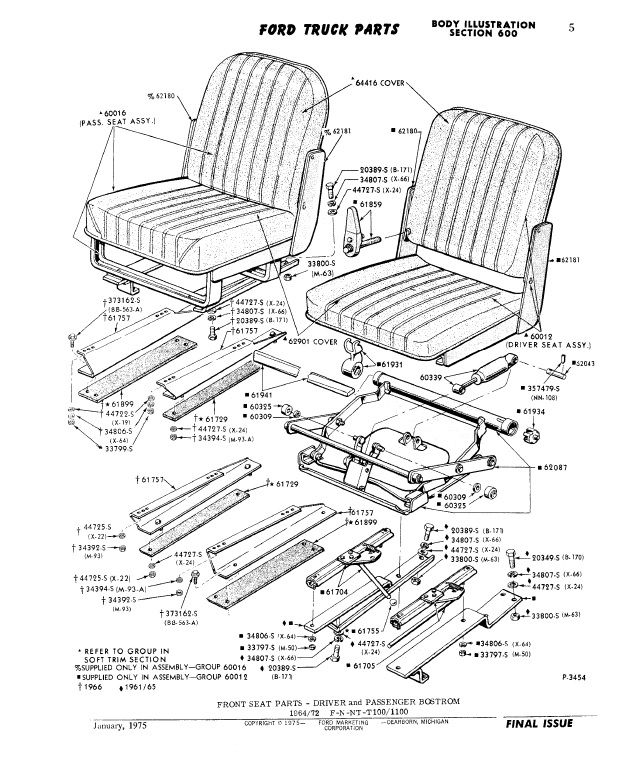 The "drivers side" seat, which I have 2 of in sequencial serial number order out of the same truck, are a hydraulic type of seat that utilizes a small shock absorber. It's amazing what a few inches of movement does to help smooth out the ride. That's what these seats were all about - reducing driver fatigue. But, were they only used in big trucks? Notice the bottom of the drawing where it calls out what it applies to...1964/72 F-N-NT-T100/1100.
The
master
adjustable seat track is quite distinguishable and was not used with any other seats. Here's a picture of the NOS master adjustable seat track
C1TZ-8161705-B
Likewise, the
slave
adjustable seat track for the "drivers seat" is similar style. In fact, if you look close it is the same track but instead of the handle riveted to the release plate it has a bar that connects to the drivers seat through a track tie and the spring is moved from the hole on the release plate to the first hole on the release bar. The release plate also has a slight bend to it so the bar lines up with the drivers side.
C1TZ-8161704-B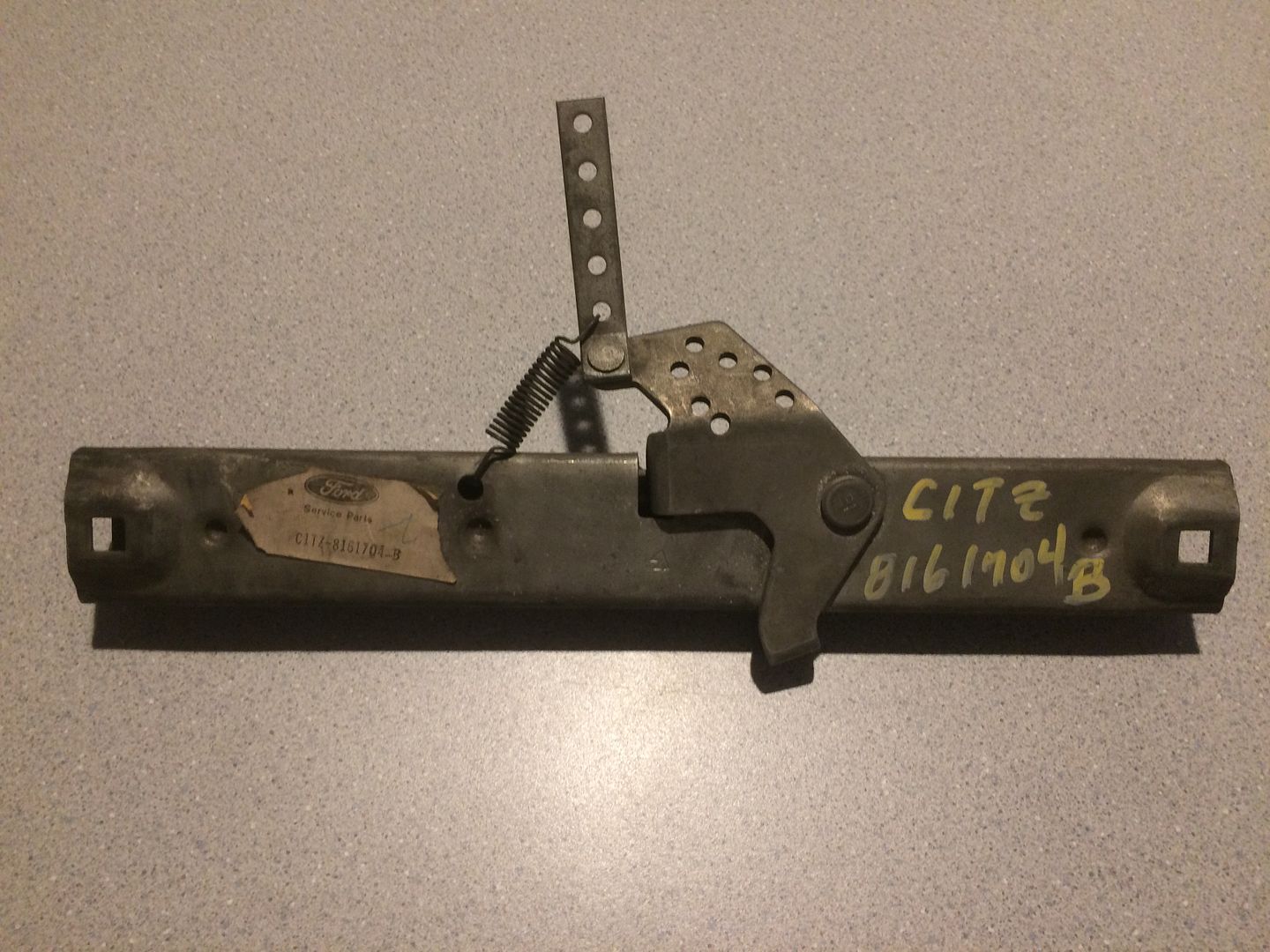 Notice how the part number originates from 1961 (and later). So these same part numbers are also in the 1957-1963 MPC as pertains to the 1961-1963 trucks.
If fact this slave adjustable seat track isn't listed in the 1964-1972 MPC but it is in the 1957-1963 MPC.


Also, I have some of the NOS shock absorbers. One from a Ford parts vendor that came in the old Ford box with the part number and I got the last two direct from Bostrom.
C1TB-8160339-A

Also in that screen shot is the part number for the bushings (bearings) which Ford sold separately as well.
C1TZ-8160325-A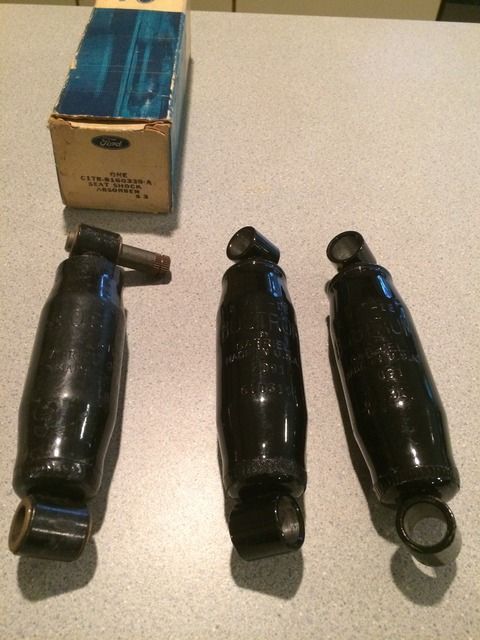 Again, notice all of the applications for these parts. The F100 and F250 are definitely included in all of those listings.
As I was talking to Bostrom the guy mentioned that they had two complete sets of upper and lower seat covers and foam cushions still in stock. He checked all of their distributors, too, and said these were it, did I want them? I did and they are perfect. In this case it is turned inside out around the edges in prep for install - they have clips around the edges of the metal frame so no hog rings used with these. Really easy to install them.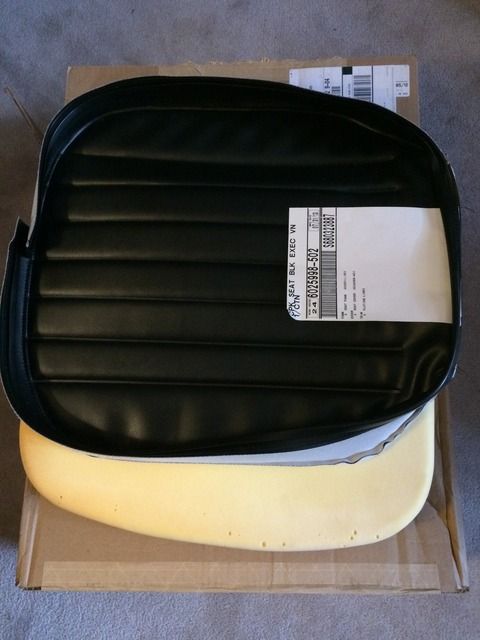 It's not until you read the patent that you get a feel for the sheer number of parts in the seat and how it works. It uses a Torsion Bar (T-Bar) for the spring and the shock shown above. The torsion bar runs horizontal across the rear of the seat - sort of running cheek-to-cheek if you think about it as you sit on the seat. You can adjust the pre-load tension on the torsion bar for the individual using a small handle on the lower right side of the seat - so it works equally well for a 300 pound dude as it does for a 60 pound or less kid.
https://patents.google.com/patent/US3109621
At that link there is a "Download PDF" button - if you open the PDF it has more pictures of the seat. Look at all of the parts. There are actually 2 torsion bars side by side that act sort of like a leaf spring that you wind up to set that pre-load. Hard to imagine winding up two flat bars of heavy duty solid metal, but it works really well.
They also offered "rebuild kits" for the seats that include the wear items. Rollers, grease jerks (yes, grease), bushings, roller bushings, rubber bumpers and it comes with new nuts and "C" washers or circlips and the pin like the one that came with the Ford branded one above. I bought up the rest of what Bostrom had in stock for these kits. They have discontinued the seats so they don't offer any of this stuff any longer.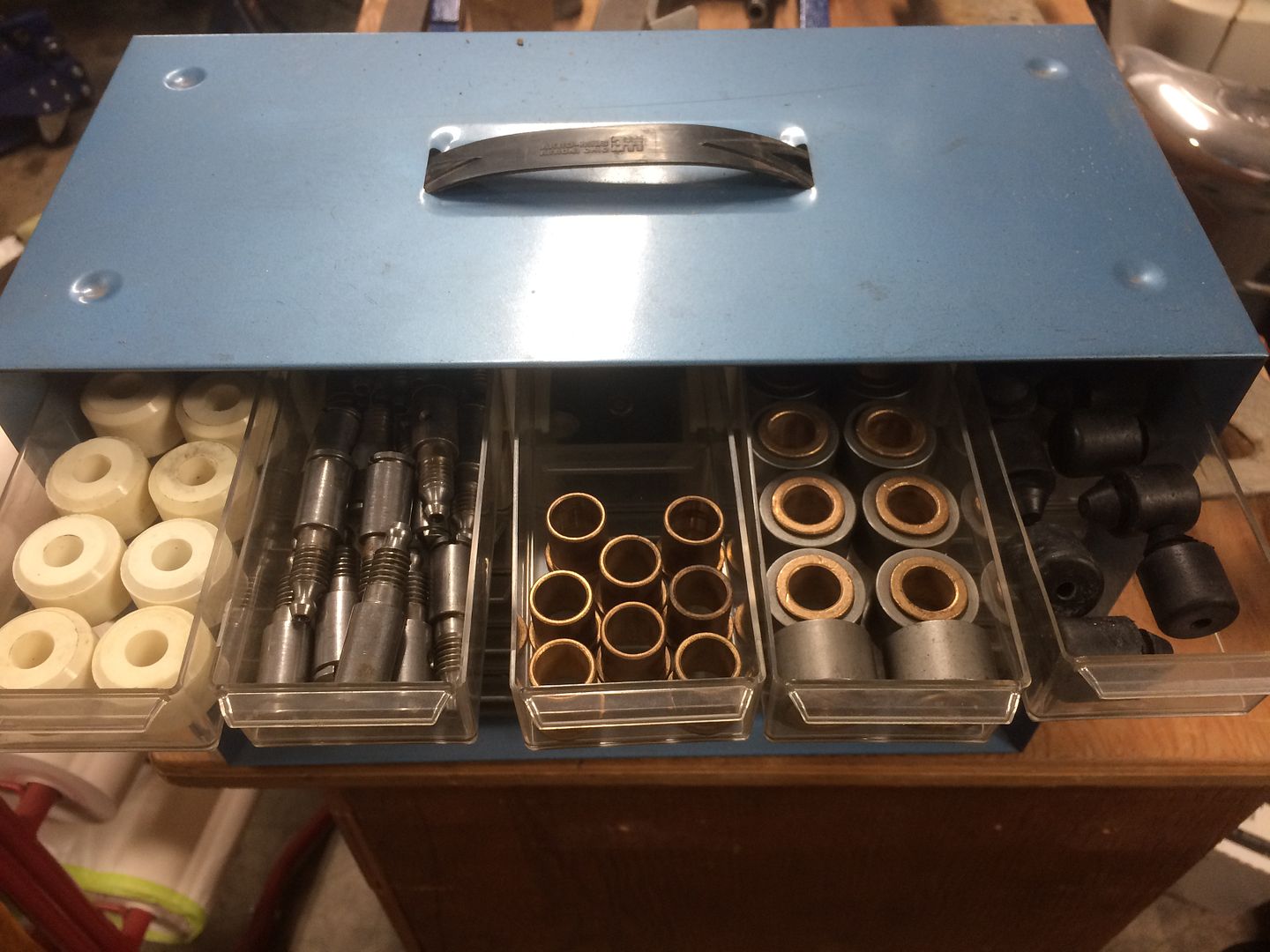 The seats were used for years and years in everything from trucks, dump trucks, back hoes, track hoes, bulldozers, etc, etc. They work really well in any type of heavy equipment where you might experience significant bumps. The three things about these seats.
1. It moves up and down equally well when on a severe slope, either front-back slopes or side-to-side slopes. Read the patent and that was one of the design goals. The thickness and quantity of metal in each seat is stunning.
2. The seats are built to last. They each weigh more than a standard bench seat. I estimate about 120 pounds per seat. Part of that is the lateral support from the mass of metal.
3. Think for a second about seat belts. If the seat is moving up and down some inches over uneven terrain and the seat belts were firmly affixed to the floor and strapped around the driver - how would that work?
Chad
08-23-2018, 03:43 PM
A person can't truly be a part of the Bostrom Viking fan club until you receive your hat pin. Hahahahahaha
Chad
08-23-2018, 04:43 PM
Some of these old FoMoCo, OTC, Snap-On and other specialty shop tools are sort of fun to collect and certainly can be useful, at least some of them.
I'd shown in another thread this tool for releasing and installing the valve keepers on the 240/300 6 cylinder engines - at least that it the specific application this one is designed for. Like the engine in my one 4x4 truck.
T62F-6565-A
- Valve Spring Compressor (formerly 6513-HH)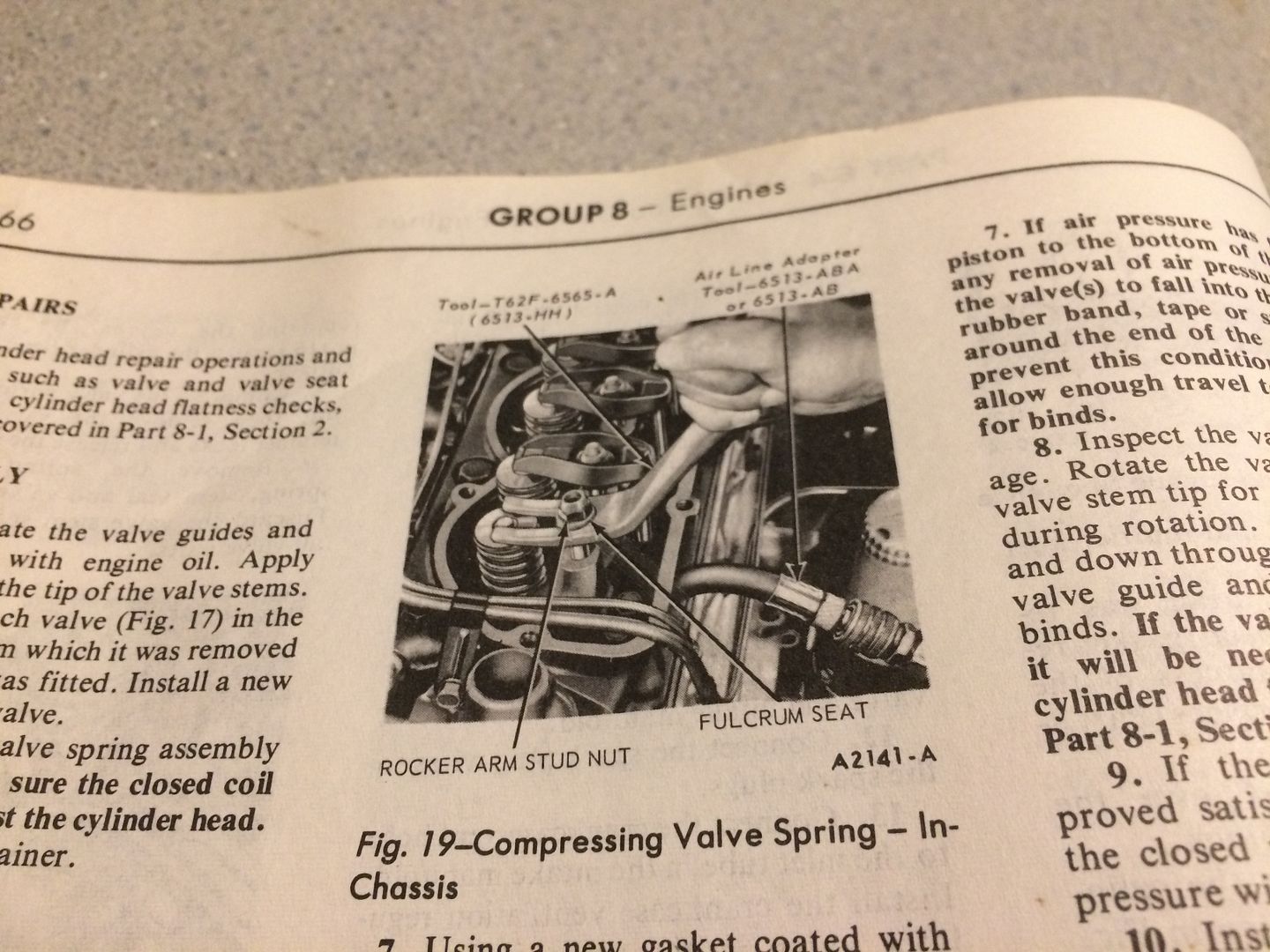 This was a picture of the used one that I had posted before.
I also have a new one in the box.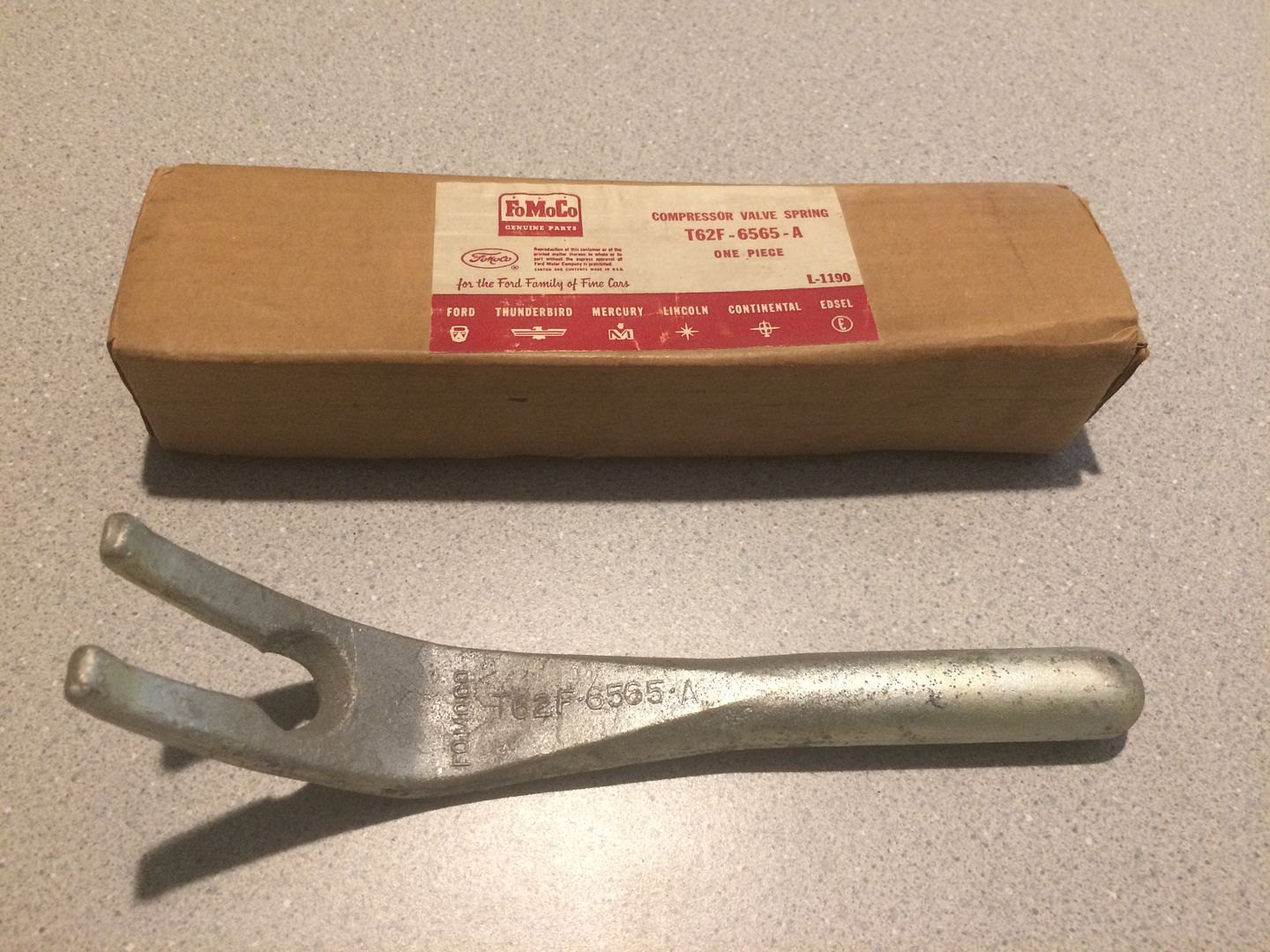 In that box was the usage instructions that say along one edge
"FORD DIVISION TECHNICAL SERVICE LABORATORY"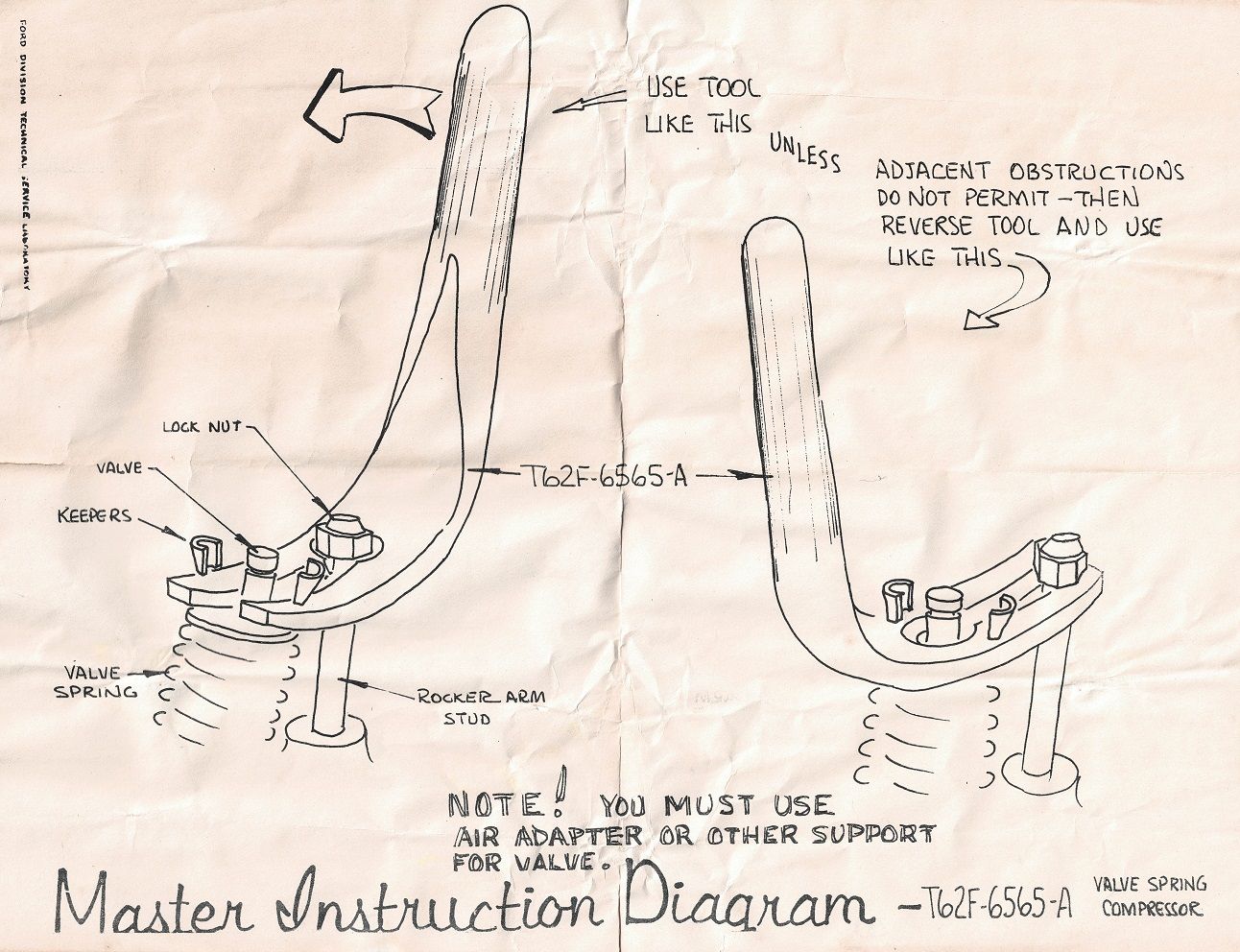 I thought some of you might get a kick out of seeing that.
Chad
09-27-2018, 04:33 PM
I posted the C6TZ-2007-S kits in my 2WD thread. Here's the equivalent kits for the 12 1/8" x 2" brakes used on the other F250 trucks, like my 4x4 trucks use. It's a very close part number to the other. These kits are part number
C6TZ-2007-T
The Primary linings seem to be color coded with the orange paint dobs.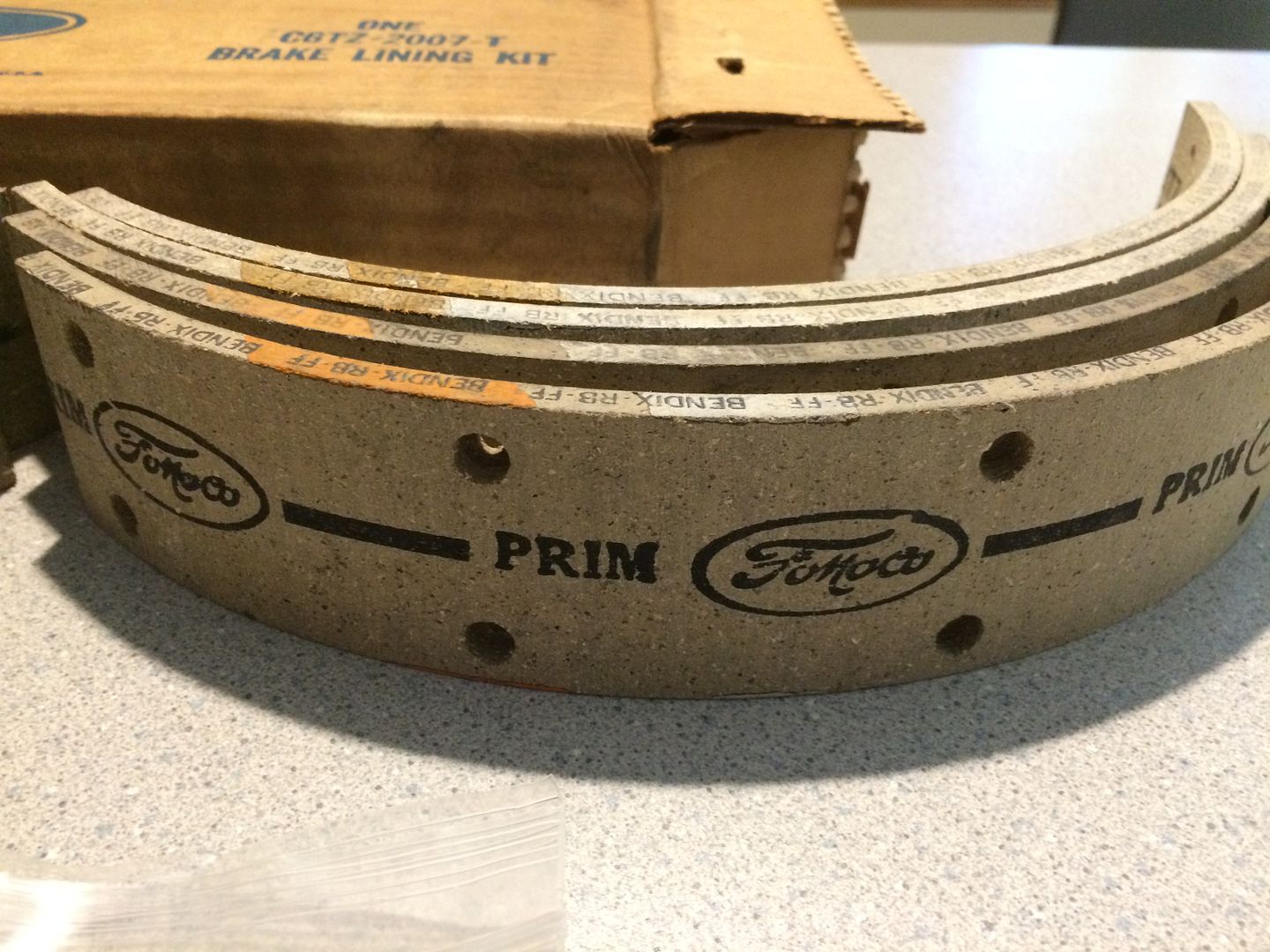 The Secondary linings are more of a blue paint dob.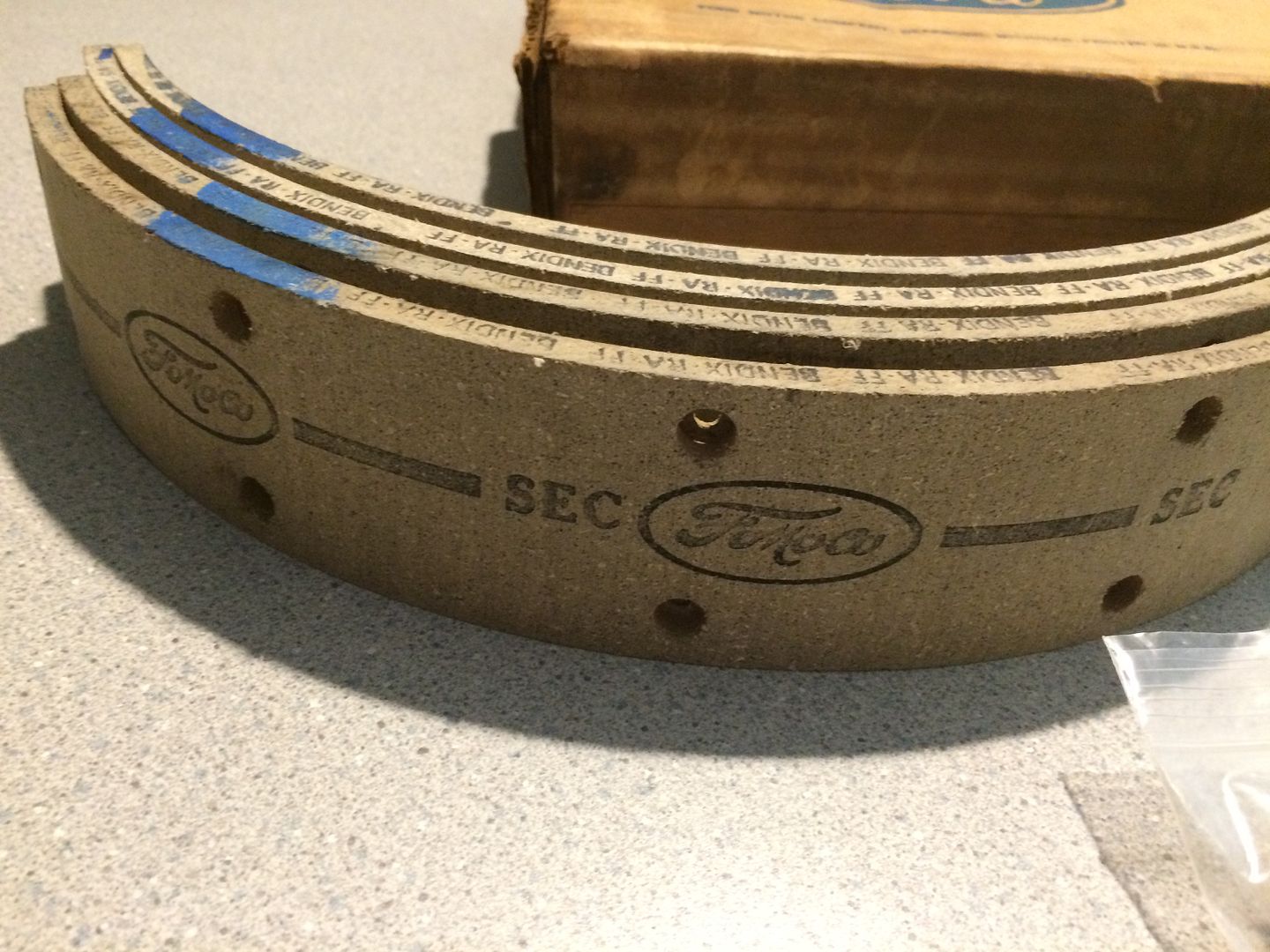 The rivets often have a stamping on the bags saying how many (45-50 is common) and 939 or 939-S, which is the partial hardware number for the full rivet number of
351939-S -
Brake Shoe Lining Rivets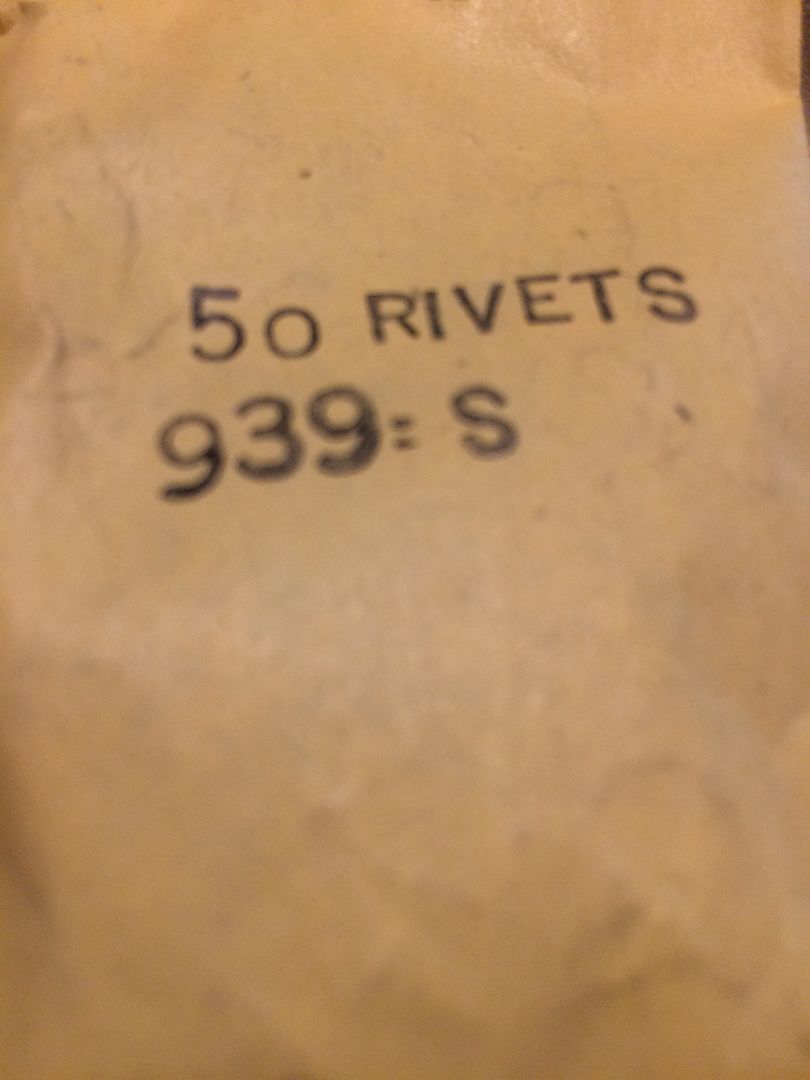 Also included is I.S. (Instruction Sheet) 33 and I.S. 33a (this second one specific to 1961 cars). Same instructions were used to cover many prior years.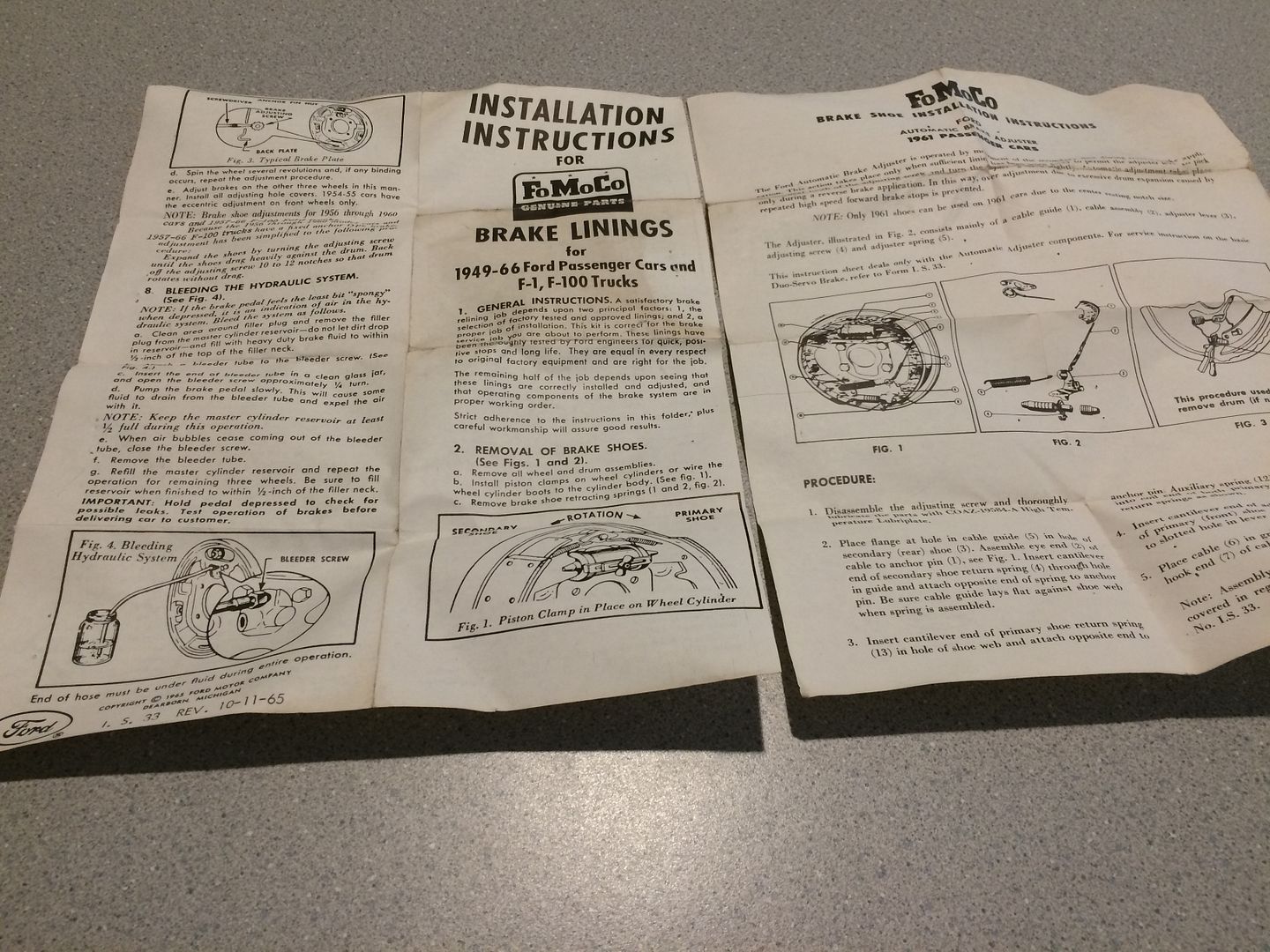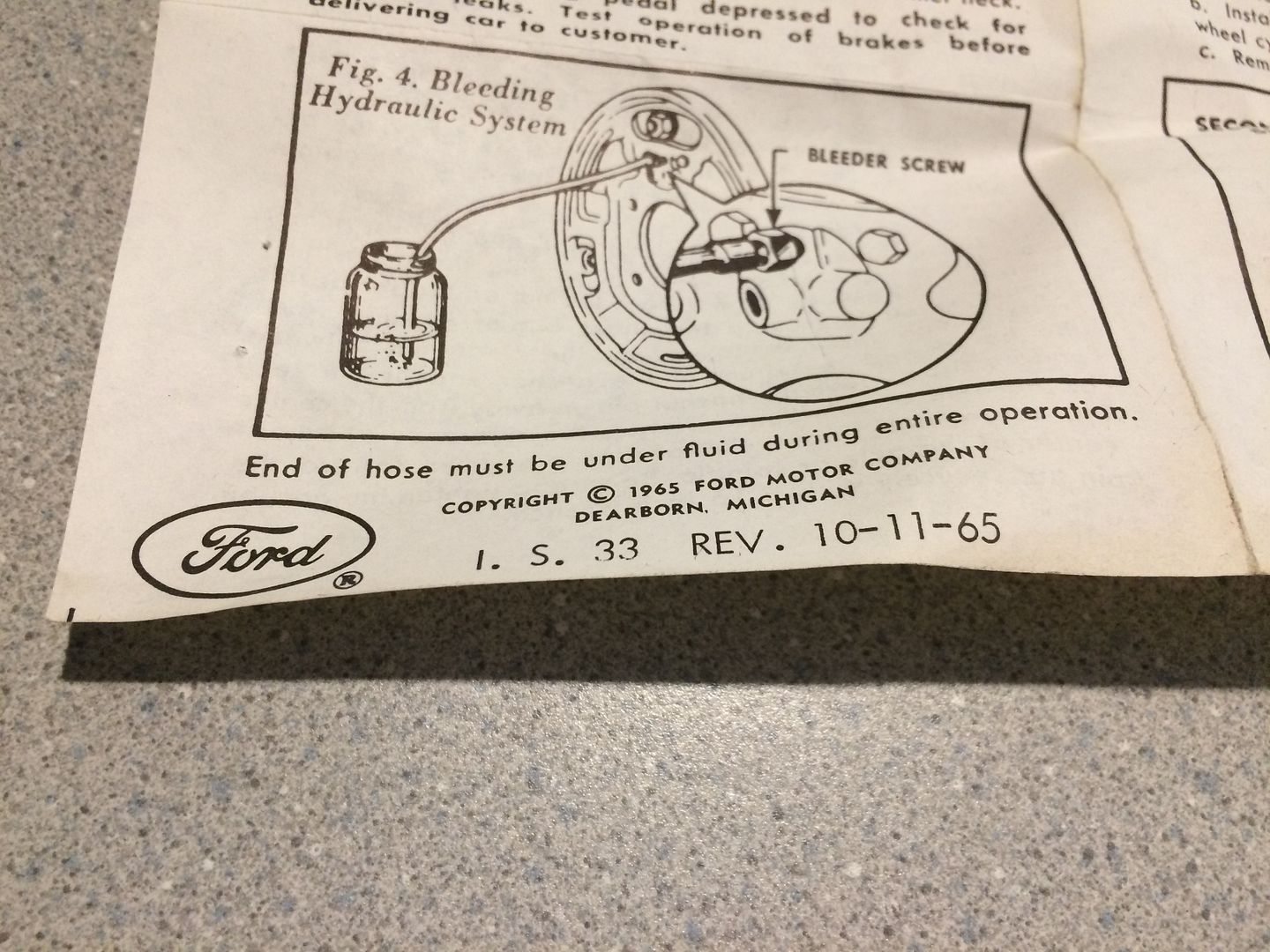 These only mention the F100, not the F250, but obviously these kits are specific to the F250 so sort of interesting they didn't include F250 in the title. Plenty of room, too.
Chad
03-13-2019, 12:30 PM
I have not updated my thread in a while. I recently acquired one of the inside bed spare wheel carriers for the "wrong bed" style of pickup box like my F250 4x4s have.
B7C-1405-A
- SUPPORT ASSY. - SPARE WHEEL CARRIER - Use with inside box carrier - Styleside - 18 1/16" long - 1 each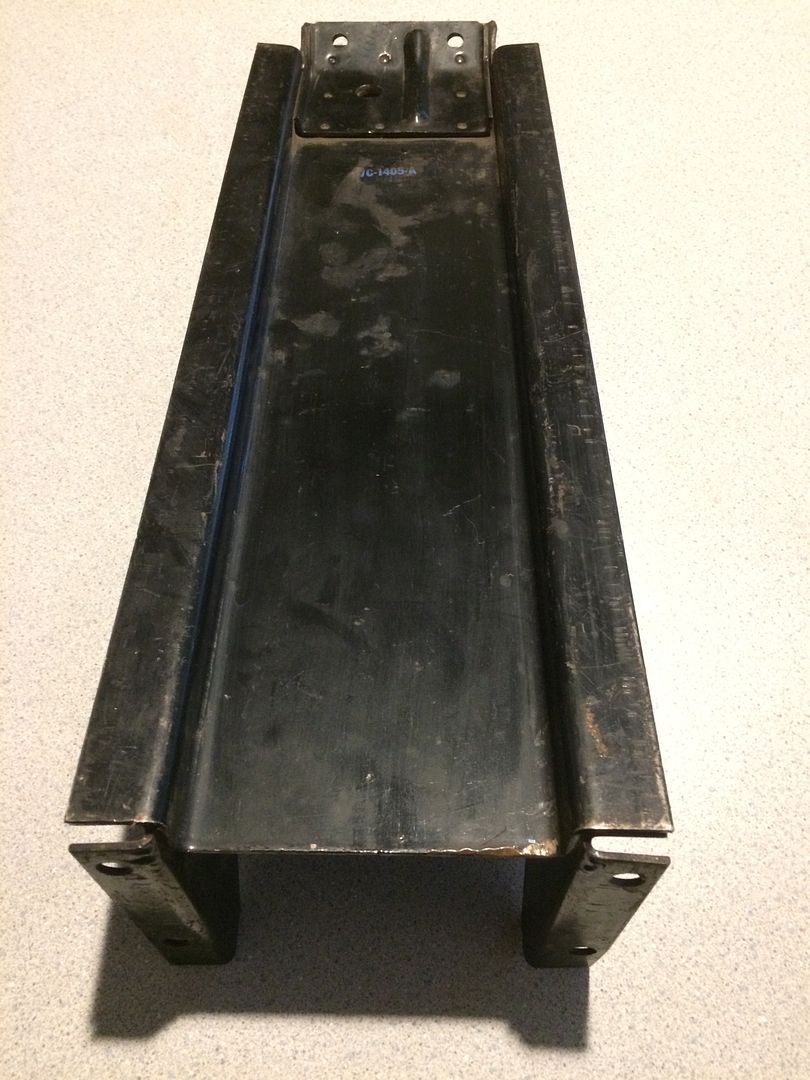 I'll keep a spare under the back end still and just add another to the bed. I've always liked the look of the spare in the bed. Here's a picture of a slightly older truck with this mount.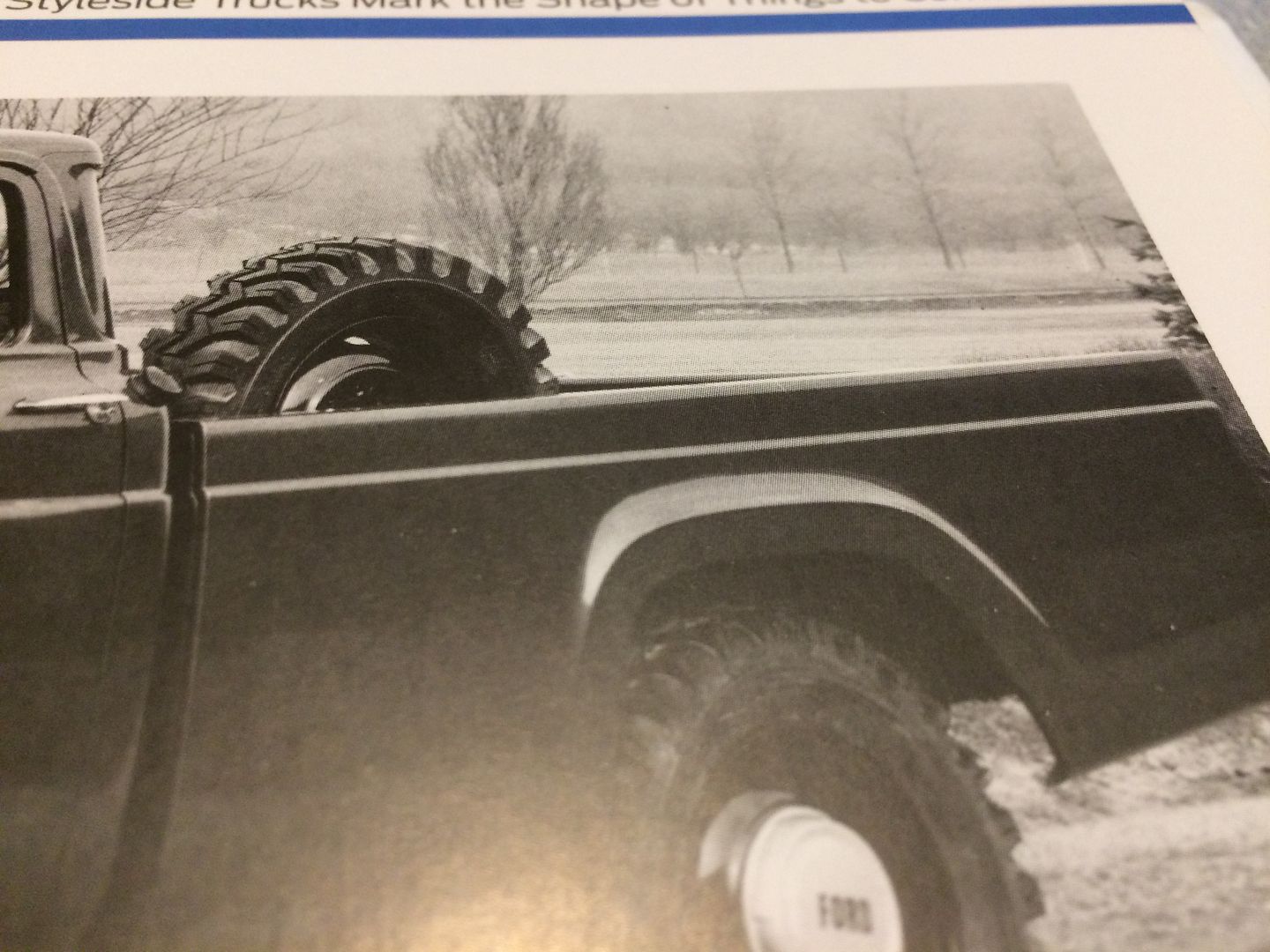 The upper two holes in the main bracket bolt to the two round holes in this bracket. Getting this one in place is tricky - you have to put the side with the round holes in the bed channel first and then rotate the bracket up into place. Quite ingenious really.
B7C-1453-A
- BRACKET - FRAME TO SPARE WHEEL CARRIER - Upper - use with inside box carrier - Styleside - 1 each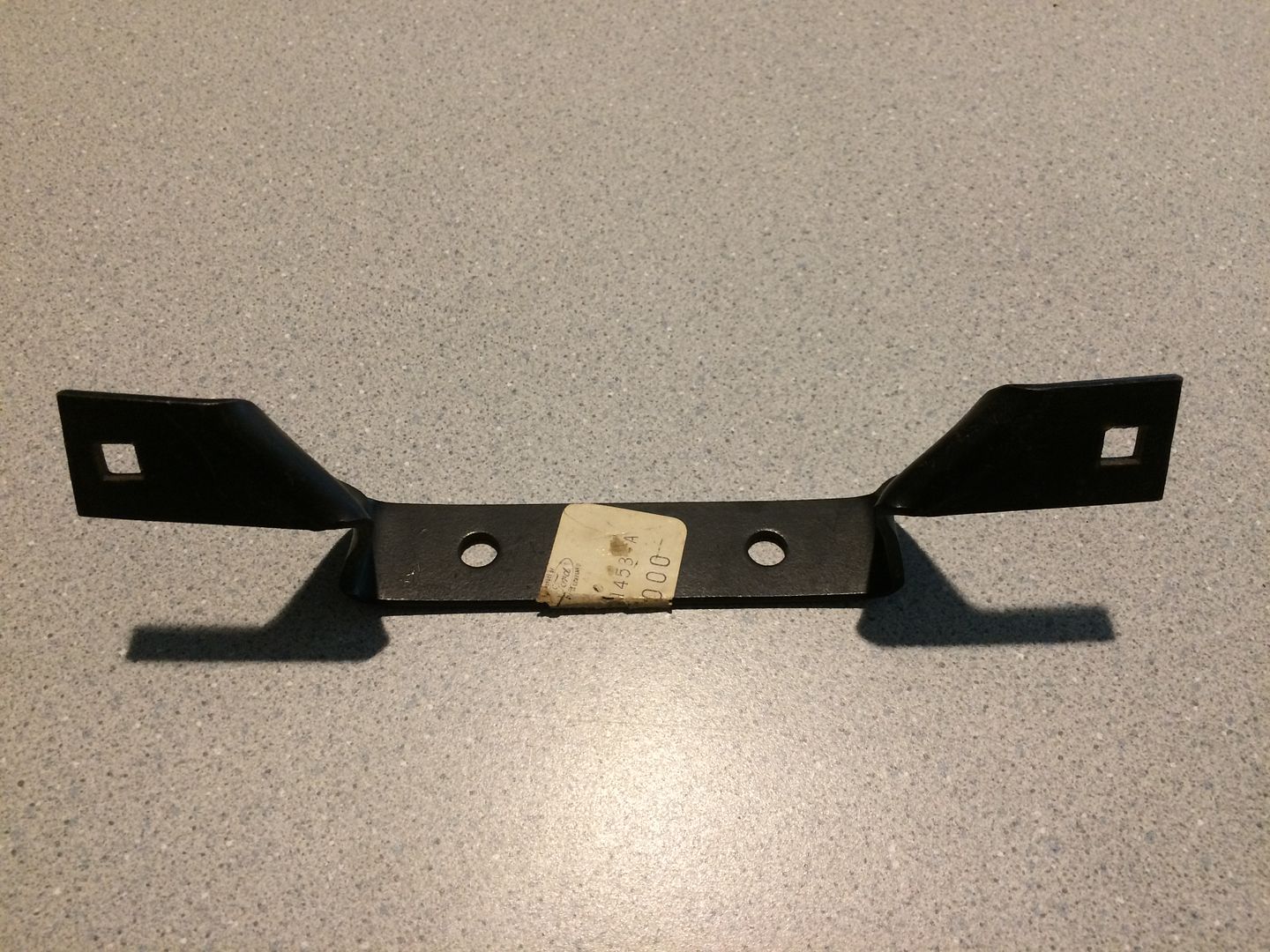 Somewhere around here I have a lock for a side-mounted spare wheel. I'll have to see if I can find it. Not necessarily correct for our trucks, but I think it would work.
Chad
03-14-2019, 04:40 PM
Here's the lock set I was remembering. Sort of cool how it works. You'd set the wheel in its position next to the carrier and then put on the longer lug nut and tighten it down. Then snap the black cover over that. The key releases a pin that goes into the groove of the special lug nut that you can see. If you try to turn the black housing it just spins on the inner lug nut. Not SUPER secure, but better than nothing.
Listed as being for 1961/65 E100 (87A) and some models of station wagon and fairlane and others. Definitely a cool piece and the keys are FORD branded.
C1AZ-1386-A
- LOCK ASSY. - SPARE WHEEL - Side mounted - includes keys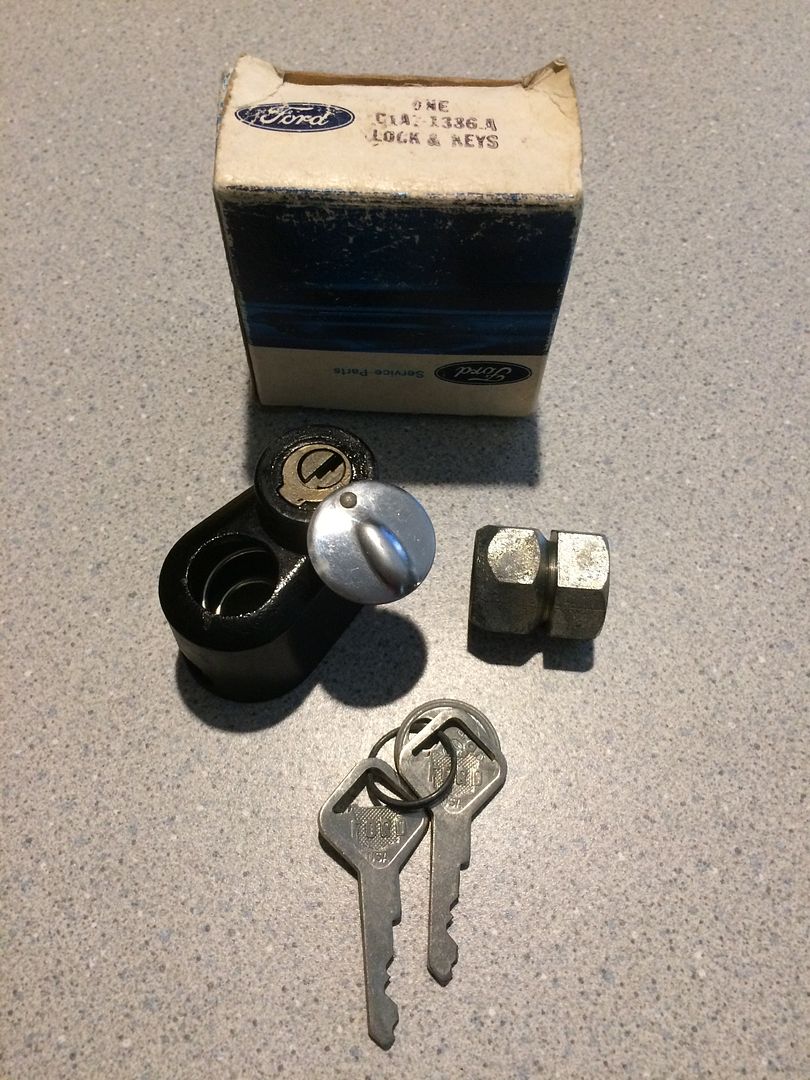 Sort of like a bike lock for your Schwinn...lol.
Chad
Thread
Thread Starter
Forum
Replies
Last Post
1961 - 1966 F-100 & Larger F-Series Trucks
Ford Truck Parts for Sale
1961 - 1966 F-100 & Larger F-Series Trucks
1999 - 2003 7.3L Power Stroke Diesel
1961 - 1966 F-100 & Larger F-Series Trucks