Taking bets that I have the absolute WORST ROOF HERE.
06-24-2012, 06:46 PM
Because of the layering of the roof system on these trucks just filling in holes with metal and/or filler is half the issue. By using a donor roof helps uncover things hidden deeper. Rust is almost always deeper inside. Take a look at the shop manual and it shows how the metal is layered and sealed. Make sure you address any rust underneath or it will haunt you (know from hard lessons). Have fun.
06-24-2012, 07:04 PM
lol... Win some, lose some with CA cars. I'm pretty sure that whomever did the 'repairs' on this truck years back figured a salt water solution would be good to bond the fiberglass to. The whole circumference of the roof was fully gelled over with fiberglass. I don't think the rust damage was nearly as bad back then as it is now with the fiberglass holding it all in.
On another note with CA cars.. My 70 Camaro, is a CA car. Never even left the county it was sold in til 4 years ago when I moved up here. Quarters rusted out. Fenders rusted out. Door bottoms rusted out. Front and rear window channels rusted out. Dash corners (very common in these cars) rusted out.
Now, my 57 Chevy sedan has... nearly ZERO rust. There's body damage, but it's from a wreck. No rust. Go figure. It was also originally a CA car.
It aint gonna be easy.. but I'm working on it right now. (well, taking a welding break here)
06-25-2012, 12:27 AM
Well, I've got about half of it done. Well... that's misleading...hahaha
I actually have several lengths of this angle steel already.. it's zinc coated, which makes it a pain to weld to... have to grind all the areas that I wanted to tack down.
Fitting a section in..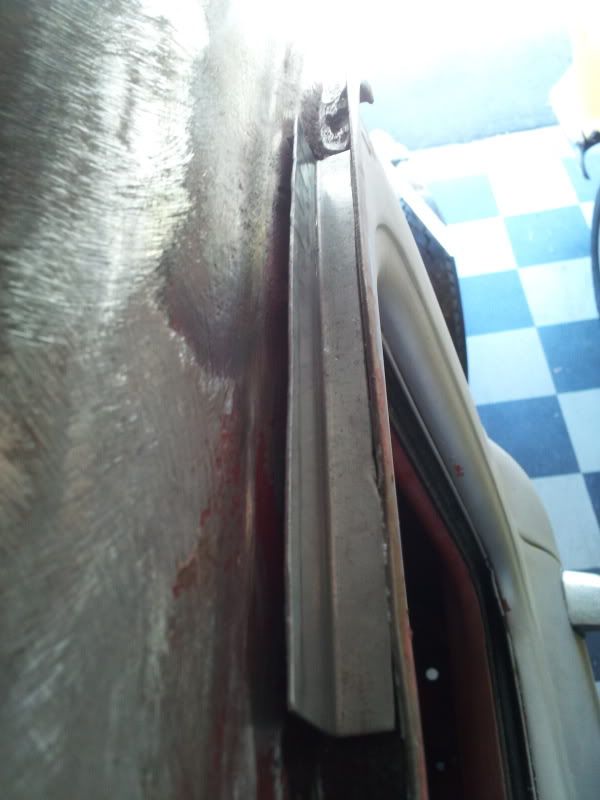 Some more trimming, holes punch to weld through, and a lip bent to somewhat recreate the bead.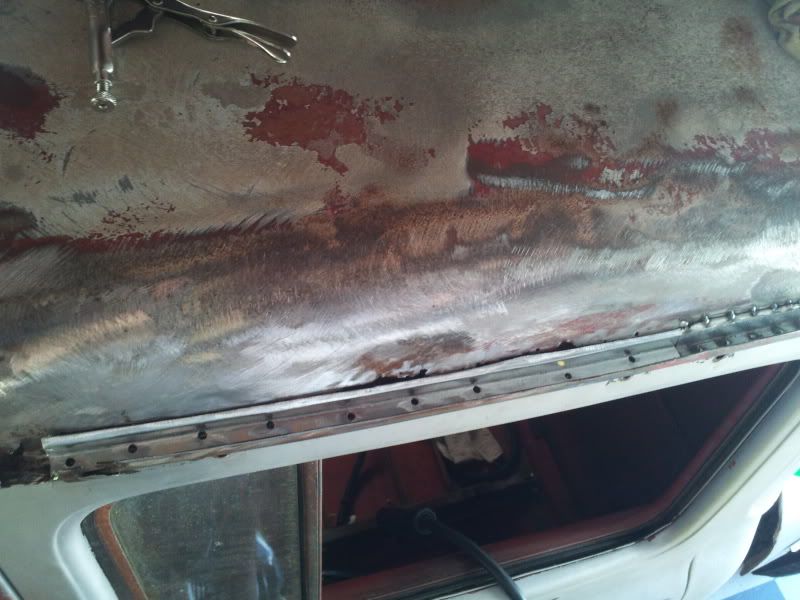 I just realized that I conveniently left out a shot that shows the corner. That corner was a real pain in the butt. Looks like butt too.
Tomorrow I'll continue and get the passenger side. Then go back, grind down the boogers, weld up a little more in between, place some sheetmetal plates behind the roof skin to weld to (like a fishplate).
After that, time for some rust proofing and filler.
Not my best work... and I aint proud... but it is what it is...
06-25-2012, 01:45 PM
LOL.. it crossed my mind.. or a vinyl-top from the 70s!
06-25-2012, 01:47 PM
I'm thinking the few inches up from the gutter, and the first 6" of roof from the front -back are going to be 'sculptures' of filler. If you look at the front, you can see a bare-metal line... that's a crease from God-knows-what. I'll have to shrink that down a bit before I start 'sculpting' too...
And if I get to the point that I absolutely can't make it work... THEN... I'll get the fiberglass cap. I really dislike the idea of the f/glass cap, not to mention that alone is more than I paid for the truck! hahhaha
06-25-2012, 03:04 PM
I feel real bad that you decided to go that route with those materials. I can't help but feel like you're going to be really sorry later that you didn't do it right. Galvanized steel should never be used for body work, zinc fumes are dangerous and paint doesn't stick, and most is too thin. and never patch from the outside in. There is a reason all the understructure is/was there, Ford didn't put an extra square inch of material in that wasn't necessary. I would have encouraged you to find another cab with a rusted out bottom and solid roof. Cut both at the roof pillars at the top of the doors and windshield and cut the spot welds across the seam at the back and graft the new roof panel back on like chopping a top without removing any metal. The posts would not warp or shrink and the weld seams would have been short and easy to conceal. Plug weld the rear seam back together and seal with seam sealer as was done originally.
06-25-2012, 03:20 PM
A guy on another thread said that he had a roof for sale on CL in Tacoma...he said in his post that it was for a slant cab but when I looked up the CL ad I saw that it was a 56. I think that he was asking $250 for it and it had the A pillars and rear section above the window attached. This might be the way to go on this cab...
06-25-2012, 06:06 PM
Mike, good job using what u could to close up the bad spots.
Best material for the repair.... Maybe not, will it work.... Absolutely.
Lots of of use what we can to fix up our trucks. Hell ive used everything from a bed frame to tin from a washing machine on different trucks over the years. Use what u got, and prep it the best u can. After all we are enthusiasts, not experts.
As for the front piece get a nice flat piece of 18 guage,(homedepot?) And start shaping with tin snips until ur satisfied and weld it in. Mud her up, and move on.
A donor piece for the front is an option too if u can find a good section else where.
06-26-2012, 02:15 AM
And.. the last of the ghetto-patching.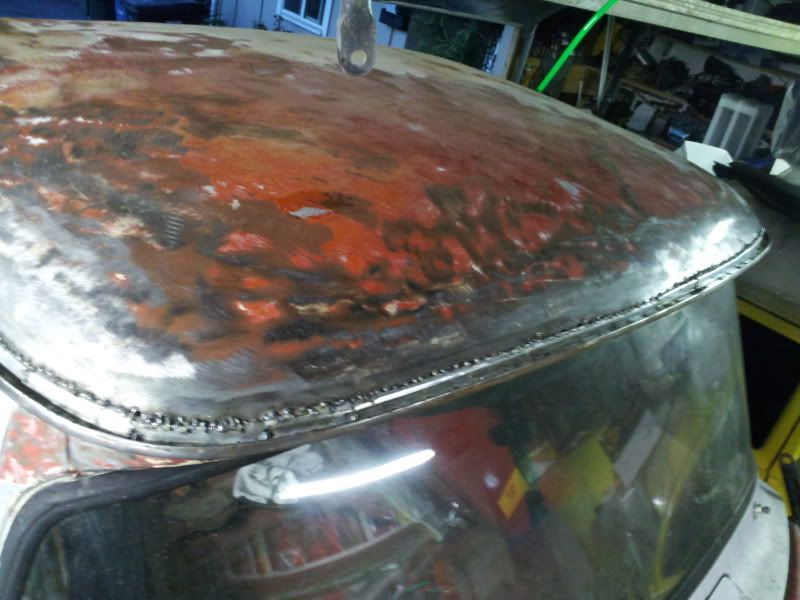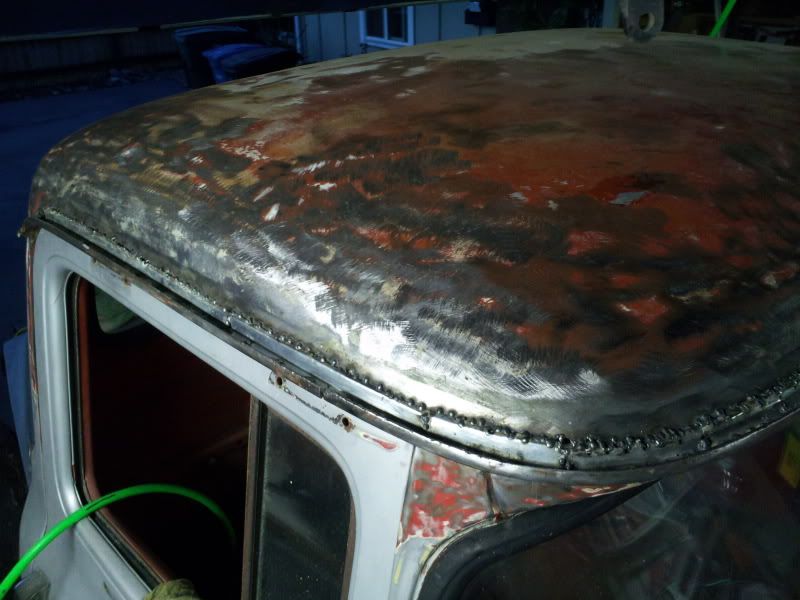 I think the name should be Frankenstein now... all stitched up like so.
09-11-2012, 11:50 AM
You would be shocked how LITTLE filler is actually up there! I am...
---
Got some paint slathered on the roof. The roof isn't the same paint I'm going to use on the rest of the truck.. it was actually some really old OMNI paint that I had a pint of sitting around. I just hope it cures correctly, as the reducer I used was for Nason!
The roof didn't photograph as well as it looked. I mostly wanted to protect it when I start storing it back outside again. I'm VERY pleased with how my bodywork turned out. There were several creases on the roof skin that had been popped in/out, not to mention the obvious rust issues shown previously.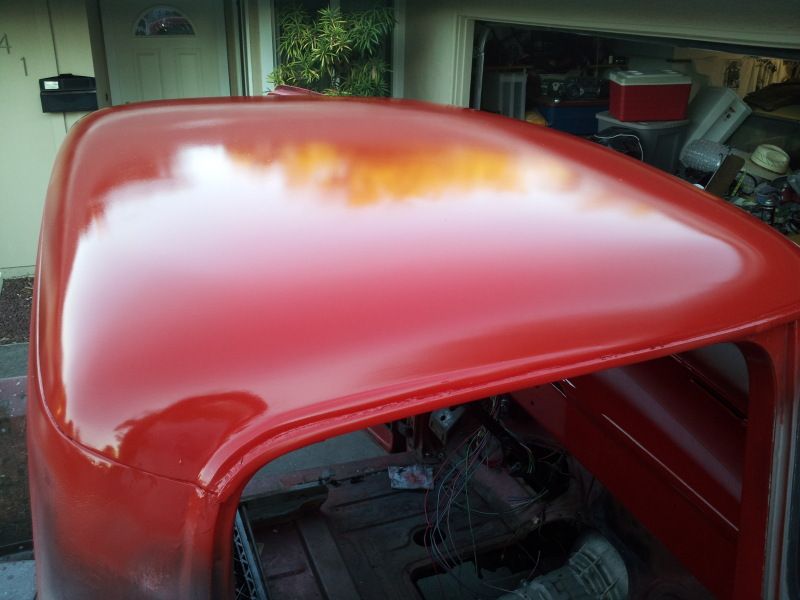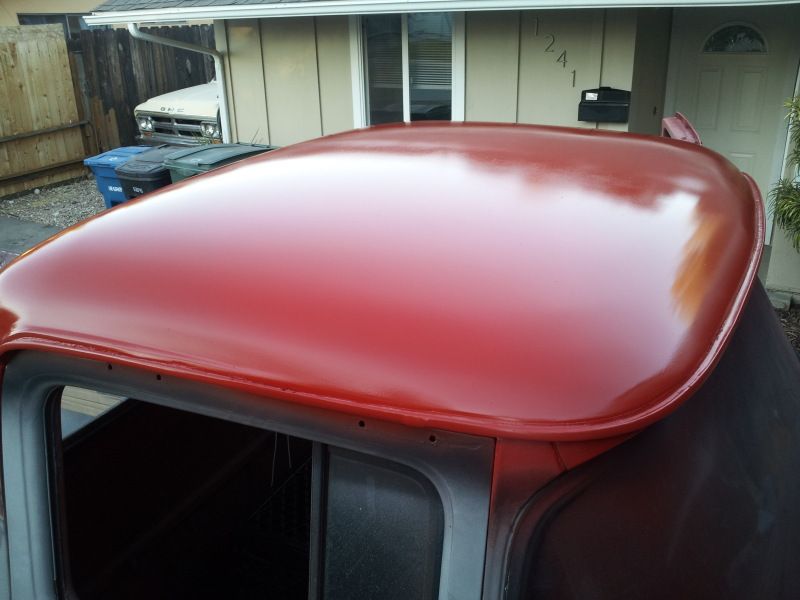 This driver's side rear corner was totally bashed up. Screw holes from either a handle or spot light... or?.. something.