I had my roof rails powder coated
05-31-2012, 11:11 PM
Join Date: Jan 2007
Posts: 242
I had my roof rails powder coated
---
My roof rails on my 01 navigator were looking pretty bad, I was originally going to paint them my self but after thinking about it I realized I would probably have to repaint them again in a few years so I decided to have them powder coated. It only cost me $75 to get them done and I am really happy with them, Here is a before and after picture.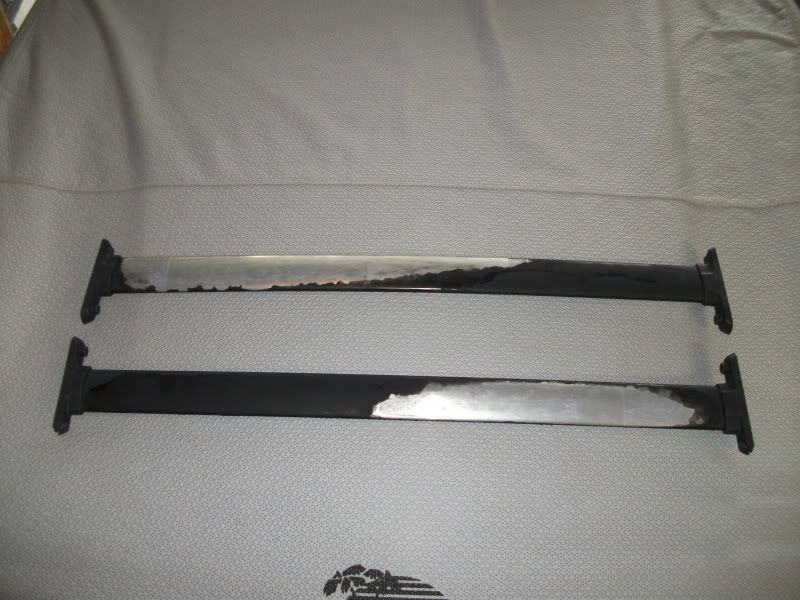 06-01-2012, 02:10 PM
__________________
SHOP HERE FOR AWESOME BRAKE PAD AND ROTOR KITS - FREE SHIPPING
06-02-2012, 06:11 AM
06-02-2012, 01:39 PM
06-02-2012, 03:11 PM
Join Date: Jan 2007
Posts: 242
06-02-2012, 09:39 PM
Join Date: May 2009
Posts: 160
06-04-2012, 02:07 AM
Join Date: May 2012
Posts: 6
Good idea but I got out cheaper
---
I just went to the junk yard and found an Expy with the correct luggage rack (there seem to be two styles on the first generation Expy). It took a little searching because all the luggage racks seem to look like yours used to
Finally, I found one that still had the paint on it...
The junk man asked me what I would give him for the new side pieces and crossbar and the mount bolts. I said $10 and he grabbed that faster than I could change my wording to $5...
Well, it still looks old but at least the luggage rack paint is all intact... for now...
BTW... your paint job really does look nice.
06-05-2012, 03:15 AM
06-05-2012, 07:43 AM
Join Date: May 2009
Posts: 160
The wiper arm stripped out while in use, I pulled in to an AZone, told the clerk what I was driving, he handed me a wiper arm and I went out to the parking lot and installed it.
Don't know the part number.
Frankly, I thought that AZone having that exact part was amazing.
Thread
Thread Starter
Forum
Replies
Last Post
1997-2006 Expedition & Navigator
1997-2006 Expedition & Navigator
1973 - 1979 F-100 & Larger F-Series Trucks
1997-2006 Expedition & Navigator
1997-2006 Expedition & Navigator