I had my roof rails powder coated
06-01-2012, 12:11 AM
Join Date: Jan 2007
Posts: 242
I had my roof rails powder coated
---
My roof rails on my 01 navigator were looking pretty bad, I was originally going to paint them my self but after thinking about it I realized I would probably have to repaint them again in a few years so I decided to have them powder coated. It only cost me $75 to get them done and I am really happy with them, Here is a before and after picture.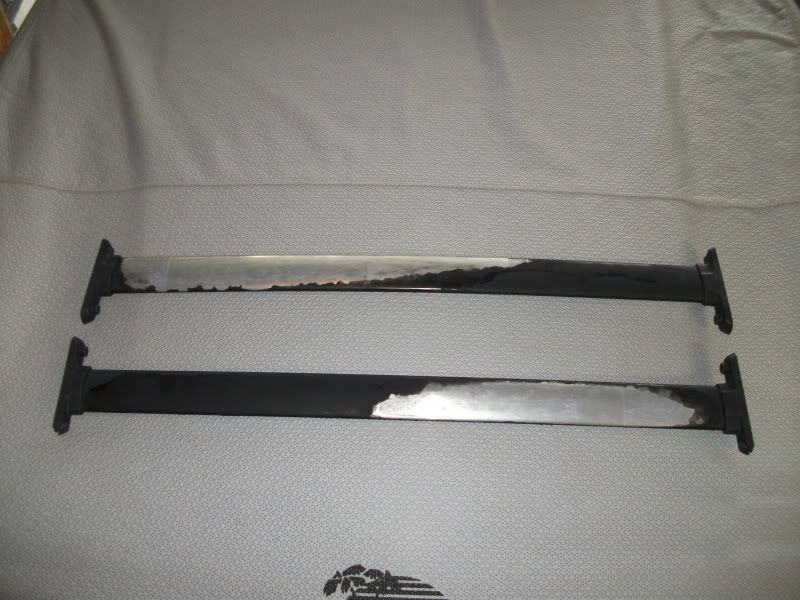 06-01-2012, 03:10 PM
__________________
SHOP HERE FOR AWESOME BRAKE PAD AND ROTOR KITS - FREE SHIPPING
06-02-2012, 02:39 PM
Nice!
That gave me an idea . how about Front wiper arms and rear arm powder coated?
06-04-2012, 03:07 AM
Join Date: May 2012
Posts: 6
Good idea but I got out cheaper
---
I just went to the junk yard and found an Expy with the correct luggage rack (there seem to be two styles on the first generation Expy). It took a little searching because all the luggage racks seem to look like yours used to
Finally, I found one that still had the paint on it...
The junk man asked me what I would give him for the new side pieces and crossbar and the mount bolts. I said $10 and he grabbed that faster than I could change my wording to $5...
Well, it still looks old but at least the luggage rack paint is all intact... for now...
BTW... your paint job really does look nice.
06-05-2012, 04:15 AM
Roof rack rails
---
I like the idea of the powder coating but what do you do for your roof rack rails? Mine are starting to peel. For the person with the Exp who brought the replacement wiper arms at Autozone what was the part numbers for both sides?
06-05-2012, 08:43 AM
Join Date: May 2009
Posts: 160
The wiper arm stripped out while in use, I pulled in to an AZone, told the clerk what I was driving, he handed me a wiper arm and I went out to the parking lot and installed it.
Don't know the part number.
Frankly, I thought that AZone having that exact part was amazing.
Thread
Thread Starter
Forum
Replies
Last Post
1997-2006 Expedition & Navigator
1997-2006 Expedition & Navigator
1973 - 1979 F-100 & Larger F-Series Trucks
1997-2006 Expedition & Navigator
1997-2006 Expedition & Navigator