1954 F-100 (D)
05-24-2012, 03:49 PM
1954 F-100 (D)
---
This is my build thread for my 1954 F-100.

Background:
Purchased in November 2001 locally in Texas. Mostly all original: 223 oil breather, 3 on the tree, 4.27 splicer, bench, etc. I made her (Sandy) road worthy and drove as primary mode of transportation until April 2004 when I had the money to buy a new car. This began the dream of building a hot rod. I made the decision in my mind that during tear down I would get rid of everything that I did intend to use. This was a young dumb mistake. I wish I still had some of those parts. I have been off and on working, as money/time permits, since 2004. I intend to use all Ford parts and reuse parts from donor as much as possible. So far I have enjoyed the adventure of creating or repurposing parts.

Plans (not a complete list):
Motor-351W: purchases from Bolt-On Motors late 2011. Came from a 1985 or 86 F-250. I am told it is a H.O. and visually it has a stock holley 4 barrel carb. I will rebuild.
Trans -C4: I will rebuild. Came from my 1981 F-100 donor that I bought late last year thinking is was a 351W but turned out to be a 255W (V8). Thought it was a bad deal but I have an endless amount of steel and usuall parts.
Frame - No major modification except for a few extra mounting holes. POR-15 black.
Front End - Aerostar IFS (rack and pinion): Got the idea from a past co-worker (Scott Hurley (FTE here)). Welded in and ready to replace bushing, paint and final assembly.
Rear End - 9 in from the above donor with leaf for now. It is a bit wide but in mock up I think I can make it work with the right back spacing.
Seat- Bench from donor. Mock up showed it fits.
Radiator - From donor: Already fabbed up brackets and think it will work.
Brakes - Master cylinder and booster from donor. Temp mounted to firewall with pedel bracket installed.
Steering Column - From donor: Temp installed. Plan to buy new original steering wheel or other design that is as close to original looking.
Gas tank - 1970 Mustand (22gal) - Mounting frame complete less paint and install. All mocked up.
Cab - Stripped and Epoxy primered by Metal Rehab in 2006. Need to do the normal corners, floor (minimal).
Glass - Lack rear.
Doors - Stripped and Epoxy primered by Metal Rehab in 2008. 80% of hardware install complete.
Hud, Fenders - Have not started but in fare condition.
Bed - Bought a complete bed with rear fender (now have 2 sets of rear fenders, may make wide rear fenders) because may side walls of original was beyond what I thought could be repaired. I think it was a mistake but no matter now.
Wheels - Would like original style with dog dish. 5X 4.5 or 114.3 all the way around. I currently have the donor wheel (look like 4X4 wheels) and original 5X 5.5.
Paint - John Deere Blitz Black (1 option) or Original Color (2 option but the Vin ID says SS. It is a darker green)
Ride Height - Have dreamed of a lower stance but to start I will not be so concerned. I do not want to c notch or other mods to the frame to lower.

Pictures to follow.

Thanks for looking,
Stephen
---
Last edited by 54TexasF100; 05-24-2012 at

04:02 PM

. Reason: 3 on the tree not 6. That would have been sweet but quite a tall learning curve.
05-24-2012, 03:59 PM
05-24-2012, 04:20 PM
05-27-2012, 08:24 PM
05-29-2012, 09:08 AM
05-29-2012, 09:22 AM
05-29-2012, 09:22 AM
Cab stripped and epoxy primered. Sorry but this is the best picture I have. Also the new (to me) bed is sitting on frame with IFS and temp installed 9 inch from donor. This are not the wheels I will be using just what I have laying around.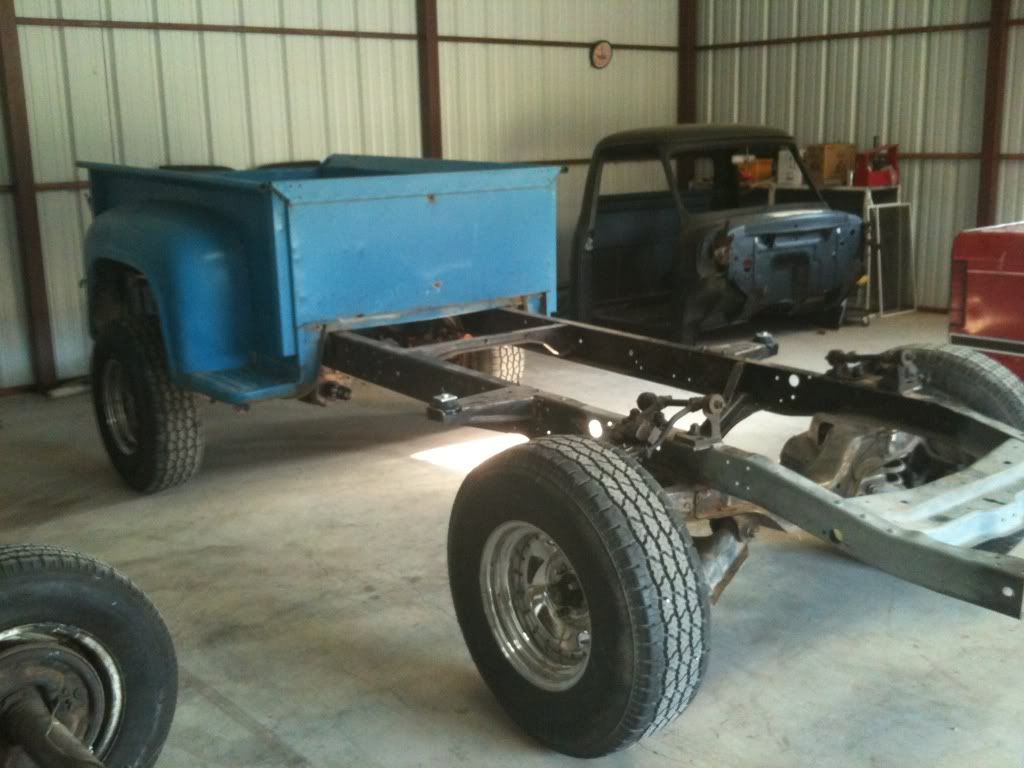 ---
Last edited by 54TexasF100; 05-29-2012 at

09:30 AM

. Reason: Posted Twice.
05-29-2012, 09:38 AM
Door(s): Same as the cab, had both doors stripped and black epoxy primered by Metal Rehab in Arlington, TX. Ordered new parts from LMC Truck and installed. I have all the door glass but will wait to install when I get final gaps and what not. I have a bit of skin work yet..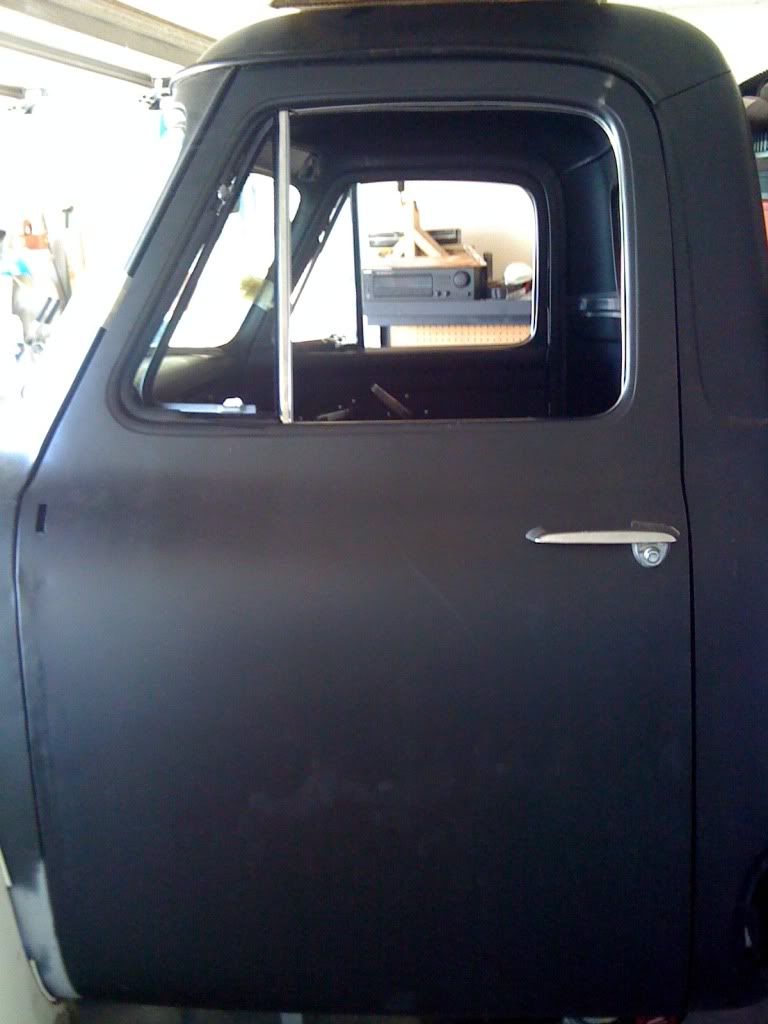 ---
Last edited by 54TexasF100; 05-29-2012 at

09:42 AM

. Reason: add second close-up picture
05-29-2012, 10:48 AM
Motor mount mockup: I finally found a good deal on a motor. Engines are always a laboring decision. I went back and forth on what to choose and made the final decisioin on the 351W. I plan to rebuild mostly stock internals. I will bolt on headers, and new stock carb. May change mind when I get into tear down and rebuild.
I dangled the engine where I thought it should sit so I could take measurement for the motor mounts.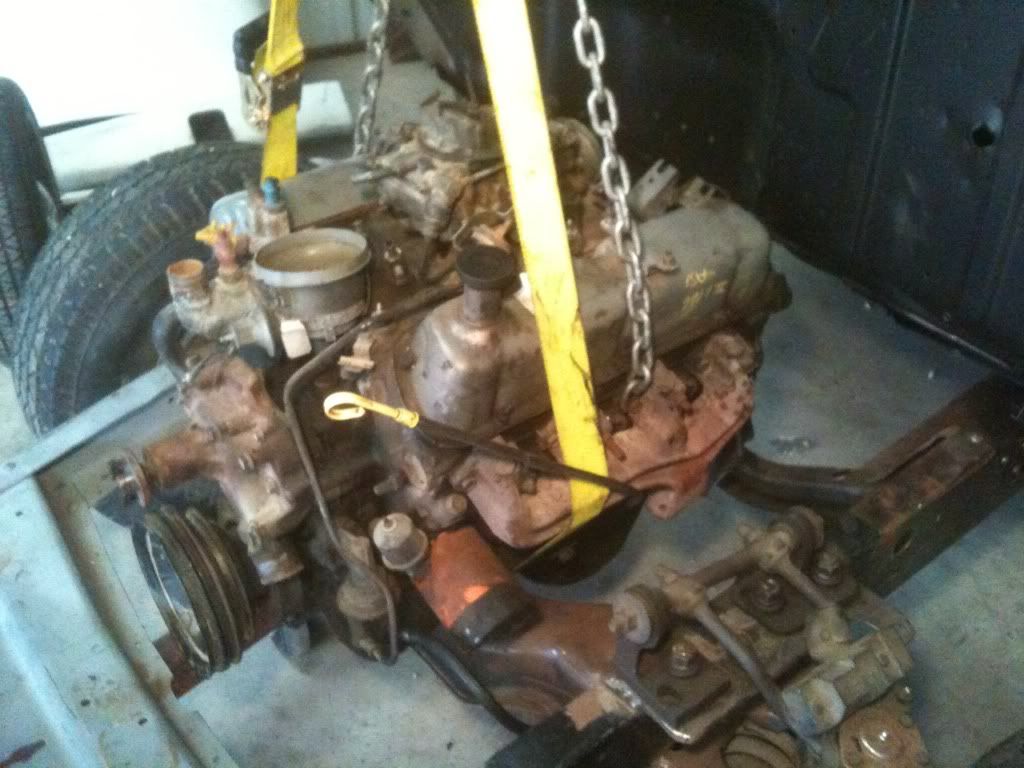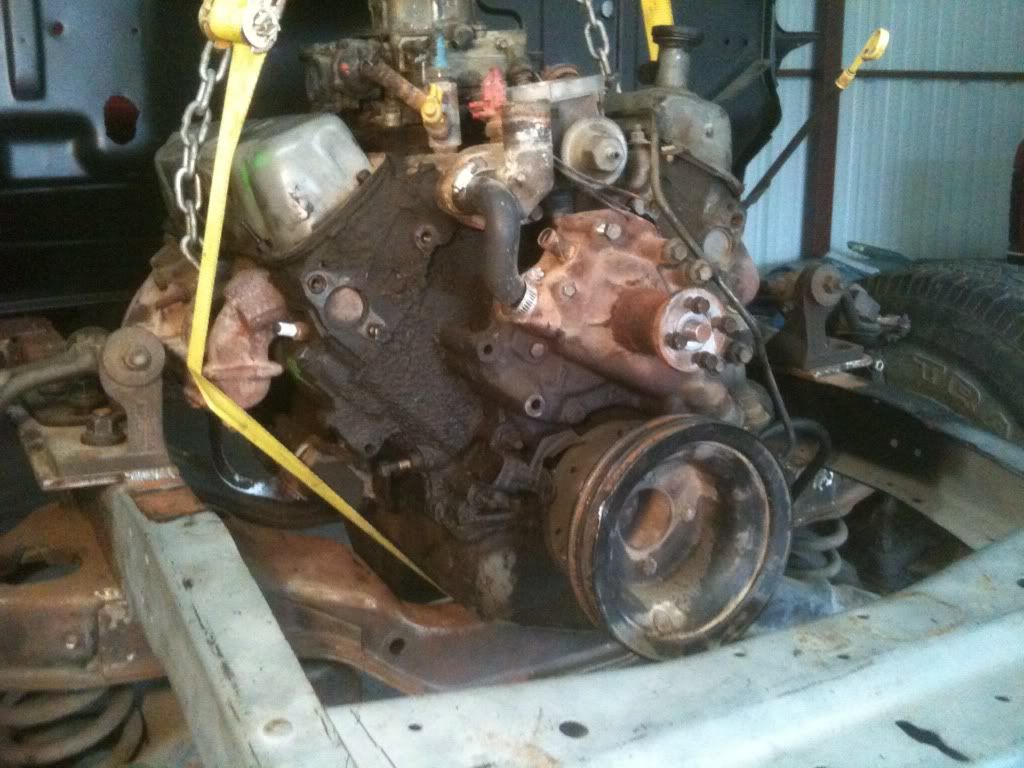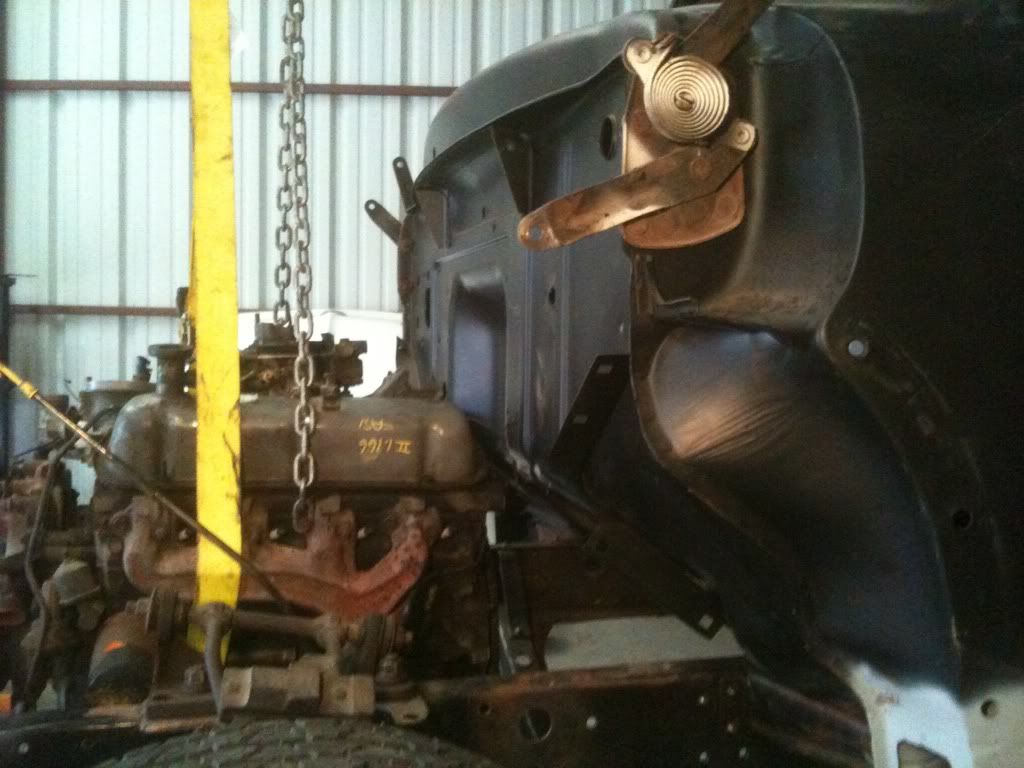 05-29-2012, 11:00 AM
Motor Mount Fab: After mulitple mockups the correct engine motor mount height is acheieved. Took the motor mounts from the donor (1981 F100) and worked them over. Also took the transmission crossmember and chopped it up to fit.
Pay no attention to
the huge new hole on drivers side of the crossmember (will fill in a later post) nor the temp installed rack and pinion mount brackets.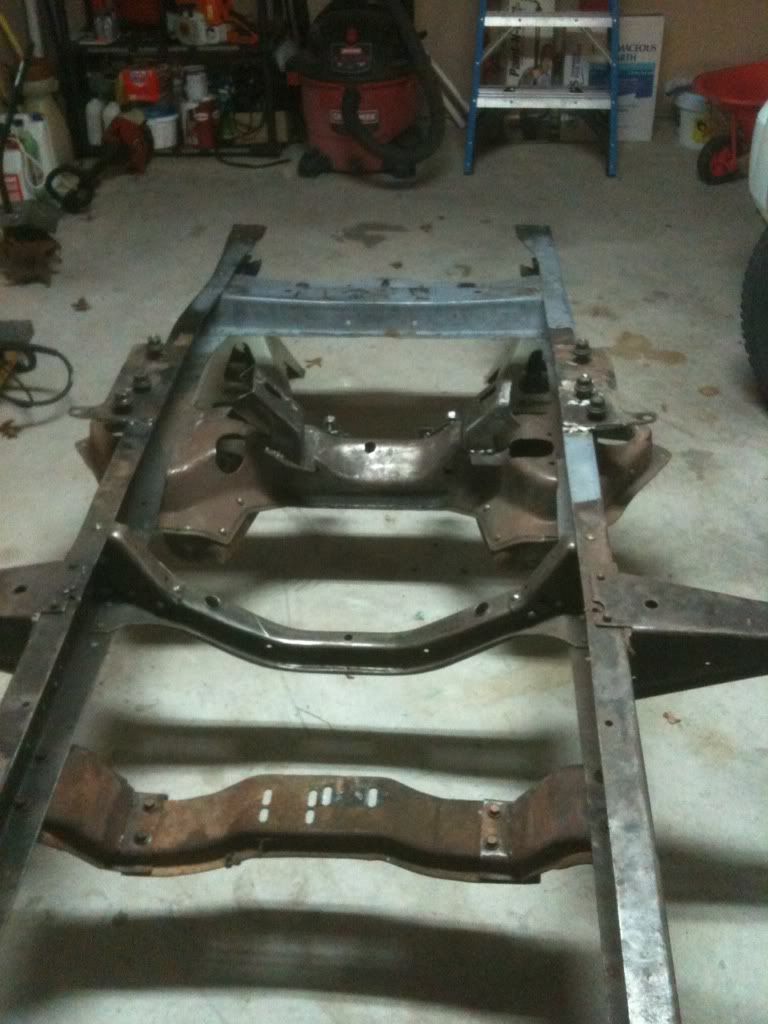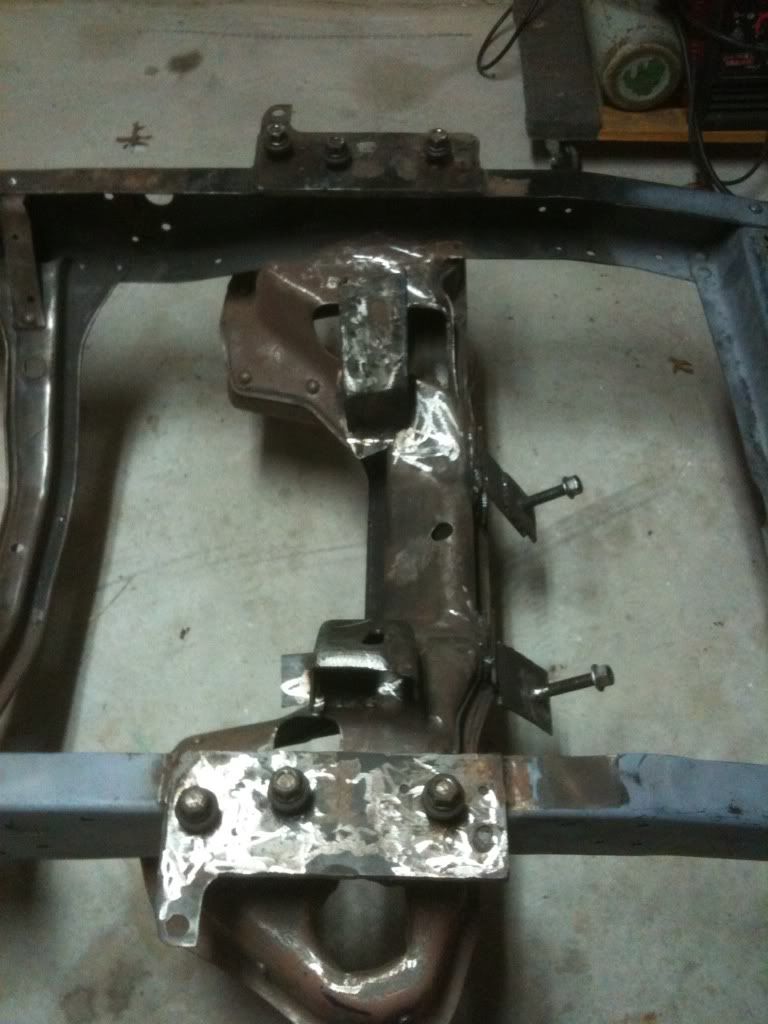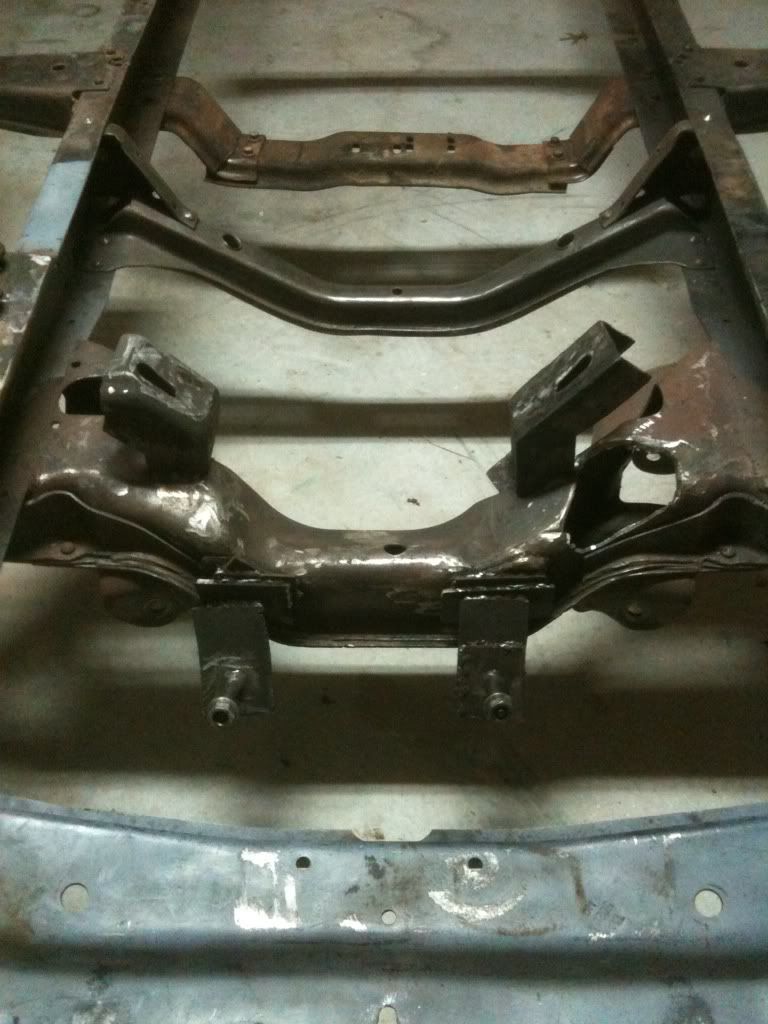 05-29-2012, 11:14 AM
05-29-2012, 11:23 AM
05-29-2012, 11:28 AM
05-29-2012, 11:36 AM
05-29-2012, 11:38 AM