1954 F-100 (D)
05-29-2012, 12:45 PM
Radiator Mockup: I have been trying to use as much of my donor truck parts as possible. I realize that some of these parts may not work in the end so in my mockups I look for way not to alter orginal design. I may decide to buy orginal looking aluminum style but the price tag scares me at the moment. Electric fan (slim fit) in in the future.
For mounting, I made 4 "L" shapped brackets to support the radiator. It is not resting on the forward crossmember. May or maynot be the best way in the end but I am having fun.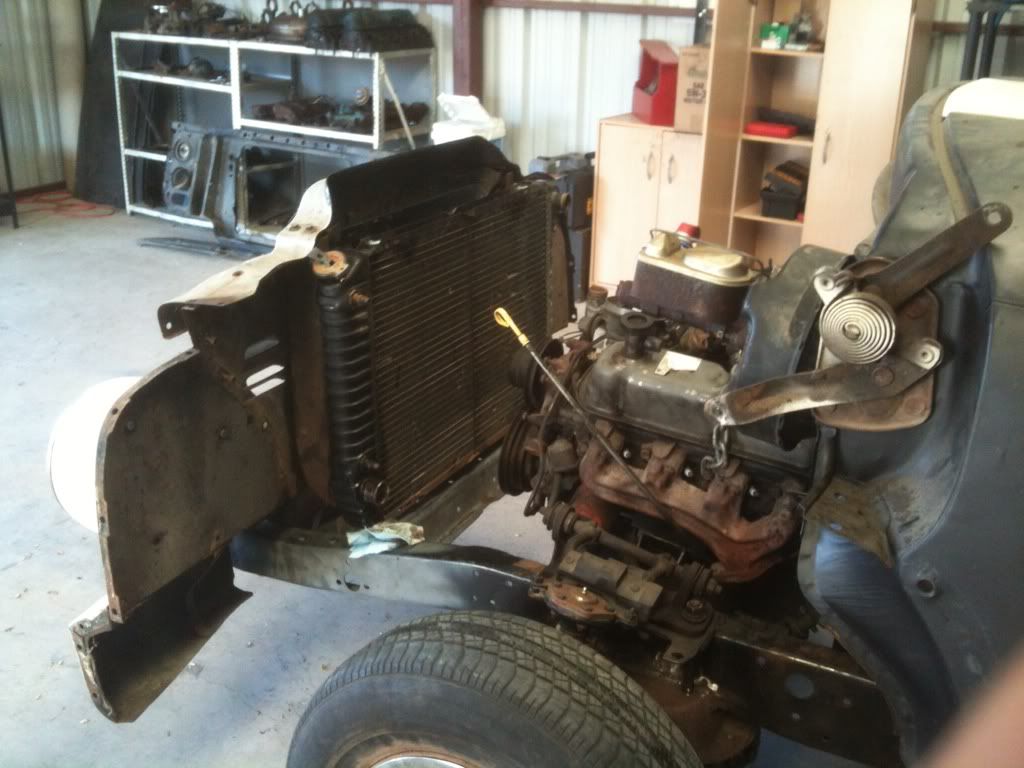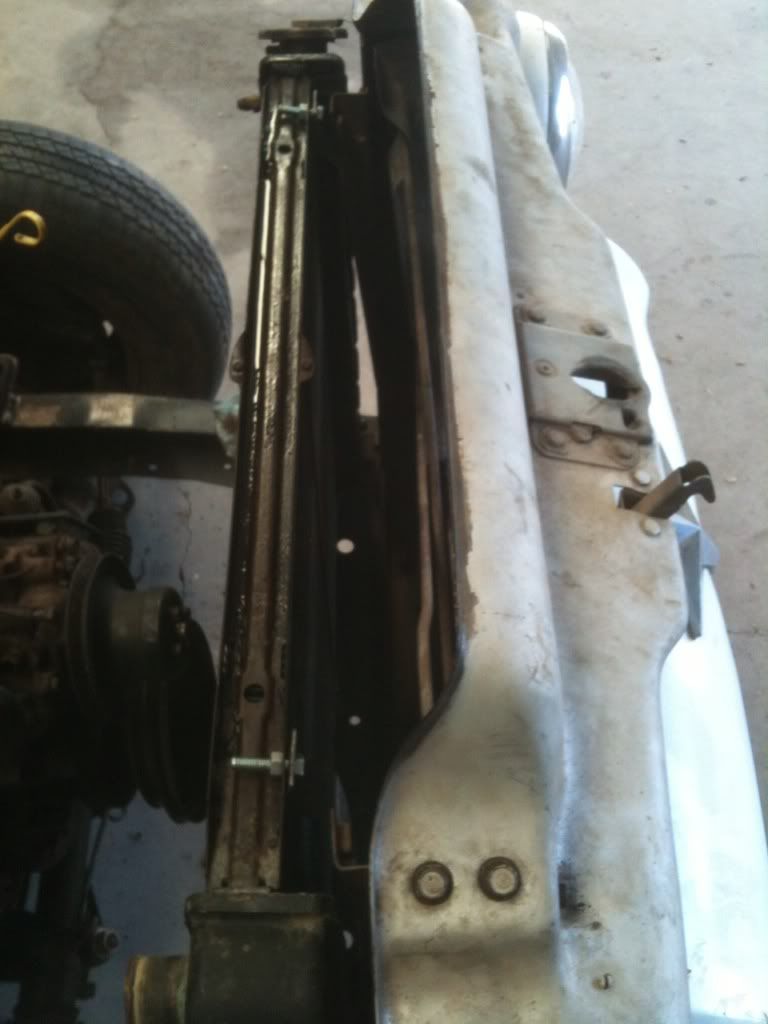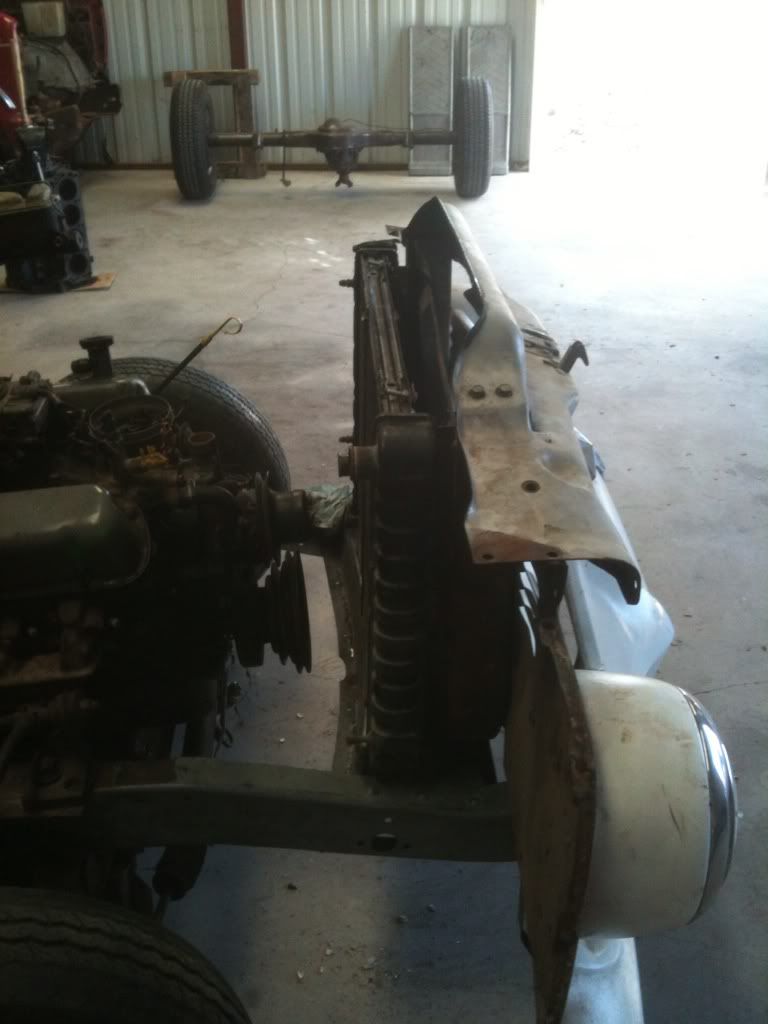 ---
Last edited by 54TexasF100; 05-29-2012 at

12:48 PM

. Reason: How I mounted.
05-29-2012, 12:55 PM
Anticipated Ride Height: With Aerostar and engine installed.
Note: The front wheels are 14" and the rear are 15" with large (31"s) and the rear axle is flipped. I did not cut the coils. I do not plan to flip the axle but would like the rear to be a touch higher than the front so I don't know what I will do but stay tuned. The level bubble showed the rear a tiny bit lower.
05-29-2012, 01:04 PM
Everything so far has been major milestones perfromed since 2004 (most in the last year since I moved to a location with lots more room to work. My shop does not have electricity so that is the location for major component mockup. Welding and paint have been in my home's garage (finally a 3 car).
This weekend I painted the frame (POR-15, sprayed):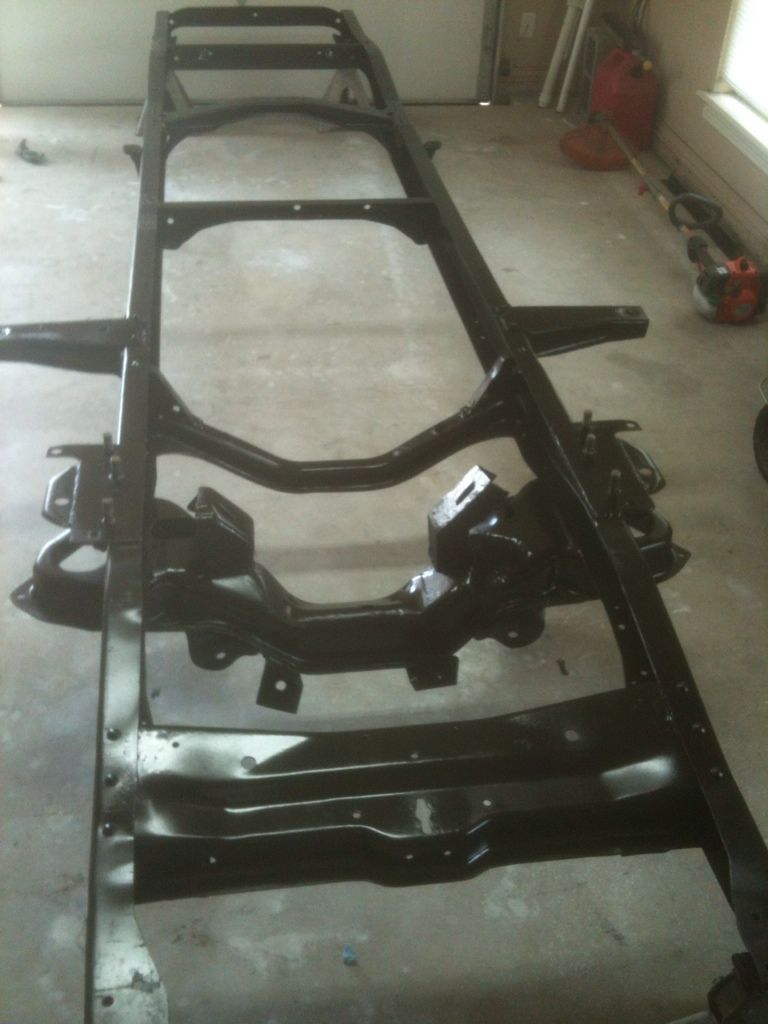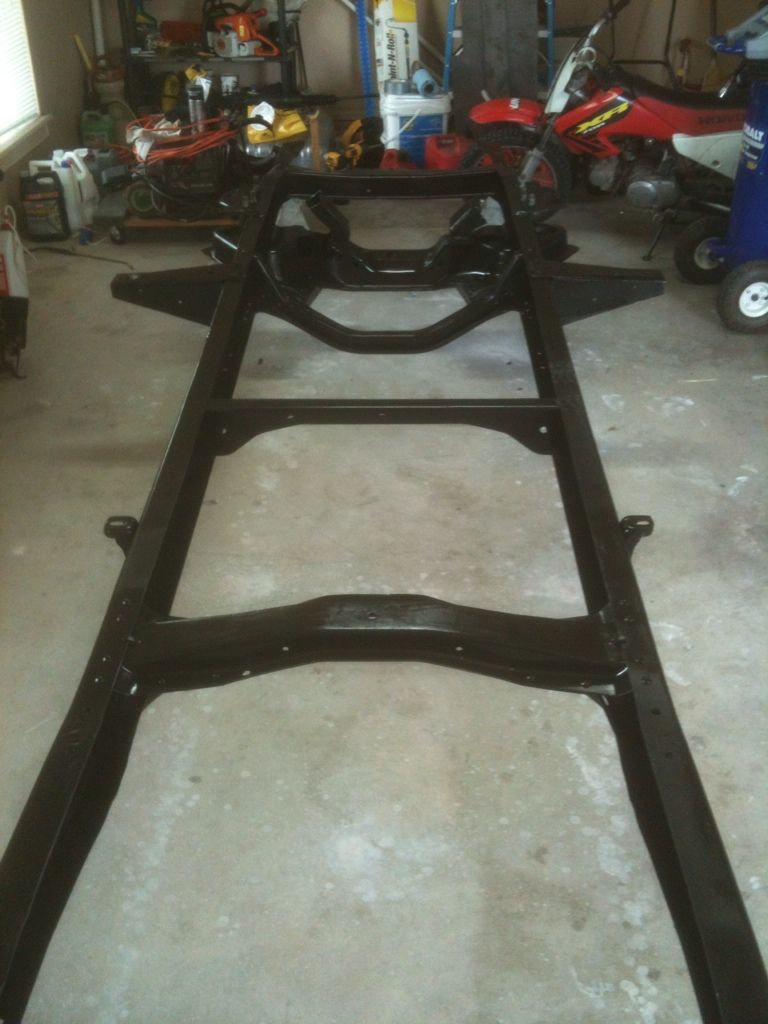 05-31-2012, 09:10 AM
Thanks Randall. The progress has highs and lows. Lately I have tried to take small bites and it is less stressful and more enjoyable. I wana drive now but I have to keep telling myself to relax and enjoy.
The last two nights after work I have been concentrating on the lower A/control arm. I purchased balljoints and bushings for both sides. I rented a ball joint tool from the auto parts store and pressed out the ball joints. For the bushings on the drivers side, I had to drill on the rubber and cut though the sleeve then cleaned and painted. I may need to repaint if the press scratches the paint so on the passenger arm I may just clean, press in the joint and bushings, tape up for painting, and paint.
Its the little things that make me happy.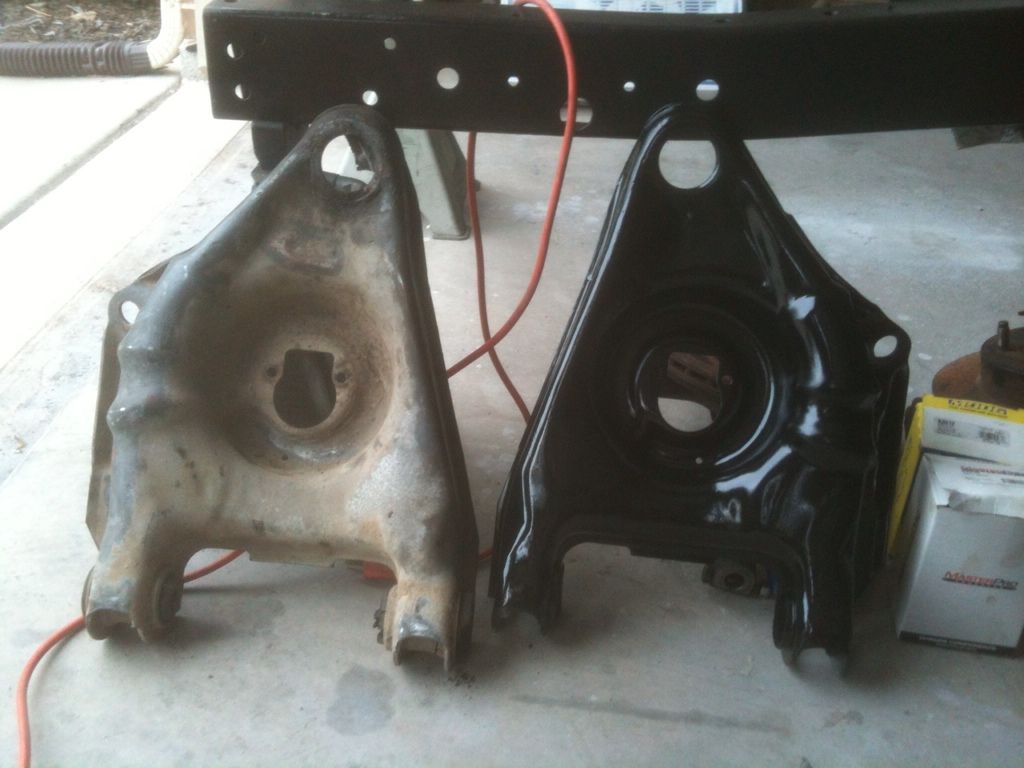 05-31-2012, 10:28 AM
Join Date: May 2007
Location: Stafford, VA
Posts: 15
Great to hear back from you. I am taking a little different approach than you and I am putting in a Mustang II IFS. Right now, I have the front clip off and getting the frame ready for the boxing plates welded in. I was sidelined a little with a knee replacement that did not help when it comes to kneeling down to do work and just as that was healing enough to get around, I had my left foot operated on and that is just starting to come around. It has been about 18 months of delay but I hope to get back to it with a vengeance. I look forward to following your progress. I may post my trucks and a few photos as well.
06-17-2012, 08:04 PM
Front End
---
Did some front end this weekend. Pressed in the lower A-arm ball joints. I rented a tool from O'Reilly's. It was basically a large C-clamp. Worked pretty good to remove and install the ball joints, and bushings. I cleaned and painted everything and started putting everything back together. Also worked on the driver's side upper A-arm. The upper A-arm bushings are easier than the lower. I just used my vice to press them in (hammer and socket to push them out. Once I finish up the passenger upper A-arm I will move on to the spindles. I will need to buy new rotors and brake calipers.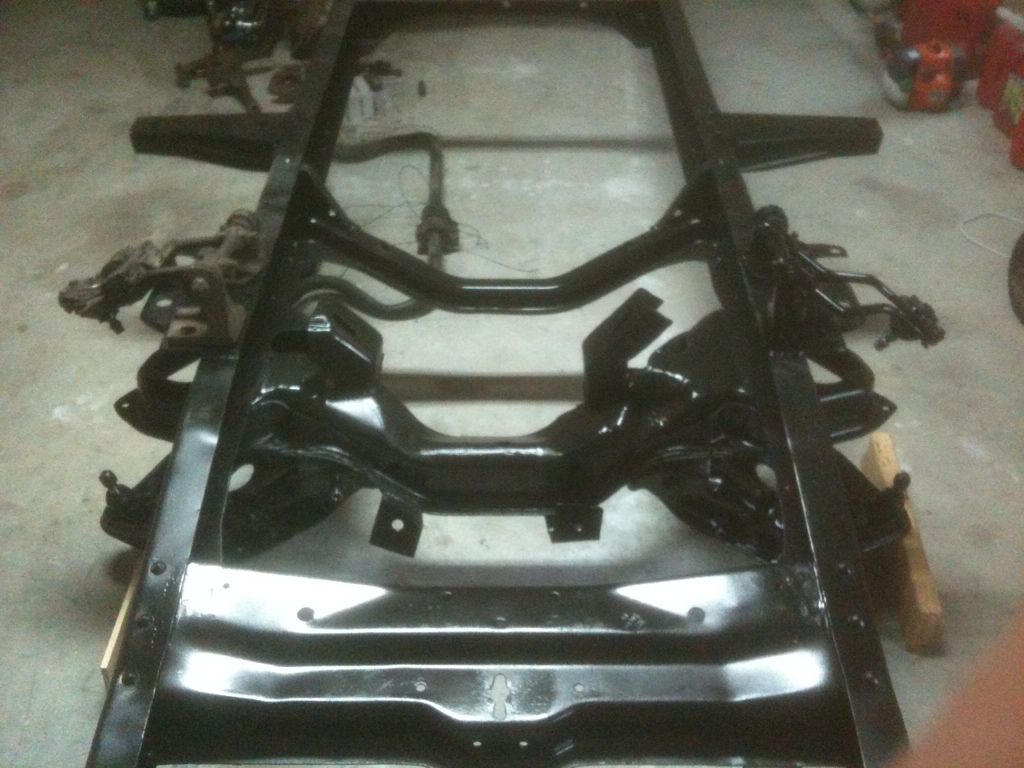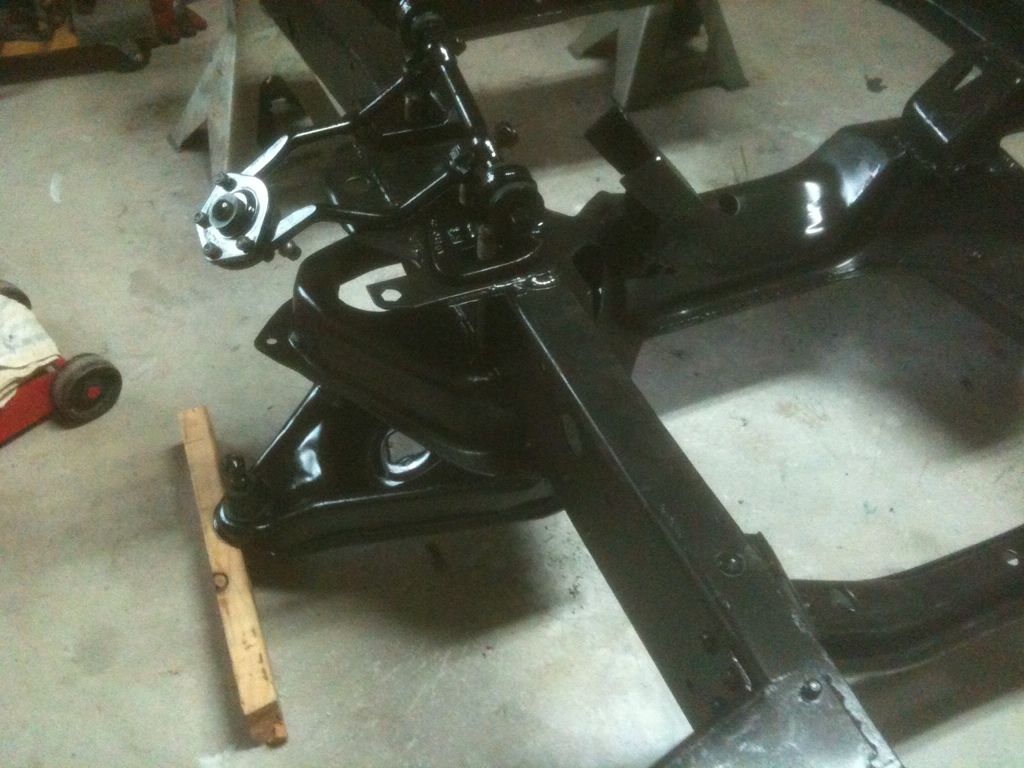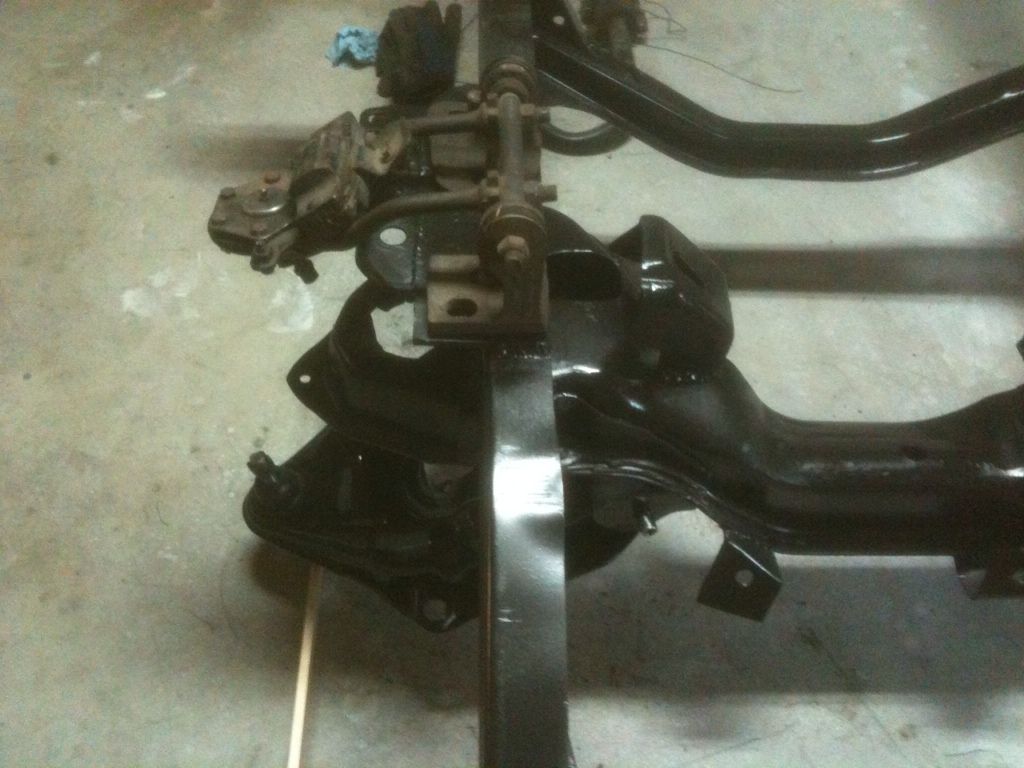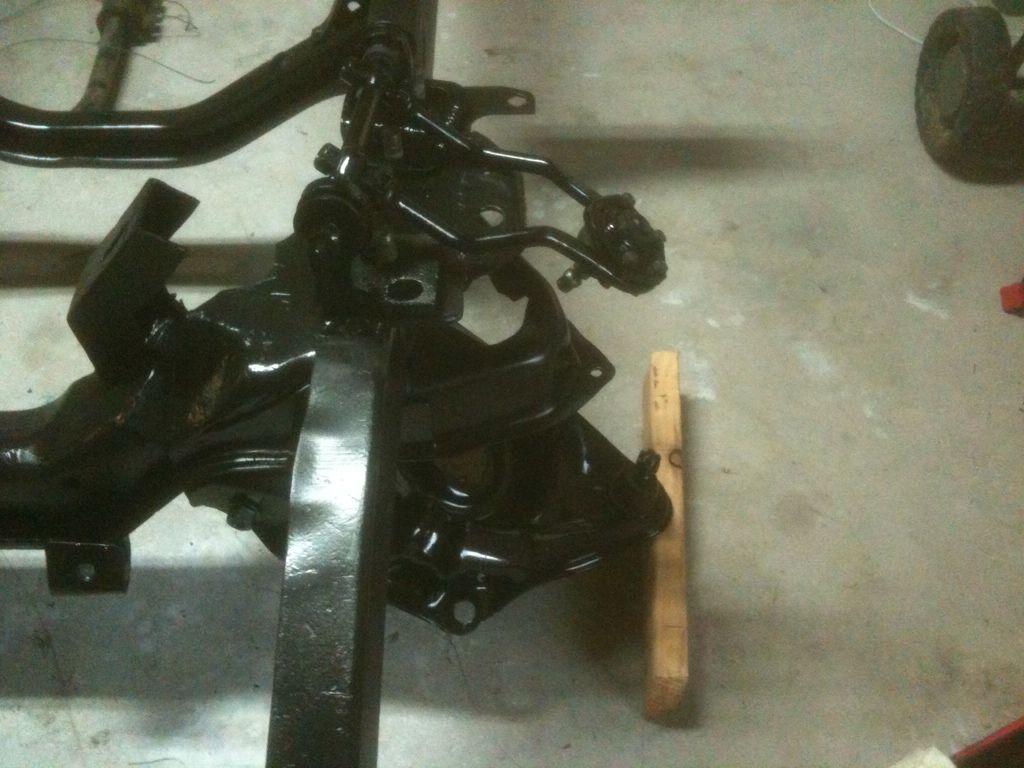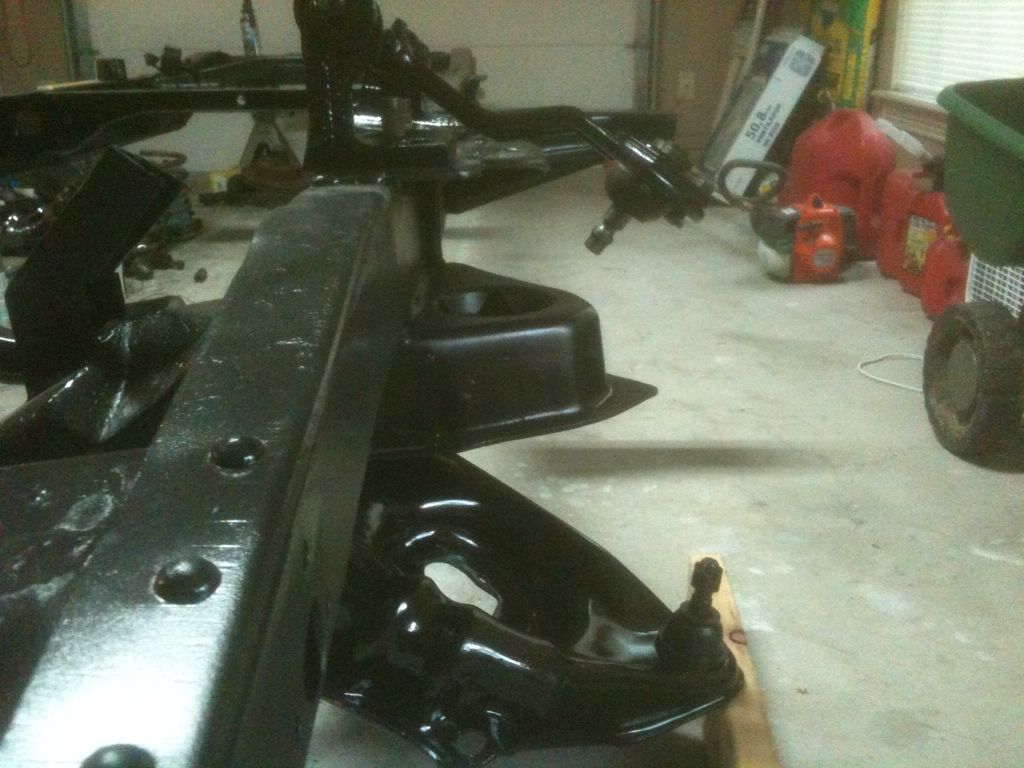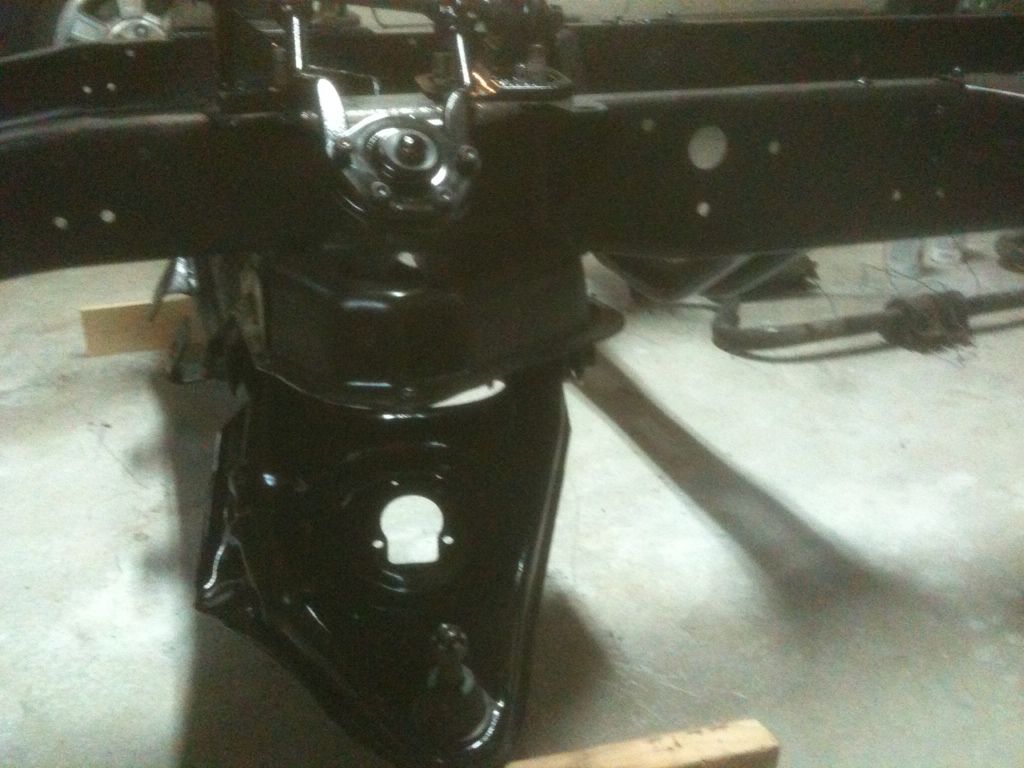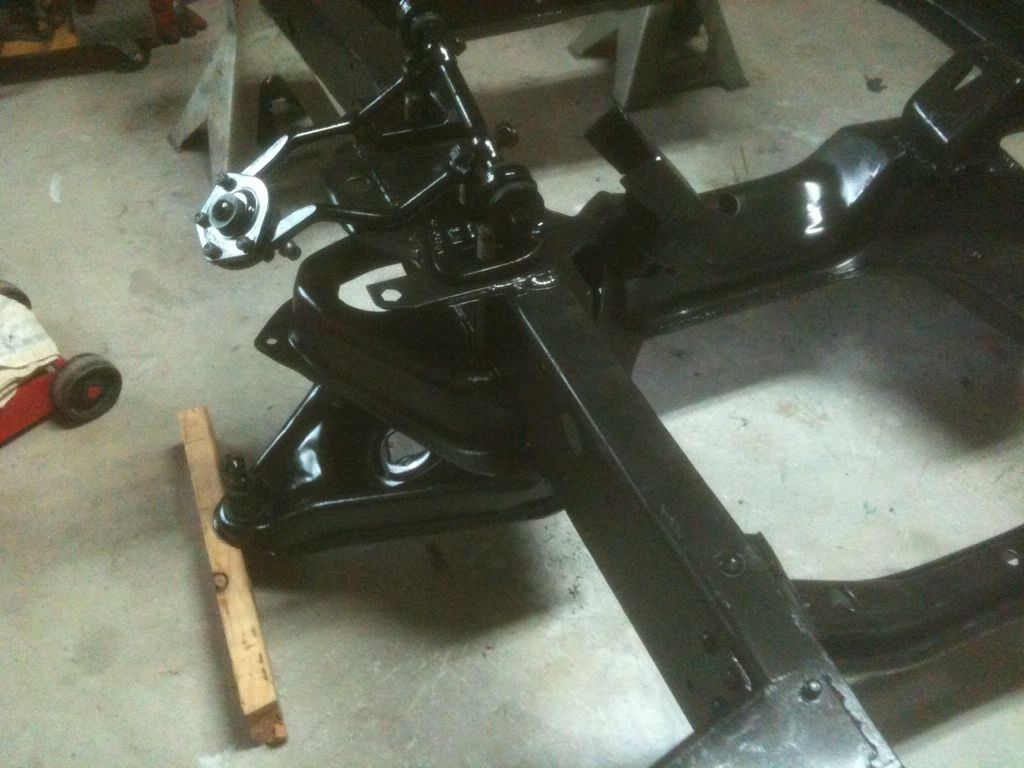 06-18-2012, 07:57 AM
Motivation is the key. I try to do one small thing each day after work that allows me to make the most progress during the weekend. I am excited to get wheels on the ground in front. This is my current motivation. I hope to follow your progress soon. Thanks-
06-24-2012, 12:43 PM
Join Date: Sep 2010
Posts: 368
Hi
,
First off, that was a great looking truck to start with.
I haven't had time to read over your complete built so far but it looks pretty good. I like the fact that you are trying to use what you have on hand. Your front suspension is different from anything I have seen but looks good to me. I like builds that are done by the owner compared to ones done by Joe Blow, Frank Who and Fred Smuck and all the owner did was pay out the money. Keep at it and in the end you can say - I did it.
Another thing that caught my eye was the steering column and column drop. The connecting rod column drop is unique. I believe you said that you used the column from a 81 F-150. I used the column from a 84 F-150 in my 56 C-500 (Mercury) and used the 56 steering wheel. If you are interest in how I did this say so and I will try to post some pics and explain better. It is not completed yet but may help you out.
Bye for now and keep up the good work.
Old Ugly (Rod)
06-24-2012, 09:32 PM
Hey Rod,
Thanks. After I bought the truck I slapped on a coat of white. She was a 25ft.-er at best. The white really hid many of the character marks. Under the exterior she was unrestored. 10 years wiser I would have kept the original patina'd paint. Better luck on the next project.

I have a difficult time spending money on something I think I can do. If nothing else I will learn something new. I can't wait until I am out with other FTEers like you and Randell talking about how exactly we made that part work for our different applications. I do not get excited by seeing a row of shinny chromed out rigs with all the same bought parts.

I got my idea for the aerostar from a co-worker that did it and he stated it was cheap, easy, and perfect ride.

Yea, the connecting rod thing was a fluke because I was looking around the shop cor something metal that would fit and this just happened to be perfect, if you remove the bearing. The 81 F100 was a great donor.

I would really like to see how you adapted the original wheel to the column. Another stupid mistake I made was getting ride of the original steering wheel but nowI would rather have the original interior look including instrument cluster (which I also cleared away). Thanks.

Stephen
06-25-2012, 01:55 AM
Join Date: Sep 2010
Posts: 368
Hi Stephen,
It's been a couple of years since I installed this column and like I said earlier I haven't finished it yet. The biggest problem I remember was the original column has the horn wire going down the center of the shaft and the 80's column has an external horn wire. If you look at the back side of the 80's steering wheel there is a copper ring that the horn wire contact button rides against, the 53-56 steering wheels don't have this. I simply made an aluminum ring and fastened it with four screws. Only one screw goes completely through to fasten a wire to, the other three, if I remember correctly, I simply tapped threads into the steering wheel material. Time for a picture.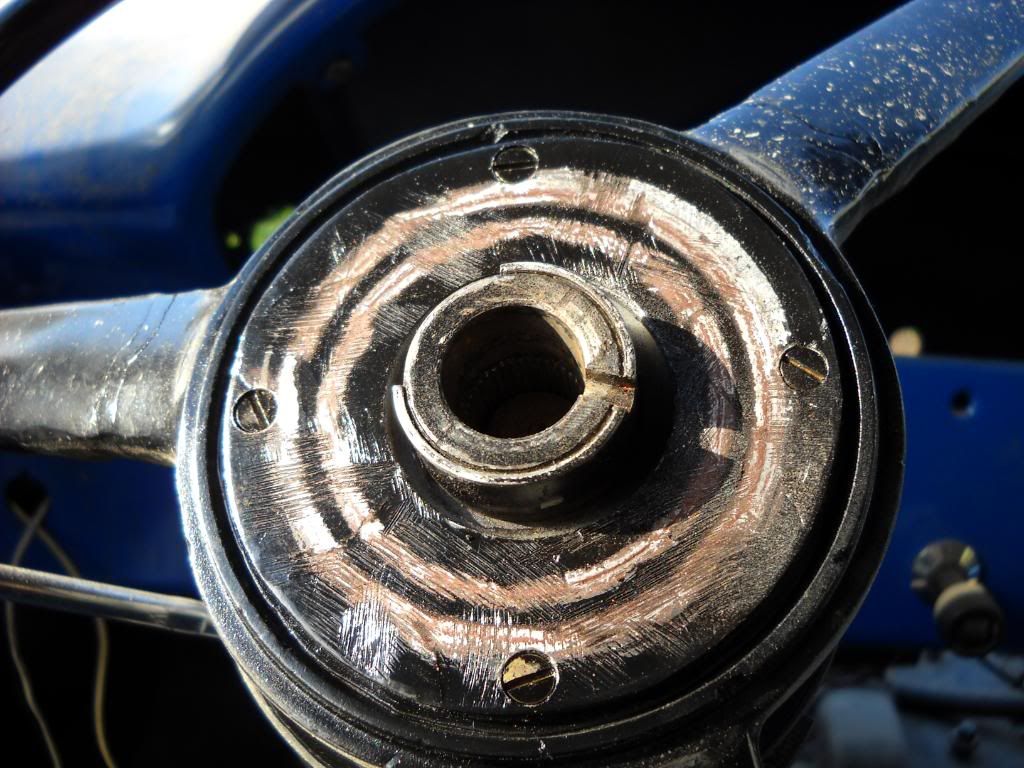 Then I soldered a wire to the spring washer for the 56 horn and put an eye on the end and fastened it to the screw that is completely through the steering wheel. Another picture.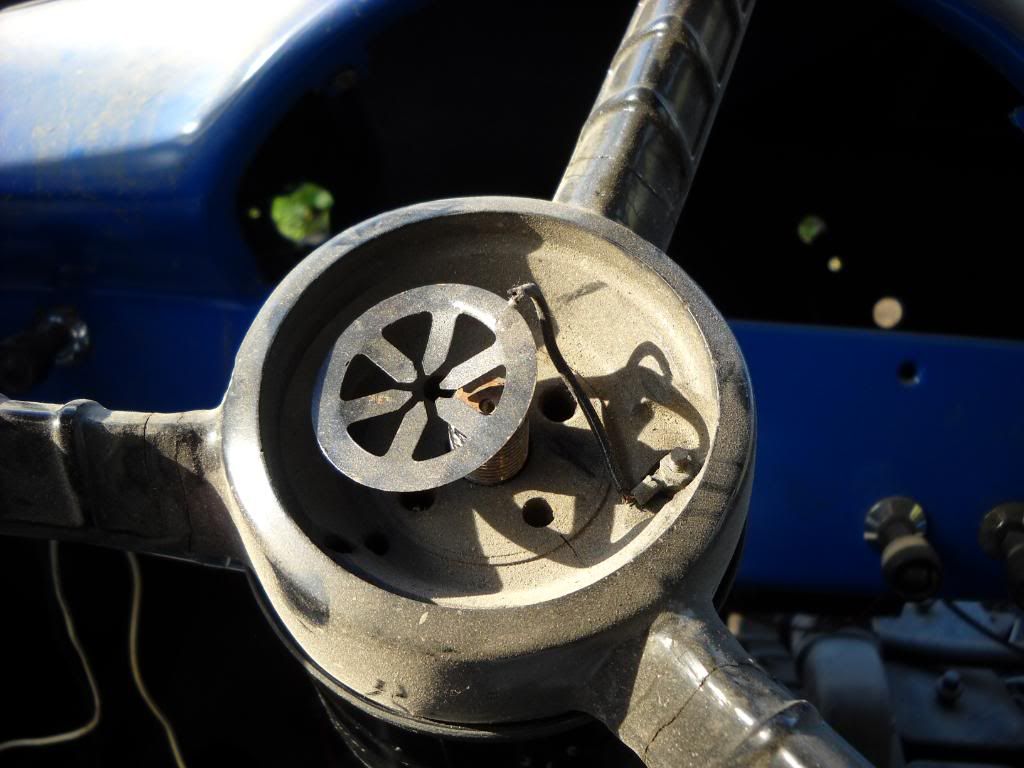 As I mentioned before I haven't completed this yet. I have not checked to see if the wiring will work, one may have to insulate the spring washer from the steering shaft, I'm not sure.
The splines on the 80's steering wheel and the 53-56's are the same but you should have a spacer between the steering wheel and the top of the column. Another picture.
06-25-2012, 02:22 AM
Join Date: Sep 2010
Posts: 368
Oops - when I previewed the post I ran out of room.
As I work for a trucking company and I'm a pack rat I was able to find an old leather padded steering wheel off an International truck of which I used part of it to make this spacer.
Basically pretty simple except for the wiring for the horn. If the horn doesn't work the way I have it I'm sure with a bit of thinking it can be made to work. A lot of these things are trial and error,just have to keep trying. I have a few 53 - 56 steering wheels so I wasn't to worried if I ruined one.
Hope this helps and gives you some direction and ideas.
Bye for now Old Ugly (Rod)