1990 f150 leveling kit
05-07-2012, 04:45 PM
Join Date: Mar 2012
Posts: 50
05-07-2012, 07:03 PM
F250 (Moog CC844) coil springs, 33x12.5x15's, 3" body lift, MY Truck:
2" leveling kit, 33x12.5x15's: (NOT my truck)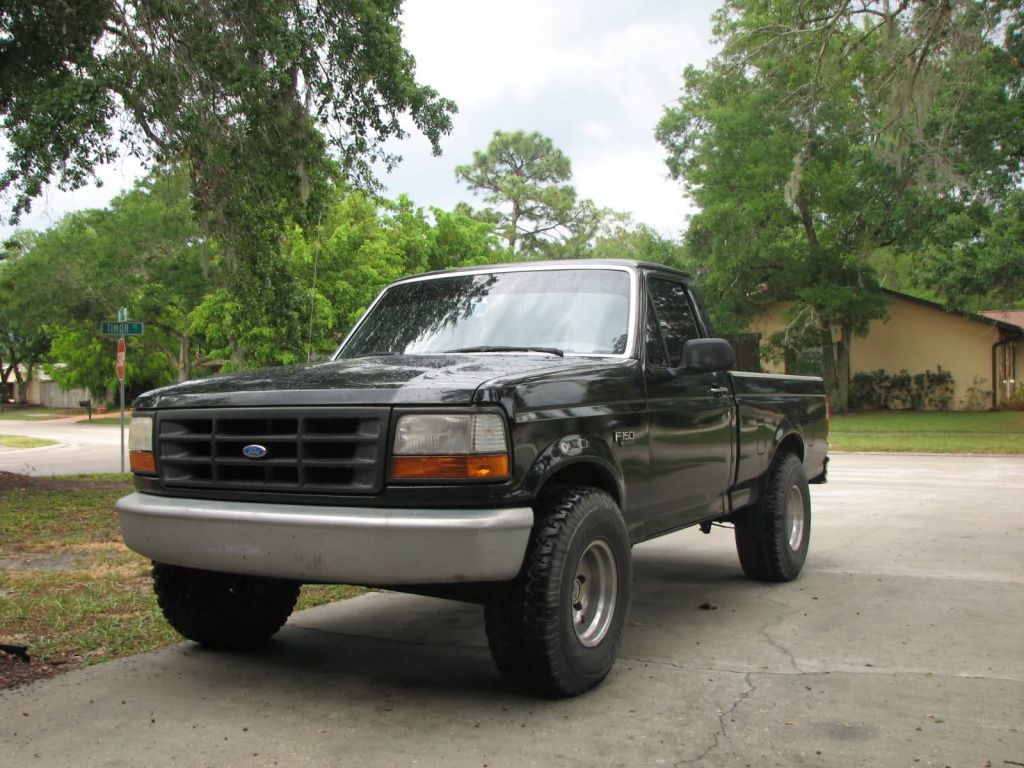 BOTH are 2WD's
05-07-2012, 07:39 PM
Join Date: Mar 2012
Posts: 50
05-08-2012, 01:12 PM
Here's my $.02 since I JUST went through this last week...

MOOG CC844 springs up front which brought it up exactly 1.5" ('95 F-150 in my sig).

I saved about $50 by getting the castor/ camber adj bushings myself at Napa vice buying them from the alignment shop. The shop gave me the part# they were going to use, Napa cross referenced it & gave me their brand of bushings (about $30 each w/ military discount).

So to recap, I installed the springs myself and purchased the castor/ camber bushings. Alignment cost me $196 out the door. This was to install the caster/ camber bushings & the subsequent alignment.

Oh yeah, TIRES! I was running 32x 11.5x 15s until one went bad last week (yes, 1 day after the alignment was done!). That size seems to be hard to come by out here and getting limited from the mfgs. I decided to drop down to 31x 10.5x 15s and am very happy with them! Super quiet. Surprisingly so as aggressive as they are. Kelley Safari TSR radials.
05-08-2012, 01:40 PM
Join Date: Mar 2012
Posts: 50
05-08-2012, 02:00 PM
05-08-2012, 02:35 PM
05-08-2012, 02:41 PM
Join Date: Mar 2012
Posts: 50
05-08-2012, 02:52 PM
05-08-2012, 04:17 PM
Yeah after I installed mine it completely eliminated the body roll around turns.

2WD with F250 coil springs won't sit as level as his, though. 4x4 sits a bit higher in the front. I still have a bit of lean to my truck, been thinking about tearing them out, putting some stock height coil springs, and 2" coil spacers in.

I can post some before/after of mine when I get a chance.
05-08-2012, 04:33 PM
Join Date: Mar 2012
Posts: 50
05-08-2012, 04:33 PM
Join Date: Mar 2012
Posts: 50
05-08-2012, 06:49 PM
Thread
Thread Starter
Forum
Replies
Last Post
Toy Hauler Towing; Fifth Wheel & Bumper Pull
1999 - 2003 7.3L Power Stroke Diesel