Duplicolor Shadow black chrome - smoked or blacked out badges
03-24-2012, 08:32 AM
Duplicolor Shadow black chrome - smoked or blacked out badges
---
So I'm in the process of transforming anything with a chrome look, to something more dark. The factory running boards are gone, chrome handles in the trash, and this week it was the badges.
I used Duplicolor's Shadow tint and clear combo.
Link:
Dupli-Color :: Shadow
Overall I'm pretty pleased. My end result leaves a bit of contrast between the black lettering and what was chrome. The finish is "matte" but as you go darker this appearance goes away. Just thought I'd share this with you guys in case you were looking for a way to blacken any of your chrome...FYI black badges do not exist for our model years. That's why I tried the paint.
BEFORE (only pic I had really)
AFTER: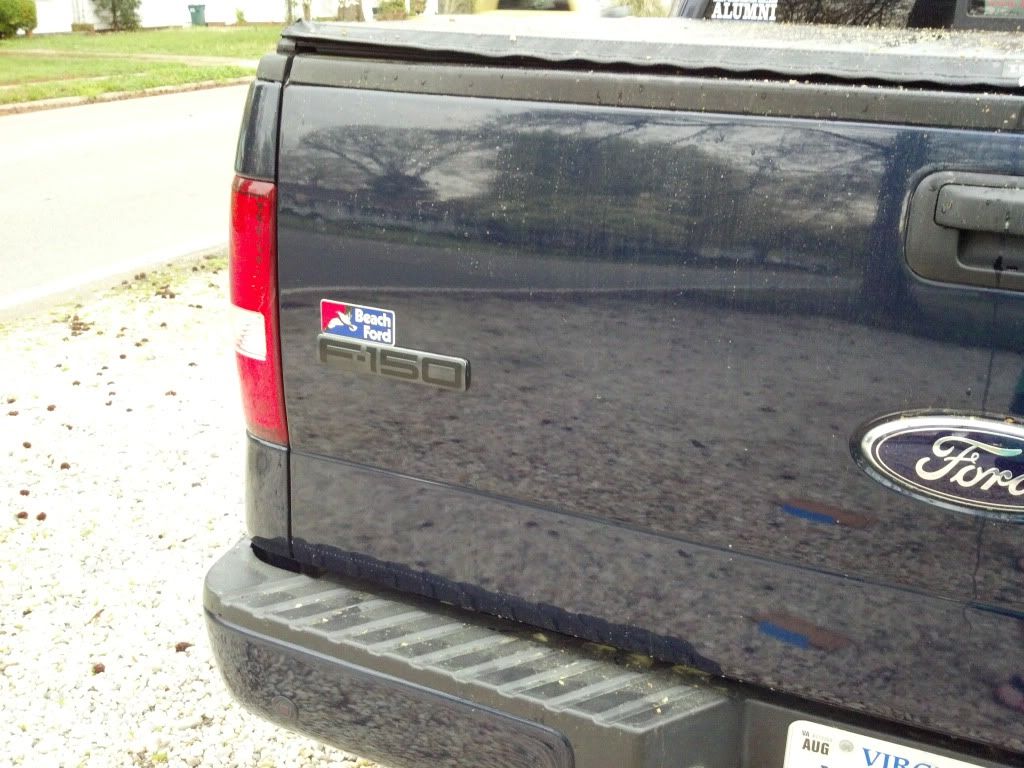 03-24-2012, 10:37 AM
Actually...no.
3" wide 3M painters tape layed 2 widths wide all around the emblems and a paper box from the office that I cut a small portion of the bottom out of to contain the overspray.
03-24-2012, 10:53 AM
I like the truck without the chrome handles on it.
03-24-2012, 11:04 AM
Me too Drew. Much cleaner without them. Im contemplating using the Shadow on the chrome grille...but that's a much larger undertaking that would require me removing it from the truck. Cannot contain that much overspray.
03-24-2012, 05:01 PM
Looking good
Soon the Blue Ox will be true blue.
Ps
got the pads on 2 weeks ago so far I'm happy after 500 miles can't see dust but its light grey when you run finger over it. thanks for the tip on them.
03-24-2012, 05:12 PM
Thanks Dano. Not sure about the Oval just yet. The thought has crossed my mind though.
03-24-2012, 05:25 PM
Looks great CD, I used the VHT Night Shades to do the tail lights and all the lenses on my Mustang, looks good too, tints them a bit,
why dont you take the dealer sticker off now, would look better.......
03-24-2012, 05:49 PM
Pretty cool. Not my cup of tea, but I need some chrome too offset all of the black I have on mine. As much as I would have loved to go with the murdered out look on my truck, I think it would have been too much. Plus, there always seems to be some kind of negative stereotype associated with murdered out trucks lol. Anyway, I do like it on your truck, just not on mine.
03-24-2012, 05:53 PM