STREET crew project SGC STYLE
02-26-2012, 05:19 PM
STREET crew project SGC STYLE
---
Well as I close on one of my extensive projects seen here:
The Lincoln Forum.Net • View topic - the craziest Continental project EVER!
im no stranger to insane projects with tons of fab work so the fact that I knew I was going to sell me custom 97 f150 turned into a lincoln shortly I wanted something older so I started looking at older crews. And then a thought occured to me a good freind of mine said he had a 68 crew, so after some wheelin and dealin I ended up with it.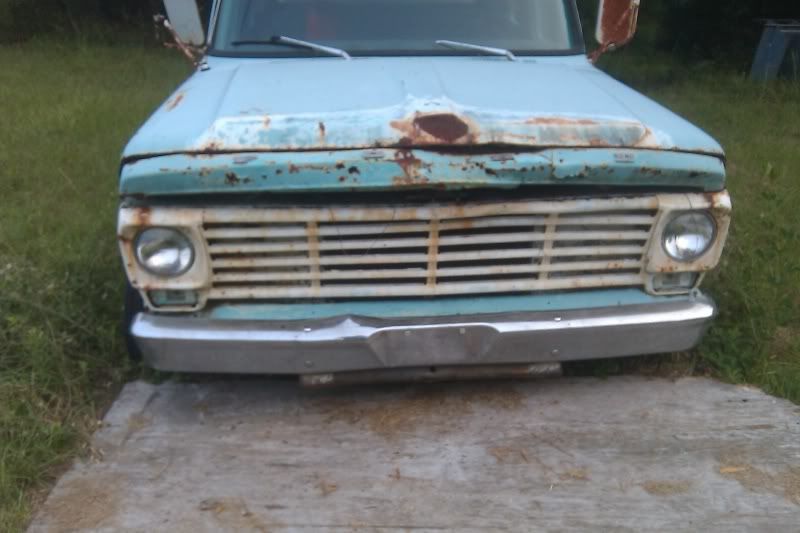 normal screwed up roof so that will be cut all off and new skin put on
its actually a really solid truck including the bed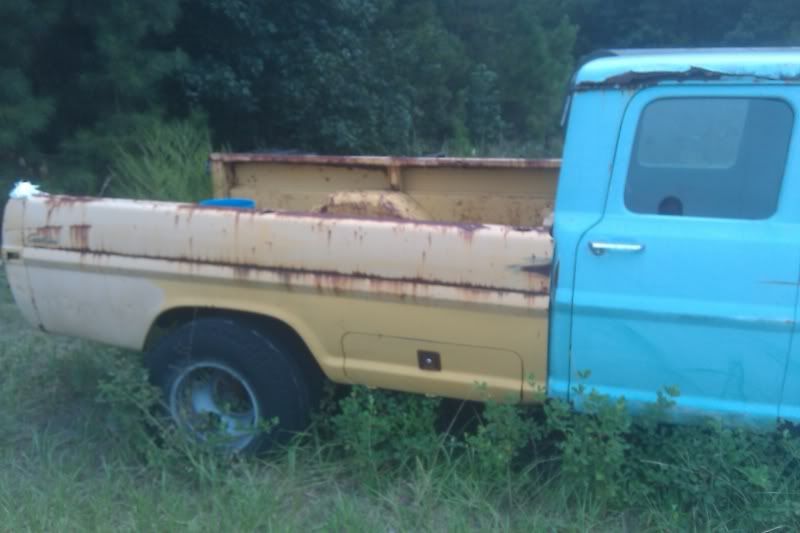 the interior is actually in decent shape under the covers with new windsheild and rubbers near the end of the 90s it appears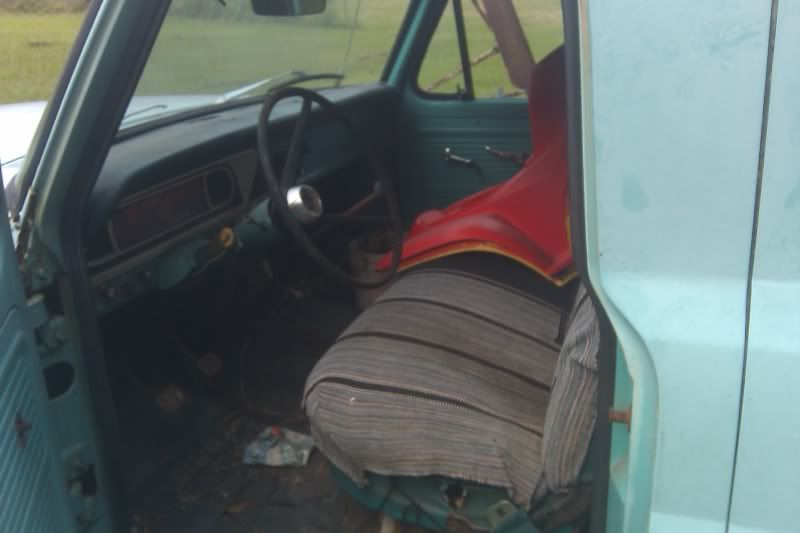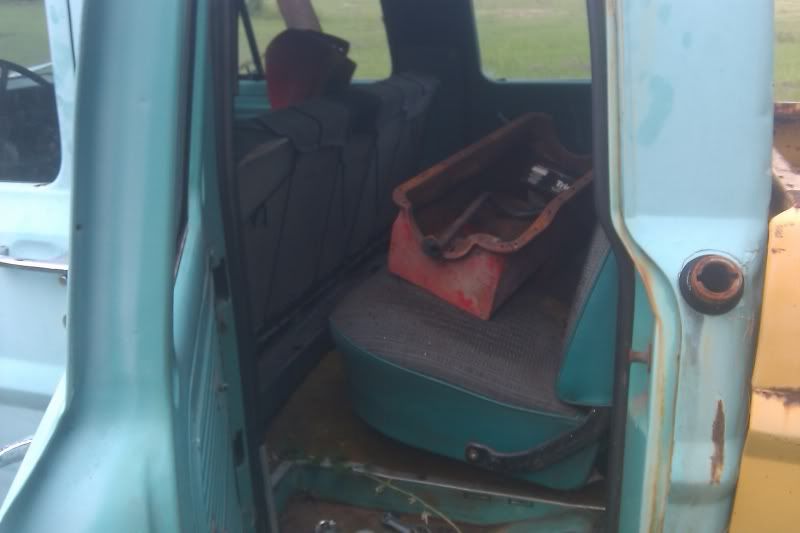 I dont know what the running gear is and dont care as this truck wont be on this chassis long anyway
if anyone is interested the camper special bed is soild and very restorable and I dont plan on using it I will gladly trade straight up for a short box bed and a hood wich I would consider a fair trade
my plans are simple turn it into a old/modern supercrew staying all original for the msot part on the outside with a few updates on the inside and shorting the bed up to 5ft slamming it down on 22 inch smoothies on a 97-03 ford chassis complete with the FI motor (4.6 is my choice)
So once I get the cab off the frame and set on the dolly I will get it all straigtened out then go pick up a donor truck to turn everything into a reality
here is a concept drawing of my finished product
the front will be a static drop but the rear will be on backs and leafs, as I still plan on using this truck to haul and take my daughter atv racing
oh if anyone is interested in the bed im located in south ga just shy of the fl line.
this thread will start off slow and then kick it into high gear after I finish my lincoln project.
any ideas and info will always be greatly appreciated
02-27-2012, 11:39 PM
Seeing what you have done with the Lincoln.....I can't wait to see what you will do with the crew!
03-07-2012, 05:33 PM
instead of loading up this thread with tons of pics just check out my link I posted to see all the work done to it, I just got all the paint for it and will be finishing up the body work shortly then painting it, it will always have work needing to be done to it but thats the fun in it!
thanx! looks like the crew will be picked up early next week! and taken to a freind of mines truck shop so we can remove the body from the frame and start on it!
allready got some 22's for it they may not be the centerline smoothies I want but they will do for the mean time, plus I dont have the 2k for the centerlines yet
03-08-2012, 08:57 PM
Looks like it will be a joy to drive. Can't wait to see the finished product.
Jim
03-08-2012, 10:02 PM
Just read the build up thread on the 62/99 Lincoln, I noticed you said you owned your own Custom shop, but then on the last page you say you got laid off. How did that happen if you own the shop? Nice work on that Lincoln BTW.

Jim
03-13-2012, 03:14 PM
I used to own a custom shop, easy enough now I dont..... any way ive decided on using a expedition frame and suspension becouse I want the coil spring rear in favor of leafs. It wont be a big deal extending the frame to accomidate the longer chassis either.
03-13-2012, 06:46 PM
Compared to the Lincoln build, this one should be a piece of cake.
Jim
Thread
Thread Starter
Forum
Replies
Last Post
1973 - 1979 F-100 & Larger F-Series Trucks
1994.5 - 1997 7.3L Power Stroke Diesel
1987 - 1996 F150 & Larger F-Series Trucks