Help, I'm stuck on my connecting rods!
01-22-2012, 01:14 PM
Help, I'm stuck on my connecting rods!
---
hey guys, I'm starting to assemble my 347, but I'm stuck at the connecting rod assembly. I was told that whichever side of the large end had the taper went towards the unfinished side of the crank. The problem is, both sides of my rod have a taper? Looking at it, one taper may be SLIGHTLY wider than the other, but I'd rather not assume.
"larger" Taper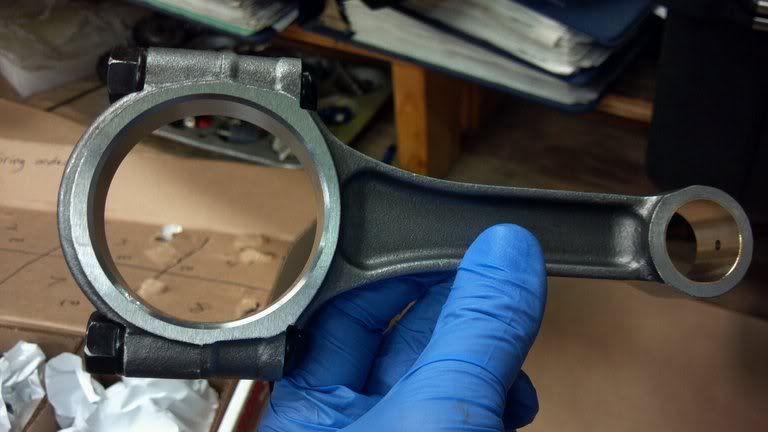 Smaller Taper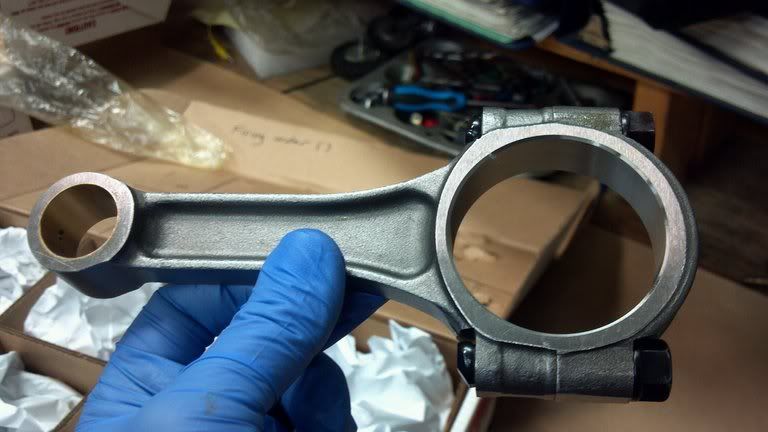 Does anyone have a definitive answer?
01-22-2012, 03:02 PM
Join Date: May 2010
Location: BC Cana'duh
Posts: 369
There are two things to consider.First is the rod with the large chamfer or "taper" installs toward the journal radius and away from the rod it is paired with.Or an easier term is the small "taper" face each other.The oil squirt holes point towards the opposite cylinder bank.So if it's on bank 1 2 3 4 then it points to bank 5 6 7 8.You have to match the dots on the pistons to the large bore radius.You should have FOUR pistons with the radius(large)pointing forward and four pointing towards the rear.Those rods look like they're bushed for a full floating pin,are they?Just take your time and remember that if the engine is upside down on the stand that you mark the banks either left or right so that you don't mix them up.Ask me how I know.You should have an engine assembly manual it is critical for torque values and sequences.You should have posted this in the SBF engine section.There is a lot of engine building knowledge over there.
01-22-2012, 03:53 PM
Thanks for the help guys! I got all the rods and pistons layed out they way they need to be assembled, and have all the small tapers facing each other. They are the full floating pins, so I've got them installed with 2 spiral locks/side now. Someone over on SBFTech mentioned testing connecting rod to wrist pin clearance, so now I'm trying to figure out what that means
01-22-2012, 04:56 PM
Join Date: May 2010
Location: BC Cana'duh
Posts: 369
Those rods look too nice to be factory.I'm not sure about the wrist pin clearance issue.I've assembled more than a dozen engines and I always have an assembly manual.It'll give clearances and specs and will usually show how to achieve them.I'm surprised you didn't get any detailed info with your strocker kit.I put a stroker chevy 496 engine together with H beam floating rods and I don't recall wrist pin/piston issues.KB pistons had the wrist pin location at the oil ring height and they were kind enough to provide instructions on the insert placement for the oil ring to seat on.I also received the info on proper rod and piston alignment,crank journal chamfer and rod side clearances.Now that I think about it,this was 7-8 years ago,there was alot of info with the stroker kit.Never had any problems after assembly.I think that if the pins are installed properly,spiral locks on and seated right,and there isn't any looseness(side to side) you should be fine.Was this a complete rotating kit,or were items acquired separately?If a kit,thats a step in the right direction.
Thread
Thread Starter
Forum
Replies
Last Post
1980 - 1986 Bullnose F100, F150 & Larger F-Series Trucks
FE & FT Big Block V8 (332, 352, 360, 390, 406, 410, 427, 428)
FE & FT Big Block V8 (332, 352, 360, 390, 406, 410, 427, 428)
1980 - 1986 Bullnose F100, F150 & Larger F-Series Trucks