Buildup! '03 Crown Vic IFS into '58 F100
01-04-2012, 05:14 PM
The lower portion of the cv shaft with an upper u joint will not bind BUT it has to be long enough as it rotates in an oblong pattern. I think you are going to end up shortening your column. Mine is just outside the firewall maybe 8" at the most. Here is what mine looks like.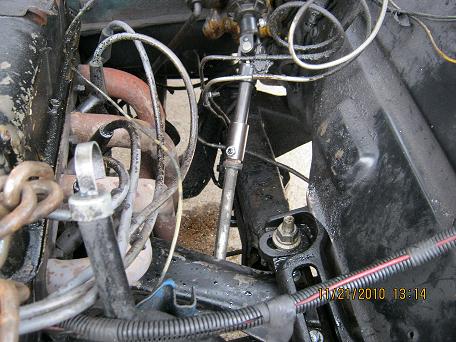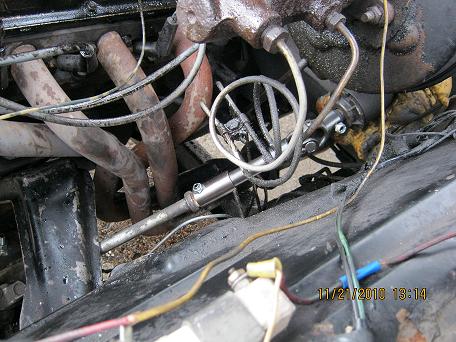 Using the original lower joint configuration also allows for movement in and out like a slip shaft. You will want this if you ever need to disconnect the column.
01-04-2012, 10:39 PM
You need the CV joint fully extended. Personally I would shorten the column. you are coming out of the rack & trying to go downhill then connecting to the column trying to reverse when you started at the rack. If you shorten your column you can come out of the rack going uphill & continue that route all the way up the column. You have way too much angle on the u joint right now.
01-04-2012, 11:41 PM
I agree. I shortened it up about an inch or so a few minutes ago and it didn't much good. I will shorten the column more tomorrow and see how it acts. I thought the CV shaft needed to be fully collapsed. When I straighten it all the way out it will increase that angle on the u-joint connected to the steering shaft and eliminate the bind. It's nice being able to talk to someone that has gone through this and get some help. If it weren't for this forum I never would have thought of this swap much less attempted it.
01-06-2012, 08:36 AM
I got it on there and it works without binding. I tried it fully extended and it didn't work correctly so I tried it fully collapsed and it worked. I welded the pillow block bracket to the frame also. Then I started dressing off the car frame with 1/8" steel. I got the driver side front and the inside of the passenger side front on. I will finish dressing it off today and hopefully I can start on the trailing arm bracket also. I will upload some pictures once I take them.
01-06-2012, 06:33 PM
I took off the plates I made to secure the column to the floor and I was able to attach the CV shaft and move it around until the angle on the u-joint attached to the steering shaft was minimal.
Here is a picture of the steering shaft installed.
01-06-2012, 10:30 PM
I sure hope that you're right. It seems like it has been a slow process because almost every thread I've read about this swap said something along the lines of "It's just a matter of tearing out the old suspension, making a couple of measurements, and drill some holes and BAM you got a CV IFS in your truck! Maybe a weekend job if you take your time." NOT TRUE!!! It took me and my dad a week just to get everything planned and aligned the way we wanted it before we drilled the first hole. Now I'm not saying it can't be done faster, I'm just saying that it's not exactly a wham bam thank you ma'am kinda swap. It does take time and careful planning. I just want to get the motor back in and running before classes start again (Thursday). Maybe if I ever do this swap again I will be faster and smarter because I'm sure we spent a lot of time thinking about certain issues that some of you didn't need to think twice about. I don't think I've ever worked on one vehicle for these many days non stop before. It is physically and mentally exhausting. BUT I am glad I am doing this swap. It is very satisfying to just go out into the garage and admire everything I've accomplished over the past week or two. I can't wait to drive her again.
01-07-2012, 11:39 AM
I think maybe you and your father got what is called paralysis by analysis. I see nothing wrong with how you are going at it. I would have done it quite a bit differently. Some things I would have done you did not want to do. Example being putting in a later model column. I would have just cut the CV spacers out of the CV clip and then built spacers fo the mount to get the mounting level with your chassis. Had you went that route you wouldn't be doing all the blending in of frame pieces.
I sense being your first time at anything major like this you probably did a bunch of staring (thinking) and little actual doing. It is fine, better safe than sorry. You are learning a bunch and your confidence level will increase. When you are done you will find things you could have done differently that would have saved time. For me pulling the engine was one of those things.
Chin up you will get there. After you are finished you will stand back and say piece of cake. For a suspension swap it is a piece of cake. It actually is a weekend job. Especially with a chassis like yours. You have no crossmember under the engine. Us bump guys have a big crossmember that is welded in we need to cut out. In fairness I did 12 yrs professionally as a mechanic. Do you have a acetelene torch available? If not that can make it rough. I would have dropped your old front suspension in a single unit, perches and all. That would have saved unbolting it from the perches and then cutting out the perches.
Little things like that add up. You are doing fine just stay in there. No turning back now
Your day of hearing it breath fire again is not far off in the future.
01-07-2012, 12:11 PM
Yes we definitely did a bunch of staring/thinking. I have done many engine and trans swaps in the past but nothing to this level of time and importance. Taking one motor out and putting another in is one thing but changing front suspensions is a totally different thing. A lot rides on it haha.

After this I will be able to give advice to other people if they are interested and I can always say I did that. That is worth it in itself not to even mention the fact that it is going to ride and drive like a cop car and be comfortably lowered.
I like everything about this swap and I am very happy that I am doing it. I just went into it thinking that I would be driving it a week or two after we began. That can make the process seem longer than it really is.

Once it is done I will never have to mess with it again so I am trying to get everything right. I appreciate all the help but I must say I am kind of surprised that more people haven't posted on this thread. Maybe this swap is old news to everyone by now, but I am doing things that I haven't seen in any other buildup threads. Such as using the CV frame section and keeping my steering column.

I feel like I will be very pleased once it is completed and I will enjoy it for a very long time.
01-08-2012, 01:32 PM
Yeah I believe you are right again. I think I am finally ready to get the motor swinging in the truck again and start on some motor mounts. Then once I get it in the truck another hour or two after that it will be running and hopefully driving. I cannot wait to drive her and see how different the performance and handling feels. It will be grand.