stupid rotted brake lines
11-03-2011, 09:47 AM
Originally Posted by
airjeff
I hadnt thought of the copper/nickel lines. What are the pro's/con's vs. stainless? It would be much easier to work with. I always think of the copper for water. Where do you find it?
Nevermind, got off my lazy butt and searched. Here is one place:
Federal Hill Trading Company
I'm wayyyyyyy off topic here,
but the corrugated copper lines that are common connectors to things like water heaters are fading away. Copper is so expensive that other materials are now being used. I've used corrugated stainless, and plastic/stainless braided lines with good success. That won't help the brake lines, but maybe there's a parallel in there somewhere.
I don't think that I'd want to use copper for a brake line, though....
11-03-2011, 10:14 AM
Oh, and this link:
Copper.org: Applications: Automotive - Copper-Nickel Automotive Vehicle Brake Tubing
suggests that I'm completely off base with my reservations about copper lines. (Note to self -- research, THEN post...)
11-04-2011, 02:20 PM
Finally got around to doing mine when I changed out the rear end and to tell ya the truth dreaded that more then anything but it ended up being the easiest part to do. Took the old ends off, which in fact cracked and broke off as soon as I tried to loosen them! To Advanced Auto, matched up both ends on stock pieces they had, got 2 pieces that would make it from the front to back and junction block to connect the 2 in the middle, crawled underneath truck with hand bender and got to work, about 15mins later I was done! Bled out the lines after letting them drip for awhile and works just fine, now I can slam on the breaks when I need to and not worry about whether the line is going to blow!!!
08-10-2012, 08:30 PM
06-05-2015, 09:42 PM
Originally Posted by
housedad
1. Buy the brake line from these folks in Atlanta. It never rusts, bends easier than steel, and is fully DOT approved. It is about the best you can get. Copper/nickle alloy. More expensive, but you never have to worry about them again. I am putting this under my truck during this winters upgrades.
Federal Hill Trading Company
2. Get these bending tools as a set. Pretty much does it all.
Tubing Bender and Forming Pliers Kit - Tubing Bender Pliers - Pliers for Tubing
3. Shop around for a double flare tool. The Sears Craftsman and the Ridjid units have a good reputation.
Amazon.com: Ridgid 23332 Flaring Tool: Home Improvement
I have this one and it works real good, but pricy as hell. I figured I would pay less for the tooling and line to put things in myself in one vehicle than I would have to pay a shop to do it. And I get the tools to keep, so I spent the money.
Amazon.com: K-Tool International (KTI70081) Brake Pipe Flaring Tool: Automotive
Careful with the top pliers, lines will kink real easy with them. The tube bender works great, Home depot sells one similar to it.
The Ridgid flaring tool looks better then most auto parts store, made in China pos's. The K-tool is the way to go for decent flairs, I bought mine from Eastwood.
06-05-2015, 10:36 PM
My rear line rusted up near the connector at the framerail next to the engine. I pulled the whole line out in one piece without bending it, and bent up another line using the original tube nuts. the flare on these is a double flare. it went right in with no problems and looks factory. the lines on the axle are still OK, but will be replaced some time this year. the rest of the lines up front are perfect with no signs of rust!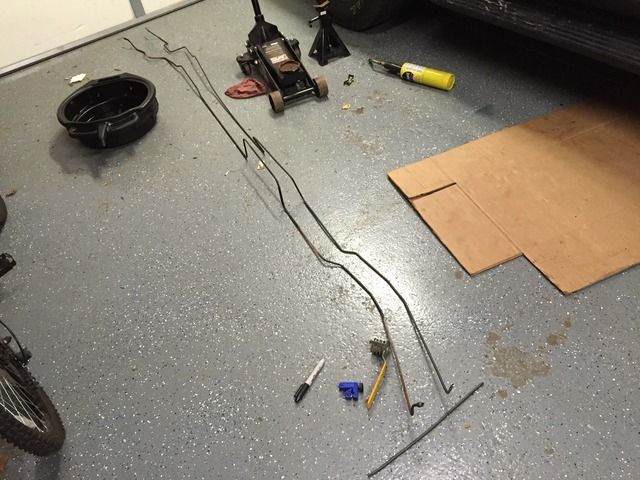 06-16-2015, 01:04 AM
Fittings?
---
What size fittings? Are they sae or metric?
06-21-2015, 01:50 PM
06-21-2015, 01:52 PM
Originally Posted by
sddesigns
the 8' near the filter you speak of where is that? there is not any 3/16 for the rear run until it hits the tee on the axle
06-22-2015, 01:25 PM

hey your correct so are mine! so the only thing in the line group to rot is the brake tube and the fuel vent tube (which is in pretty bad shape on mine)
06-22-2015, 10:59 PM
For the life of me I don`t know why all manuf. don`t put stainless lines in all their cars. It would be safer, and in the end the cost would only be maybe $5 more per vehicle. well worth it to have a safer vehicle on the road.