1971 f250 with a 352 and coils/disks
09-24-2011, 09:32 PM
Within reason most all truck frames are similiar. The easiest to use would be '67-'79 chassis. Someone noted you can use your rear axle. Yes you can BUT you have to match the gears with the front axle unless you get into mismatched tires so it is usually less expensive just buying a 4x4 truck as it will have a matched set of axles. If you don't want a 3/4tn truck you can use a 1/2tn chassis. The bodies are all the same. You might want to check into '80-'96 chassis. If you go 1/2tn you will pick up an independant front suspension giving a much better ride.

If you are going to off road the truck the heavier axles and suspension is what you want. I don't know what your skills are. There is a guy putting a bump on a 2005 (I think) chassis. With exception of the bed the rest seems to be lining up pretty close everywhere. He had to trim the back of the cab a bit on the bottom. Bed sits high and needs to be lowered. Either raise the floor or notch the cross supports providing that will get you down enough. You would need to put a plate on the bottom of the floor to replace the cross support you cut away and weld it on each end to the support.

I learned when I was young. You can do whatever you want when it comes to vehicles. All it takes is money! I remember hearing "Speed costs money son. How fast do you want to go?" Same thing applies to raising or lowering a truck.
11-28-2011, 03:14 PM
UPDATE:
The supra has been getting a lot of love for quite a long time, but is now at a point when I'm happy and she is happy. So now I will start to actually put some cash into the truck as winter is coming up and I don't want to ever have to use the supra in snow.
So it seems it will be easier in the long run if I just find a 4x4 roller chassis. From what I read I need:
Frame
Transfer case(it will bolt up to my current tranny correct?)
Axles
Front suspension
brakes
Anything else? Other plans include:
-Coat the bed with bed liner
-Simple 4 speaker stereo(roof and doors)
-Tune the 352 up
-New tires(I think these tires may be from the 70s
)
Any help is appreciated!
EDIT: Found this on craigslist and i'm wondering if something like this would work. What I mean by work is I take my Body, engine and tranny and put it onto this frame without any welding.
http://sacramento.craigslist.org/cto/2717571187.html
It is a 1987 4x4 with a blown engine for 1000$ with 212,000 miles on it.
10-26-2012, 04:37 PM
Well holy thread revival!!! It's been about a year and the old girl has just sat by, but I have recently sold my lexus and need something to drive. So I figure what the hell, went to oreilly bought about $120 worth of tune up goodness and am gonna go to town and hopefully get the old ford up and running like new this weekend. Going to hopefully look everything over finally with a fine toothed comb and start to add some things on and get the truck to a position in which I can daily drive it.

I do have a few questions before I start:
-Currently I dont think ANY of my gauges(besides speed, good ole cable) work. I am wondering how to troubleshoot the gas gauge and engine temp? And if I need to replace senders where the best place to buy them would be?
-I currently have a 2 barrel carb which is in desperate need of a rebuild, however my brother has a 4 barrel setup for a 390 and a 289, with the manifold will those bolt on?
-If I get the stamp # off the engine will it be able to tell me if the engine is a 390 or 360?

My plans to tune up are:
Oil and filter(10-30)
Coolant and t stat
air filter
Belts
Possible rebuild the carb or just get a new one
Tranny oil(What weight should I run, and how much?)
Rear dif fluid(Again, what weight and how much?)
And then small stuff like windshield wipers, bulbs, etc.


I am hoping after all these little fixes the truck will be good to daily drive around the city, anything else you would advise me to replace?
10-26-2012, 08:10 PM
Nope. The 360 and 390 are damn near the same engine. Some where on the block a 352 is stamped. But the only way to truly tell i do what some call the dowel test. Put a owel down a plug hole and measure the stroke. The 360 an 390 have the same bore but different stroke. Also if its the original engine your vin # will tell. I believe the 4th digit tels engine.
10-27-2012, 01:50 AM
360/390 share the same bore (4.05"), the stroke is different.

360 = 3.50" / 390 = 3.78"

Since all FE engines were cast as 352's, you may find 352 cast into the block. But this is foundry mark only, so it does not mean the engine is a 352.

Cast reverse 105 used in place of 352 beginning circa 1972.
---------------------------------------------------------
D1AZ-10804-A .. ICVR ~ Instrument Cluster Voltage Regulator-Attaches to printed circuit board (Motorcraft GR-513) / Available from Ford/autoparts stores.

When the ICVR begins to fail, the fuel & temp gauge needles "do the hula" swing wildly back/forth on their own. Within a short time, the ICVR burns out, now the needles won't move.

Applications: 1971/86 F100/350 & Bronco / 1971/91 Econoline / Misc 1971/79 FoMoCo Passenger Cars.

Note: If replacing the puppy, take the original with you to the parts store to match it up. There are others that look similar and many chain autoparts store partsclucks haven't a single clue.
10-27-2012, 12:22 PM
Join Date: Jun 2003
Location: Black Hills of SD
Posts: 8,212
Originally Posted by
Shorty 66
Ok, your F-250 is NOT a FJ40. Your buddies FJ atarted out as a 4x4 so doing a axle swap is pretty easy compared to trying to change your 2wd truck to 4x4. Your on a Ford truck forum and the guys on here have already thought of this and tried this years before you got this truck. If it was remotly easy or kinda do-able there would be a lot more truck on here that were 2wd, and are now 4wd with a 2wd frame. You can find 67-72 F-250 4x4 rolling chassis without motor and tranny for a reasonable price. That's including axles and springs. You can use your tranny as the F-250 trannies were divorced (2wd). Your rear axle is the same as a 4x4. The only difference is ALL the 4x4 stuff (front axle, t-case, front springs and crossmember, steering box). The front of a 4x4 frame is also boxed and yours is not. This swap can be done with ALL factory parts and look factory. Here is a pic of a 67 F-250 2wd that was converted to a F-250 4x4. Using a 71 F-250 4x4 chassis.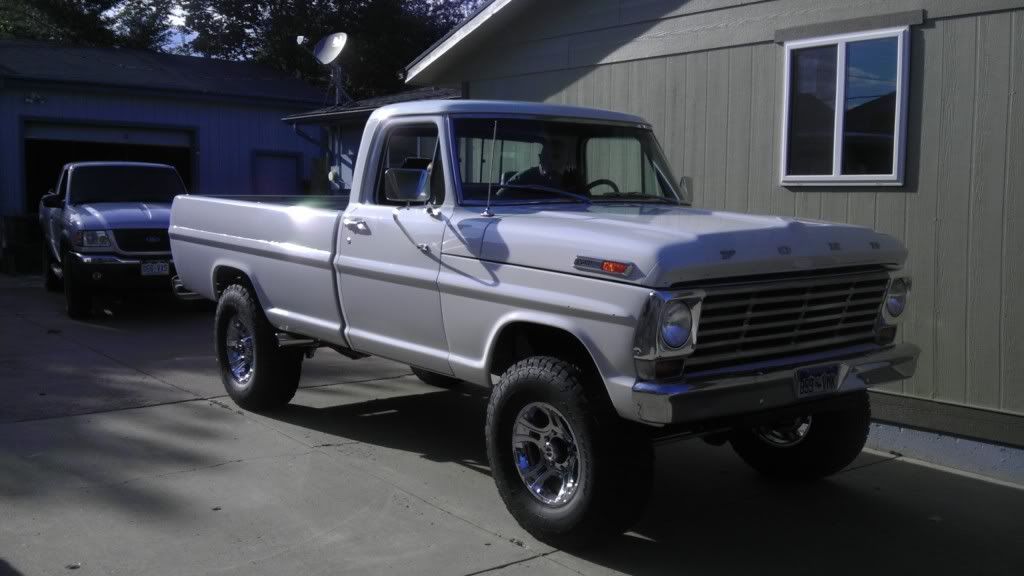 Also you would need the transmission tailhousing to mount the 4x4 shifter, or make something. I've owned a bunch of 67-77 F-250 4x4s and a bunch of F-250 2wds and really the 4x4s are just over rated for daily use unless you are a logger, rancher ect. I drove a 72 F-250 2wd for 16 years in Alaska and never once wished it was a 4x4. If you have good tires and a limited slip rear end, with 500-600 pounds over the rear axle, it will go anywhere you have business going. I was going to replace it once with a 4x4 and bought a 79 F-250, only to find out I needed it locked in everytime I wanted to pull out on the highway (winter snowpack) so basically you need it mostly just to pull itself and the extra drag/weight.
Thread
Thread Starter
Forum
Replies
Last Post
Audio & Video Systems, Navigation, Satellite Radio & Mobile Electronics
Pre-Power Stroke Diesel (7.3L IDI & 6.9L)
1973 - 1979 F-100 & Larger F-Series Trucks