I was having problems with my 4wd in my '98 Expy. The 4wd light would light up, but i clearly was not in 4wd. I traced the problem to the vacuum actuator on my front axle, it was getting vacuum but not engaging. Started pricing out a new valve, and best price I could find was over $100, which is pretty hard to believe if you've ever held one in your hand, since it's mostly plastic and there isn't much too it. While looking around for better prices, i stumbled onto the Posi-Lok, which I remembered hearing good things about from my Jeeping days. Instead of using vacuum to engage your front axle, it basically works like the throttle cable on your lawnmower and does the same job mechanically.
I like the idea that it's a simple mechanical cable. I can't help but feel like there is too much to go wrong with the OEM system that uses two solenoids, vacuum tubing, and the $100 plastic actuator. My truck is primarily a beach buggy, and spends more time in 4wd than 2wd, so it's important that I have faith in my 4wd. After a lot of reading and thinking about it I found it online for $170 so I went ahead and ordered it up
Installation was really easy. I'd rate this about a 3 out of 10. Total install time was under 2 hours, working by myself. The only real "modifactions" to the truck were drilling a hole in the fire wall in the drivers side footwell, and another hole in the plastic cover on the front axle. The best part about this system is you could easily remove it and switch back to the OEM set-up in under an hour.
I had planned to take a bunch of picts during the install, but once I got going it went pretty quick, and there really wasn't anything noteworthy enough to photograph. Most of the time was spent double and triple checking where I was going to drill through firewall.
The only tools I used was a 5/16 nut driver, #3 unibit, 7/8 wrench, and a screwdriver to pop e-clips off and on. Install directions were very straightforward and can be seen at
http://www.4x4posi-lok.com/PDFs/inst_750.pdf
. The only change I would make to them is do step 21 AFTER step 22. The shift arm retainer is MUCH easier to put on if you can slide it down past the small e-clip first. Once you get the retainer on the shift arm you can fold the boot back and install the small c-clip. I would have saved about half an hour if I'd figured that out sooner
I took it out to a dirt road near my house and it seemed to work fine. To engage my fourwheel drive I just push a button on the cable to pull it out an inch or so, then flip my OEM dash switch.
Here is a pict of the cable lever. They supply the bracket that you put between the ebrake and hood release, using screws and mounting points that are already on the truck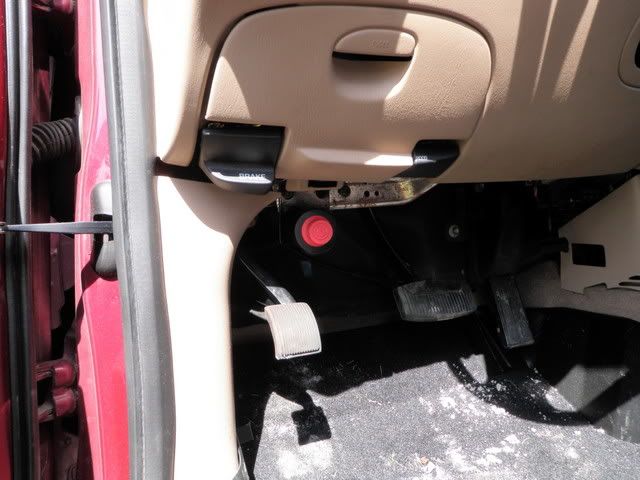 I will be using this a lot in the next couple weeks, so i will update if any issues, but so far I am very happy with my choice. I think it's a nice, simple system that will hopefully prove trouble free