4inch lift on small tires
04-21-2011, 11:08 AM
Wouldn't look bad. I have 3 inches in the front and 5 inches of lift in the back on my 4x2. Up close, the truck looks great with the 31 inch tires. From a distance the tires look smaller but not bad. I think 32x11.5's would be perfect.
04-21-2011, 11:26 AM
04-21-2011, 11:49 AM
Hey B-Ray!
I don't know why but pictures don't capture how much space there is between the tires and truck. It's strange.
Here's what my truck looked like before any lift and hauling a heavy load.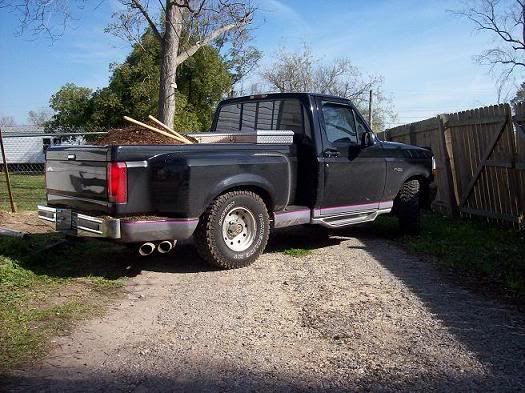 Here's with the lift, no load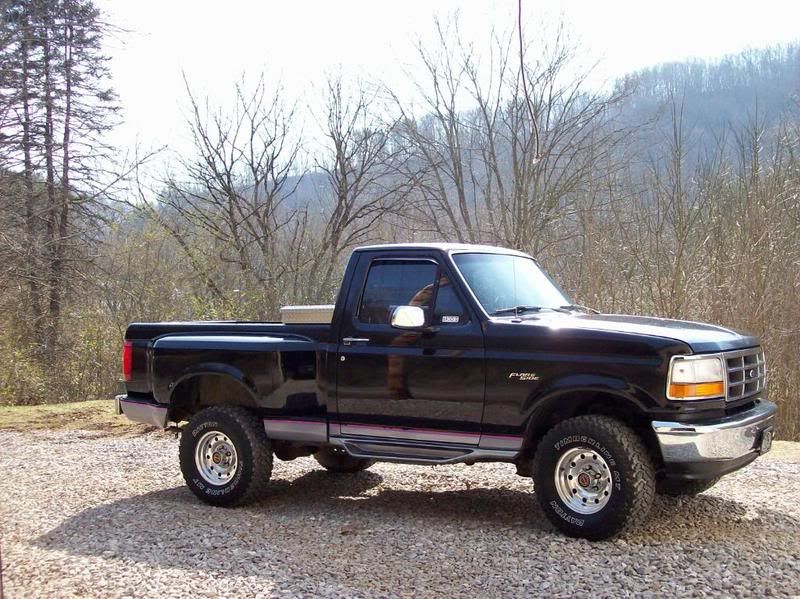 04-21-2011, 11:58 AM
Bill, what did you do to get that lift on your 2wd truck? Mine is a 2wd, and I'm looking for something similar.
04-21-2011, 12:25 PM
Hey Dave!
I wanted an old school 30 and 40's style military truck stance. Thus the whole lifting adventure.
I lifted mine the wrong way and have paid for it. I strongly recomend to you that you go with a solid 4'' suspension lift. Do a little research, make some phone calls. There are kits and shops who can / will lift a two wheel drive truck.
Just go for a good, solid suspension lift.
04-22-2011, 12:02 AM
A 4 inch kit with 31s wouldn't look that bad because it will look like a 4x4 with 2 inches of lift. If I were you I would go with a 6" kit. When I was looking at lift kits for my 4x4 the price difference for different heights was really small given the end result. And you need two more inches to be the same height as a 4x4. I don't know about you but if I had a 2wd I wanted to lift I would be comparing it to lifted 4x4s in terms of looks and ground clearance. Bill's looks pretty good because 1)3 inches in the front really isn't much higher than a stock 4x4, and in the rear it's harder to approximate lift height, so 5" doesn't look like it's too tall, and 2)he has meaty looking tires that look wide for what they are.

But I also agree you should wait until you can afford everything at once. The right tires really make the lift worth it.

If you look in my gallery I have some pictures of my truck before I lifted it with 31s on it. Your truck with 4" should be about 2" higher than mine when it was stock. Should be a decent visual aid.

PS Bill - Your truck is clean! I wish mine was in that good of shape. Someday I'll paint mine...
04-22-2011, 01:10 AM
I wouldn't lift a 2wd truck. Been there done that. Mine is back to stock with 31s and I really like my truck so much better now.

If you lift it and put bigger tires on it, you will need to regear the axle for the larger tires too.

I would go with a 4 inch lift and 32 11.50s if you do it. I think a 6 inch lift on a 2wd is just silly.

Definitley go with a suspension lift if you do it.