my new truck
03-12-2011, 10:19 AM
Join Date: Jan 2011
Posts: 70
my new truck
---
I have had this truck for 5 weeks but never posted pictures. 1950 F1 in remarkable shape, no rust except a little in the lower front door, all the metal is original even the floorboards and is in perfect shape. the paint was ok but I hate blue and wanted the old weathered shop truck look. I added power disc, new wheels and removed rear leafs and added air shocks. the truck came with a 350/350 combo but it runs great so it is staying.
the day I bought it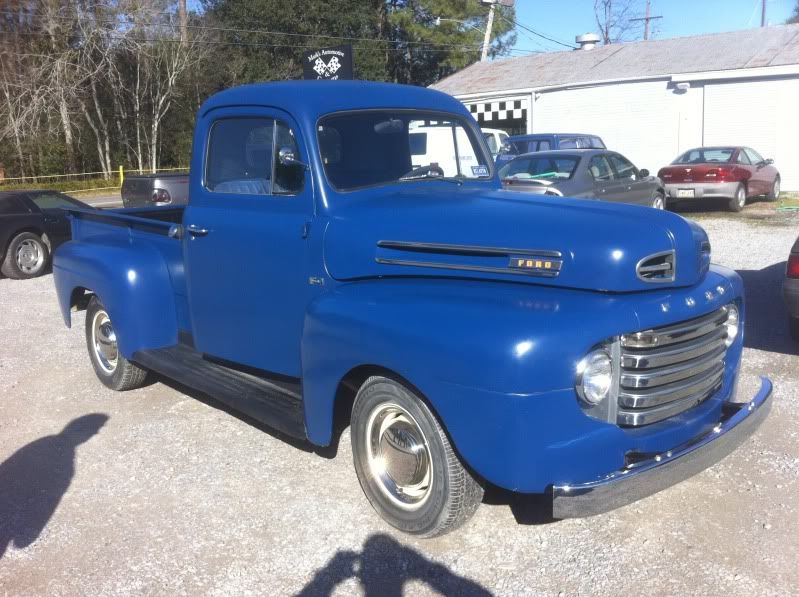 the paint process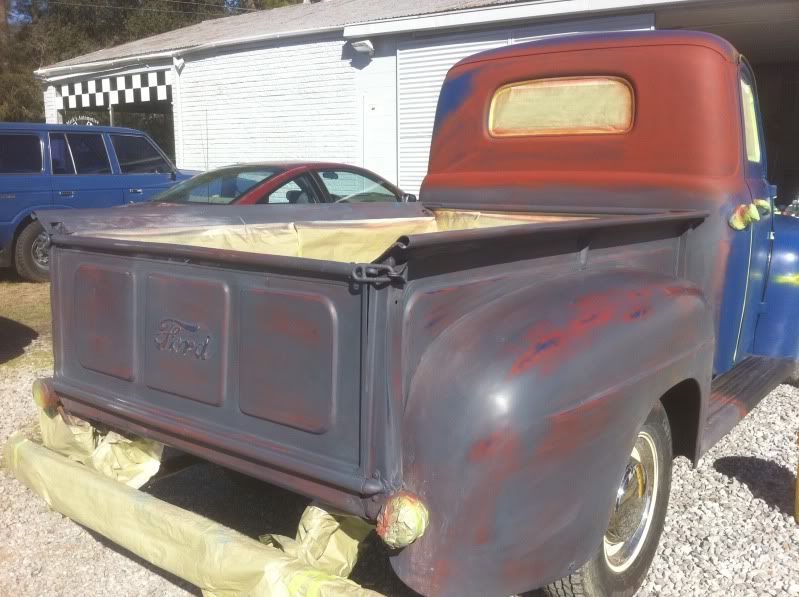 my friend painting my shop logo on the doors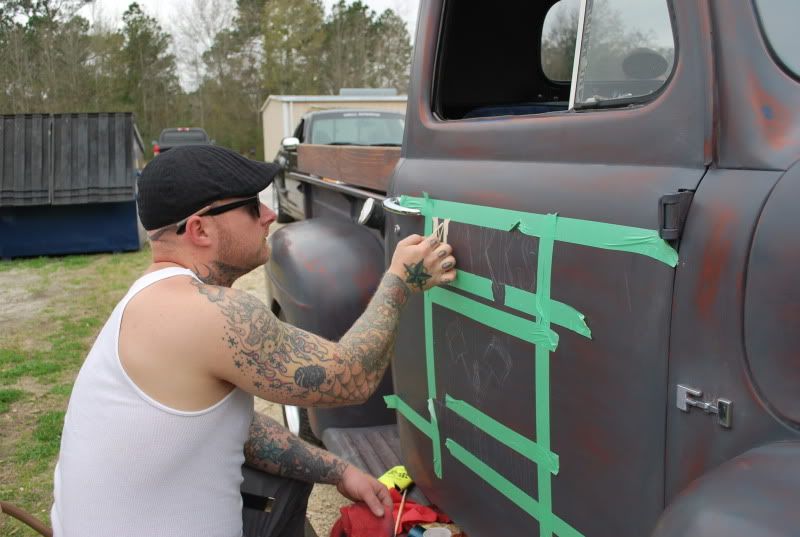 and the current pictures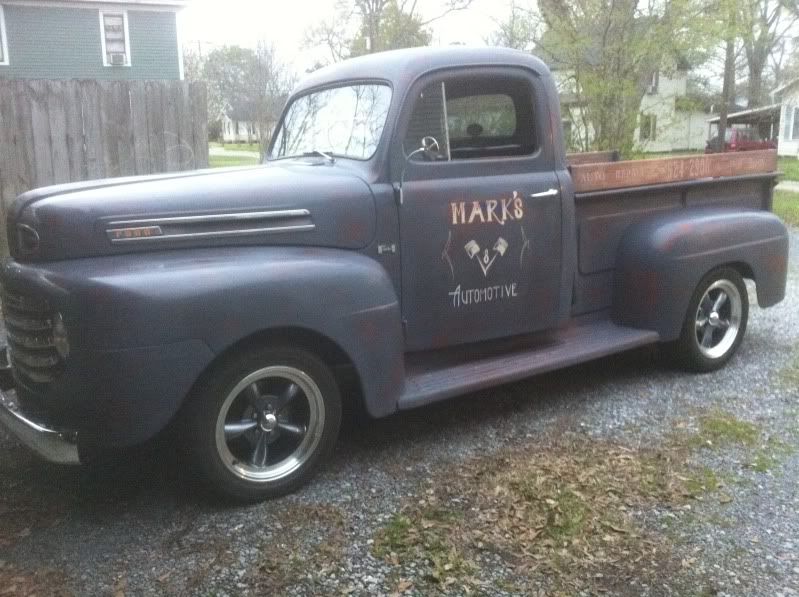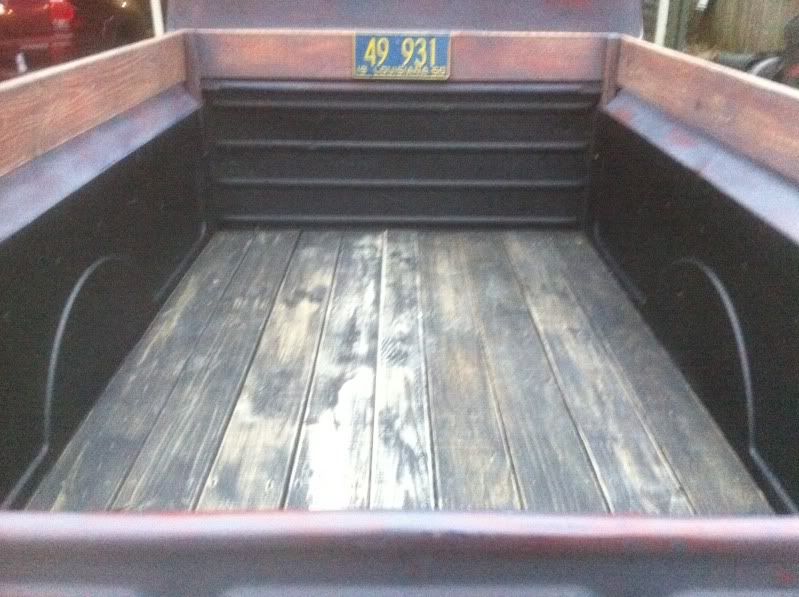 tucked the rear bumper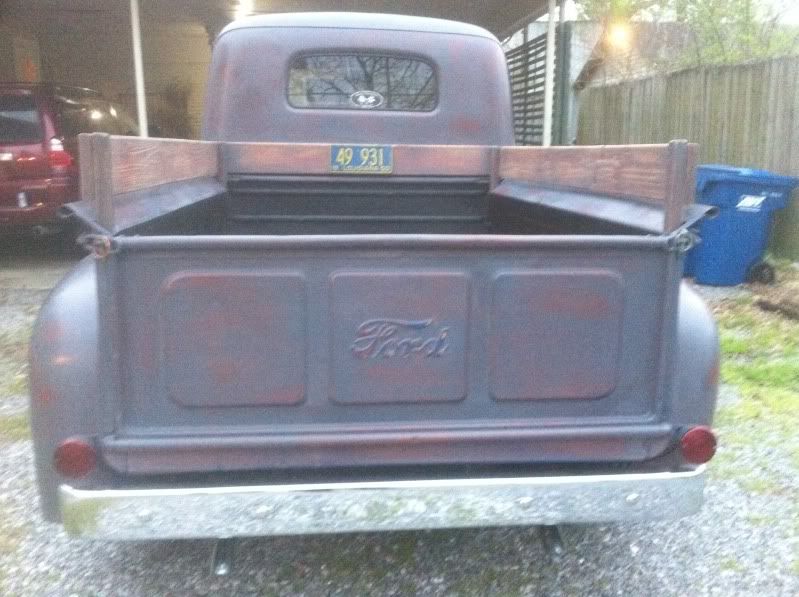 and in a Mardis Gras parade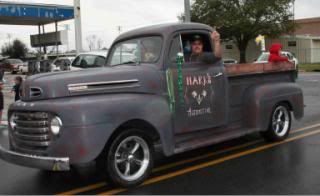 03-12-2011, 01:18 PM
Thank you for sharing.
The weathered door art is a great idea.
I think that is might be the first time I have actually seen someone take a perfectly good paint job and change it to, ….ah, …..something older? Good on ya!
03-12-2011, 09:55 PM
Join Date: Jan 2011
Posts: 70
thanks for the compliments, now to answer a few questions the bumpers seem to be chrome repo's, for the rear I just unbolted the facory brackets from the frame, positioned the bumper where I wanted and welded the brackets directly to the frame, I plan to tuck the front bumper also. for the paint I sanded the blue then did one coat of red oxide primer then one coat of grey primer. sanded with 1000 grit then 2000 grit to get the look I wanted then finished the whole truck with 3000 grit, this was done with duplicolr aresol primer in a weekend. the blue paint was ok but they painted over dings and small dents, and to me if you make it shiny make it straight.
I own a repair shop and we build hot rods also, thats why I did the retro 5 spoke wheels, sort of like would may have been done if you had a hot rod shop in the 50's or 60's. I have had more fun with this old truck than I do with my nice shiney classics. if the paint gets scratched I will just break out the spray can and sand paper
Thread
Thread Starter
Forum
Replies
Last Post
1973 - 1979 F-100 & Larger F-Series Trucks
1973 - 1979 F-100 & Larger F-Series Trucks
1948 - 1956 F1, F100 & Larger F-Series Trucks