Year: 1996
Make: Ford
Model: F-250
Price: $6000
Mileage: 192730
Color: Blue
Private or Dealer Listing: Private Listing
Location (State): MS
Transmission: Automatic
Drivetrain: Rear Wheel Drive
Color: Blue
Engine: 7.3 Powerstroke

I have owned this truck for about 5 years. The only reason I am selling it is because I have 3 kids and this truck just kinda got small--wanted something with 4 doors so I bought a F-150 Supercrew.
7.3 Powerstroke
4.10 gears
192,730 miles
Power windows and doorlocks
Non-Smoker
Bed liner
Tony Wildman 4 position chip
3" down pipe
BFG Commercial TA's with 19k miles
New HD automatic trans with HD torque converter 15k miles ago
New fuel pump 15k miles ago
Rancho 5500's about 11 months ago
Batteries are 20 months old (Autozones Gold)
Alternator 20 months old
Never had 5th wheel or gooseneck in it
Camper shell for the back--presently in back yard
Radio DOES NOT WORK--It died about 3 months ago. It has a 10 disc Kenwood cd changer that works fine, but since radio won't power up you'll just have to take my word that it works.
Always used Rotella with Motorcraft filter--changed every 5k miles
Fuel filter changed every 10k miles
Tires rotated each 6k miles
I want
$6000
for the truck. I live in Brandon, MS 39042. Thanks for looking.
This truck is great and will last another 200k miles or more.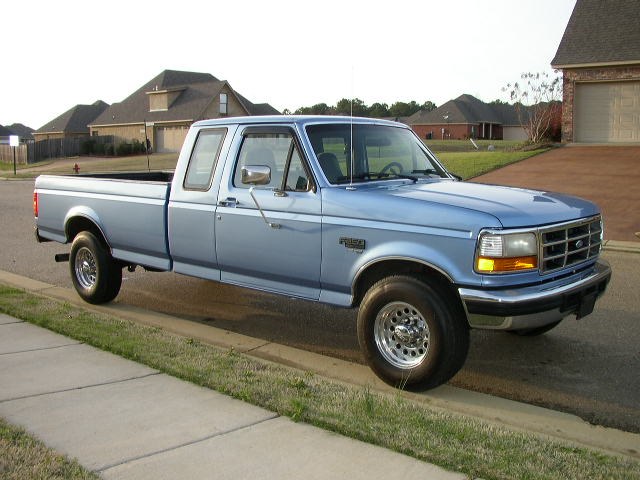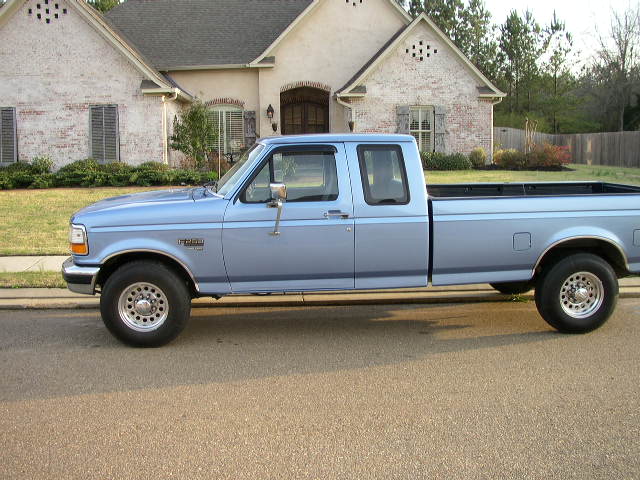 These places are where a sun visor was. I did not like it so I took it off, caulked the holes and painted over the caulk. There are 2 holes on each side and 4 in the middle. Has held up great for 2 years and is not noticeable from 5 feet away.