"Roxy" 1974 Ranchero 500 build
03-06-2011, 02:55 AM
"Roxy" 1974 Ranchero 500 build
---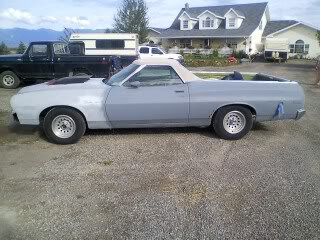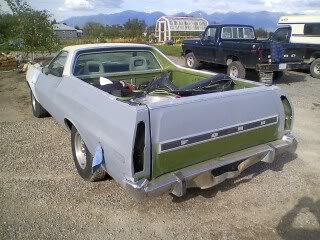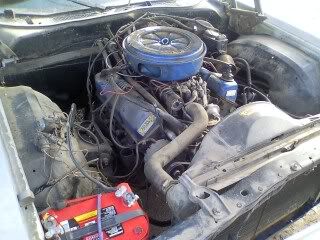 This is my 1974 ranchero I picked up for 1000 bones.
She sat in a field for 9 years untouched.
I trailered it home, changed the plugs, put a battery in it and had the tank douched.

Fired right up.

Still has a 351C, but I have a old 460 D0VE-A block with D0VE-C heads getting the once over.

Last year I tore her apart and started the tedious rust restoration. And lost intrest.

Well Im untarping her and dragging it back into the shop to finish up what little rust is left and slap on some paint
03-06-2011, 03:05 AM
I have a couple paint schemes Im debating on.

metallic blue with silver stripes

flat black

Silver with a gloss black raceing strip, blacked out wheels

Im leaning towards the last one but I enjoy hearing other opinions
03-09-2011, 12:28 PM
Not bad, but I'm not a big fan of black since it shows every speck of dirt. The same pattern in 69 acupulco blue metalic would be nice. Looks like a fun project.
03-10-2011, 01:07 PM
03-10-2011, 10:18 PM
Join Date: Dec 2010
Location: Des Moines, IA
Posts: 86
Of the color combos you listed, I'd go with the blue/silver. But it's your truck. Gotta make yourself happy.

I used a longer version of that hood scoop on my '74 GT- saddle bronze with an orange GT stripe. When I added the scoop, I had about a 2" orange stripe outlined in black painted above the line of the scoop. I needed the scoop to cover the hole in the hood for the tunnel ram. Do not try to mold in the scoop. They will all crack. Leave it as a bolt on. I had 1 scoop with a the hole for the tunnel ram, and replaced it with one without the hole when I switched to a very rare 429 CJ 3 two barrel intake. The drivetrain was a built .060 over 460 (472), 429CJ 3X2 intake, C6, 3.50 rear gears. Been sitting for 6 years after the timing chain broke. Too rusty to spend much $$ to fix. And no, the intake is not for sale at this time.
03-12-2011, 02:52 AM
I vote black and metalic silver strips or the other way around. If you need help with this, I am learning to paint this summer. Also you should turbo the 460. I know pretty much everything, and what parts can get you there for the least amount of money. I'll get ahold of you later today to talk. haven't been on in months. I could help with fab work. I am doing the welding classes at FVCC right now.