did any of the econlines come with ac
03-04-2011, 11:07 PM
Join Date: Feb 2011
Location: Las Vegas NV.
Posts: 101
did any of the econlines come with ac
---
wondering if any of the econoline vans ever came with a/c
saw another thread suggesting low profile roof unit. wonder if it would be small enough to fit under the frt floor.

jack
03-06-2011, 10:35 AM
As far as I know the first gen vans did not have them. I have seen pics where persons bought after market A/C units for under the dash.
2nd gen vans A/C units were installed as an option.
Ones with roof top were added on for fleet use in some businesses. Where they tranported things that could melt, needed to stay cool. Again not factory as far as I know.
03-06-2011, 11:11 PM
Join Date: Feb 2011
Location: Las Vegas NV.
Posts: 101
thanks for the feed back.
i'm trying to keep mine as oem or oem looking as possible. drove in rain for the first time today and the defroster is comprised of the sound of a blower and a paper towel. i need to shake out the system so while i was at it if i noodle out ac with out many visible changes it would be nice.
thanks again
svj
03-07-2011, 09:09 PM
Join Date: Jun 2008
Posts: 8
Econo A/c
---
No 61-67 Econo was ever built by the factory with A/C. After market systems like Vintage air are available that bolt on under the dash.
03-07-2011, 10:00 PM
I just looked through my 3 shop manuals on Econolines from 61-67. They show nothing or mention of any A/C from the factory.
That is what I thought the only A/C in those years of vans were after market items added in.
03-10-2011, 07:48 PM
Join Date: Feb 2011
Location: Las Vegas NV.
Posts: 101
thanks for the data
i checked the vintage air sight, cool stuff but out of my price range.
I'll check out available space and see if i can retro fit some bits from the salvage yard.
good thing about a van. lots a room for ice chests.
thanks again for the data.
03-15-2011, 11:45 AM
Correctamundo for 1965/67's and dealer installed only.
From the 1965 & 1966 Full Line Accessory brochures (also pictured):
C5UZ-19B968-A
.. A/C Installation Kit.
C5UZ-19B969-A
.. 170 I-6 Mount & Drive Kit
C5UZ-19B969-A
.. 240 I-6 Mount & Drive Kit.
And, if y'all have the 1964/72 Ford Truck Parts Catalog, take a gander at Illustration Section 195, Page 1 = Shows all the parts for the 1964 Econoline DASH mounted A/C bezel, condenser, blower motor & etc.
FoMoCo offered dozens of accessories that most of y'all have never heard of. Some are listed in accessory brochures that were passed out by dealers, but...
All are listed in the spiral notebook accessory catalogs that partsguys used at the parts counter.
Ever see a CB radio for a 1961/67 Econoline (prolly not)? How about the side steps offered for Econoline & Styleside pickups, or the ventilated seat cushions, tissue dispensers, child safety locks or vacuum ashtrays (no, I'm not kidding).
04-19-2011, 11:28 PM
Join Date: Feb 2011
Location: Las Vegas NV.
Posts: 101
NumberDummy:
when you mentioned the side step is this roll out step that opened with the side door?
or more like a step bar.
Also the vacuum ash tray is an interesting idea. can you tell me the vacuum source?
I work with BMW and after seeing all the goofy features we have
(and we still have lighters and ash trays) we don't have that one.
04-20-2011, 09:24 AM
To install the step (also available for '60's Styleside pickups), you have to cut a hole in the bedside, cuz that's where it fits into. Then, you need to drill 4 holes in the sheet metal for the 4 screws used to retain it, and...
Only one a your feet will fit (unless you are Billy Barty sized), cuz the step isn't very wide (or very deep either).
C3UZ-8720092-A
.. Body Side Step Kit / Accessory catalog sez:
Quality aluminum, auxillary side step ... a real convenience in loading and unloading. Pickups and Econoline. Price $9.90.
It may have been convenient, but I've never seen one installed in anything. However, if you want one...
JST AUTOMOTIVE in Lebanon TN has TWO = 615-443-3086.
CARPENTER NOS OBSOLETE PARTS in Concord NC has TWO = 800-476-9653.
But...I doubt you can buy it for the original $9.90 price.
I have had NOS vacuum ashtrays in the past, but never have seen one installed in a vehicle, and never paid attention to the instruction sheet that came w/the kit. These were also available for 1950/60's Passenger Cars.
Couldn't find a part number for it, but as I recall, the part number's prefix was C0AB. I did find the part number for the vacuum cleaner kit (!), not previously mentioned.
07-24-2013, 12:14 PM
sorry for re-hashing an old thread, but i believe i have one of these step mechanisms you're talking about. lever in the van behind the passenger seat that actuates the mechanism and moves a step platform out from under the van.
i had removed it due to it interfering with my plans for exhaust. It's missing quite a few bits, but nothing that couldnt be replaced with a trip to a ocal hardware store.
we're talking about this little step between the wheel arches, right?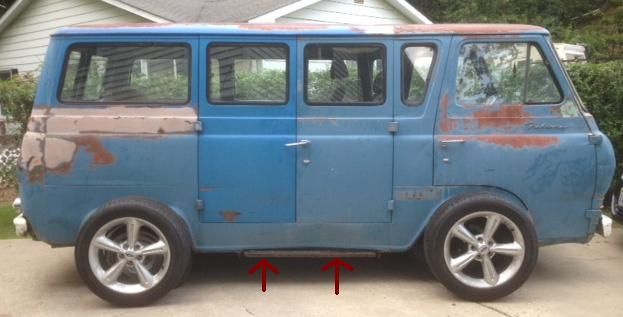 07-24-2013, 07:51 PM
i stand corrected. the mechanism i have is not what NumberDummy was referring to.
He listed the part number for this side step (C3UZ-8720092-A);
i have something that looks like it was lever actuated or possibly that lever attached to the side door and was actuated when the door had been opened.