What can I expect to get?
02-16-2011, 10:06 PM
What can I expect to get?
---
Buying a 351W pulled short block from a 1993 F250, oil pan, oil pump, water pump and balancer included, stock bores.
Seller does not have motor in his possession, it is at a friend's house, the only numbers he has to give me off the block are "351 WCP-9" - not sure what that means...
The price is right so I will just go ahead and buy it, but what can I expect to get?
-roller block?
-2 or 4 bolt mains?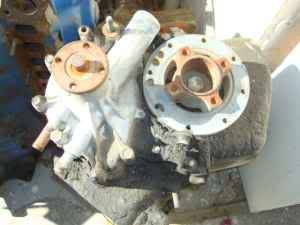 02-17-2011, 07:14 AM
No 4-bolt 5.8 Ws, all 2. Block is roller "capable", notice the holes in the lifter valley. Stock roller parts (retaining spider) will bolt right in. Block # is on flat pad above starter mount.
02-19-2011, 07:39 AM
Buying a used engine's a crapshoot whatever the price & nothing but a magnaflux check will say for sure. $250 for a re-buildable 5.8 core is OK, not great. I personaly don't care to buy a core that has had its heads off for a significant amount of time as that one appears to been.

Question is, if you get it home & take the pan off and find a broke rod wedged in one bores, can you get your money back? I just used that as an example of something "obviously" wrong, not that 5.8s have a history of breaking rods. (They're pretty stout stock rods)
Thread
Thread Starter
Forum
Replies
Last Post
1973 - 1979 F-100 & Larger F-Series Trucks
1948 - 1956 F1, F100 & Larger F-Series Trucks
1980 - 1986 Bullnose F100, F150 & Larger F-Series Trucks