Introduction and thanks in advance
01-26-2011, 09:38 PM
Introduction and thanks in advance
---
I've been reading the forum for a few weeks now and wanted to introduce myself. Also, thanks for all the help you guys will be giving me! I've loved the F100 since I was a kid and decided to pick one up as a retirement present. I'm 31 years old and went out on a medical retirement. My pain level plus trying to make extra money to pay the bills will keep this a very slow project but I'm looking forward to it.
This is a '54 four speed with a 239 in it. I've got an AOD and I'm picking up a 302 in a couple weeks so the Y block will be coming out. I plan the usual suspension mods and other than that, will keep it fairly close to factory, as much as $$$ allows.
The best thing about this girl is that it's all surface rust...so far.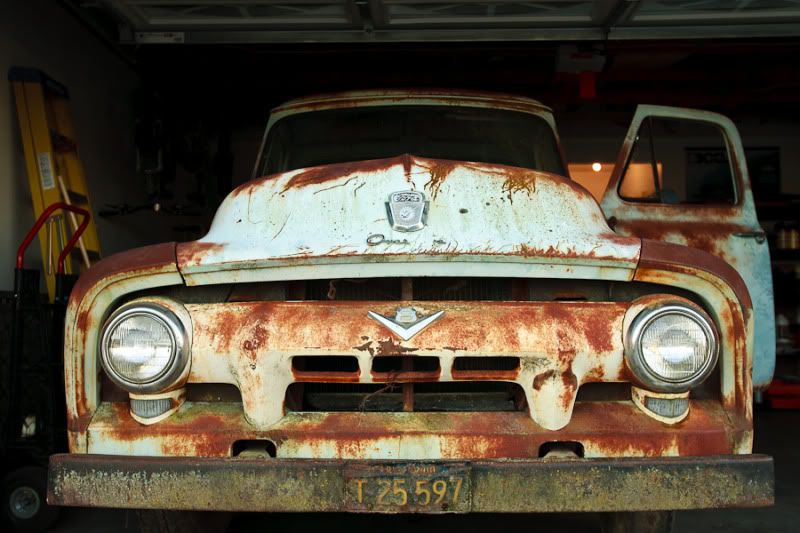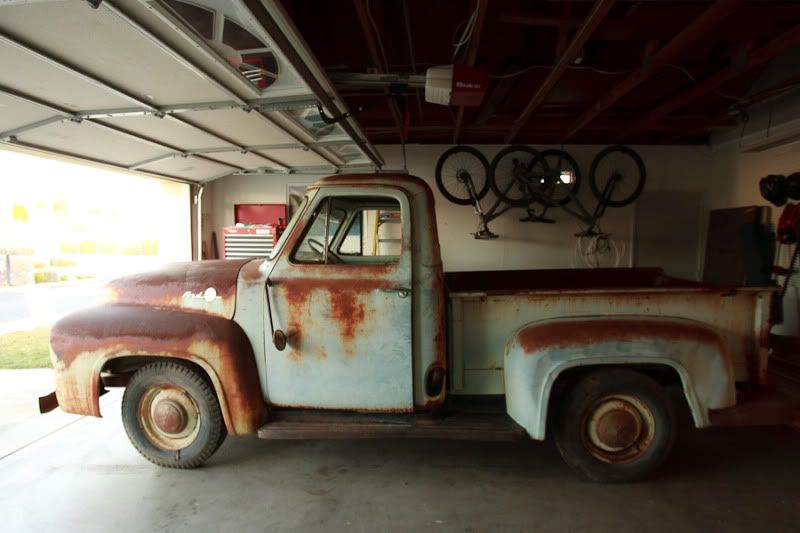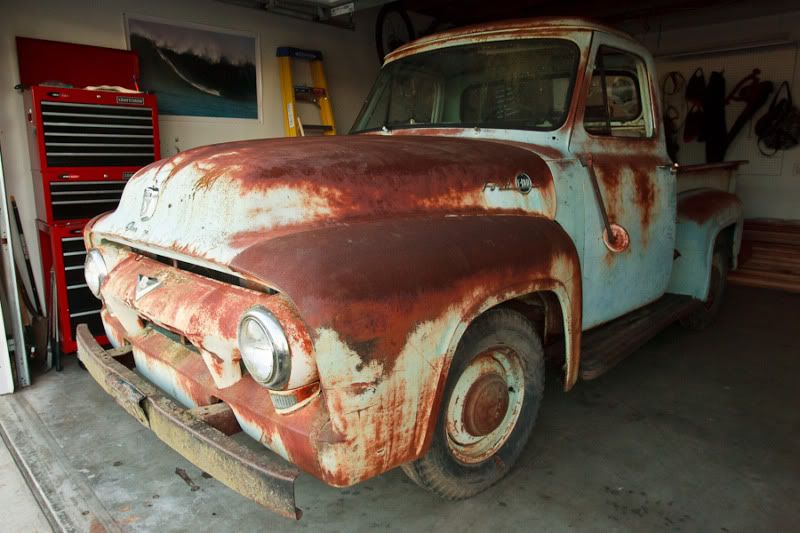 01-26-2011, 09:45 PM
That looks like a very nice starting place. Take your time and enjoy the process. There are a lot of fantastic experts here. (There are also folks like me.
)
If you put your location in your profile in the additional information, you might find fellow members close by.
Be sure to keep us updated on your progress.
01-26-2011, 09:59 PM
Thanks everyone. I'll shoot pics as I go. I'm actually a photographer now but I specialize in pets, not cars. Some days I'll shoot some fancy shots and others will just be snapshots to document progress. I did take a front end shot that I printed 11x17". It's going up in the garage next to a space for the "finished" photos.
01-26-2011, 10:48 PM
As Havi said, these are great therapy for life's ailments. If you finish it too fast you'll just want to buy another one. Then you'll have to convince your wife that's also part of the therapy - slippery slope man!

Welcome!
Tim
01-26-2011, 10:57 PM
Welcome! When I saw the first picture, I immediately thought to myself "now there's a person that knows how to take photos!" Then I read that you're a professional photographer.
BTW, is that an "Overdive" emblem on the front of the hood?
01-26-2011, 11:05 PM
That is a portion of the Overdrive emblem. I wish it was intact since I plan on putting an AOD tranny in there. Thanks for the comment on the picture. What part of San Jose? I just retired from Palo Alto.
01-26-2011, 11:19 PM
I'm not really familiar with 53-56 trucks, but isn't having an OD in a truck kind of rare?
I'm in the best part of San Jose.
I'm in the Cambrian area.
I'm a year older than you, but still have to work.
It sucks to hear that you had to retire at such an early age due to a medical issue. Hopefully, it's nothing too serious or life threatening.
01-26-2011, 11:22 PM
The overdrive was an option. I dont know that it was rare. I'm pretty new to my research on these things.

My injury is not life threatening but messes up my quality of life quite a bit. I just have a lot of back pain but it's nothing I can't live it. It'll be a bummer when I have kids though. I wont be able to play football with them or wrestle around. But everything happens for a reason and I guess I just wasn't meant to be in that line of work.
---
Last edited by BFace805; 01-26-2011 at

11:23 PM

. Reason: spelling