Pictures (revisited) - Our early years in this hobby
12-03-2010, 03:49 PM
Pat Brady was the Roy Rogers sidekick who drove Nelliebelle. Roy and Dale lived in Aplle Valley, CA for years and had their museum up there in the high desert. Sometime around 1974 I had the pleasure of visiting the museum and seeing the real Nelliebelle as well as Roy Rogers horse "Trigger" that had been stuffed and put on display.
I grew up in Cincinnati and saw my share of rusted hulks as well. I remember my brother telling me one day that his patrol car (he was on the Cincinnati police force) had come apart when he was turning a corner. As I recall it was around 1963 and they were driving Dodge cars, the body of his car was so rotted in the undercarriage that the body seperated from the chassis.
I guess that growing up in the rust belt worked out well for me, I spent so much time patching rust holes that I got good enough at bodywork to make a pretty good living at it!
12-05-2010, 02:07 AM
not mine but my sons
---
hi folks i know this is a thread of our early pics with vintage cars the only ones i have are with of me with my 59 dodge and its been lost,so ill be happy to iclude my 2 yeard old son's early years in the hobby. i hope he dont become a ricer i told him i'd kick him out lol...
12-05-2010, 07:46 AM
My family wasn't much for picture taking but if they had it would be a pic of me and my dad laying under his 71 ford van changing the oil on a saturday afternoon.
12-05-2010, 11:04 AM
You were obviously spending a lot of money on gas instead of food. Glad to see you've filled out so nicely in later years
Me too.........
12-05-2010, 05:07 PM
Join Date: Jan 2009
Location: denver
Posts: 262
Here I am (the skinny one with the beach boys hair) with my little brother and buddys around my Honda 50 and in front of the ole man's pride and joy a '64 Ford XL 'vert...slim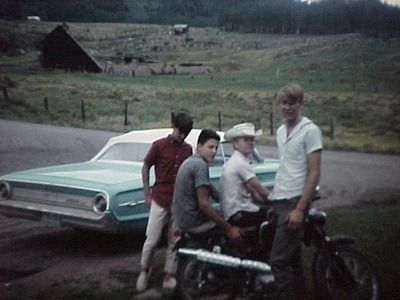 Thread
Thread Starter
Forum
Replies
Last Post
1957 - 1960 F100 & Larger F-Series Trucks
1948 - 1956 F1, F100 & Larger F-Series Trucks
1994.5 - 1997 7.3L Power Stroke Diesel