What have you done to your truck today?
03-26-2011, 12:56 AM
I didn't *actually* do anything to my truck today, but I did go visit a freind/auto shop owner that is *very* familiar with diesel pickups. (He got tired of the 6.blowup PSD in his stupid duty, swapped in a cummins) Anyways, we discussed the finer points of swapping diesels into older F100/F150 trucks.
I was seriously considering a 6.9L IDI/C6 swap into my truck, and he wants to build a bump/dentside shortbed with a cummins 6BT. After hours of discussion (interupted by cussing the nissan moron (our new nickname for the murano) we were changing the fuel pump and O2 sensor on, we came to one main conclusion, and a couple minor ones.
Main conclusion, the frame and king pin I-beams used under 65-81 1/2 tons should be fine for either the ~1000lb 6.9/7.3 or ~1000lb 6BT. Neither are that much heavier than a FE/460, and people swap these engines into 1/2 tons, as well as factory installed, all the time, and frequently add huge bullbars/winches to the front. No real problems.
Minor conclusions. He is stuck on the cummins, and it's ~2500 RPM max, I'm stuck on the 6.9/7.3 IDI. Both are about as stupidly reliable as they come....... And, both should return MPG in the mid 20's in a 1/2 ton with 2.75-3.25 rear gears.

So, I am now going to start looking a bit more actively for a 6.9/C6, preferably in a rusty or wrecked chassis that can be got for cheap.
03-26-2011, 01:37 AM
Bought more parts today. Flywheel, water pump, thermostat, oil pump pickup tube, motor mounts. These will be going onto the engine in a few days, once my finals are over. After that I've got to get the timing cover seal, belts, and some spools of wire.

3g alternator/electric fans here I come!
03-26-2011, 11:08 AM
Had my d44 ttb parts blasted, and I am rattle-canning them right now (knuckles and springs with rustoleum clean metal primer to prevent any surface rust.) I might be deploying soon and don't want to have to get them blasted again.
I am thinking por 15 for the two axle beams, what do you guys think?
Before:
After: (Plus my 3.55 LS diff that needs new clutches)
Was also thinking to get these blasted, and put por 15 high temp stuff on them:
I also have all the other stuff I need (NP235, NP208 3.55 open diff (front)):
Plus driveshafts (front and hopefully the rear one I got is right).
03-26-2011, 05:27 PM
POR 15 is good stuff - providing you do all the prep and use it properly. On another vehicle I blasted some parts, used the phosphate treatment, and painted them with POR 15 base coat and then the satin-black top coat.

Looked good, but then I got into powder coating and decided I wanted the POR 15 off so's I could coat them. Back into the blast cabinet they went and .......... I discovered that the POR 15 was seriously on there. It was a real chore to get it off - lots and lots of time.

Again, the preparation is the key. The parts have to be extremely clean before blasting to ensure you don't embed the grease, and should be blasted with rough grit media to give a texture and etched with the phosphate treatment they recommend.
03-26-2011, 06:04 PM
i didnt do anything but i did buy some parts for it... headboard... tailgate.. and both sides of the bed (full)... i am happy with the buy. thanks.
fiftyfordfloored
aswell nice to meet people form the forum.
03-27-2011, 12:15 PM
Tore apart the back end of my frame, to clean it up and put on some MasterSeries to prevent future rust. Going to topcoat it with black Rustoleum.
Also replacing the leaf springs, and installing a new pinion seal and rear brake shoes.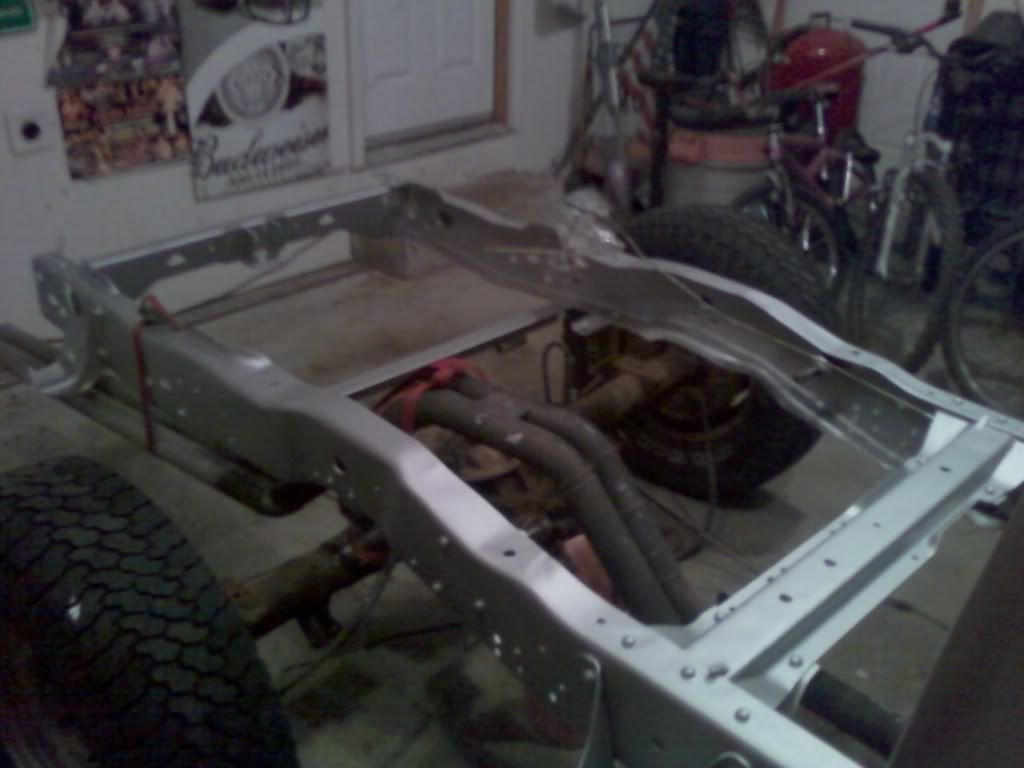 03-27-2011, 10:08 PM
Join Date: Dec 2010
Location: Harrisburg, PA.
Posts: 126
Today I put new calipers,rotor and pads on the front. I wanted to replace the brake hoses and lines but it was a little too cold. I went to the ceramic brake pads hoping to keep my wheels a little cleaner. My front wheels, the original aluminum 5 slot types, cleaned up real nice.Hardly any pitting at all on them. It's hard to believe they have remained that nice after 30 yrs. of PA. snow and salt roads.

Has anybody used the copper/nickel brake line? You can almost tie it in a knot and it's supposed to be corrosion/rust resistant. I'm going to give it a try. It has good reviews.
03-28-2011, 01:32 AM
03-28-2011, 07:49 AM
i rebuilt my np208 transfer case and put it back in, greased the u joints, and replaced the brake warning sensor on the proportioning valve with a brass plug cause it was leaking. she's road ready again!
03-28-2011, 10:35 AM
got my truck 01/15 .... put almost 3k on it...
03-28-2011, 11:41 AM