What have you done to your truck today?
11-17-2010, 04:04 PM
i think i lost about all my steam as far as working on my truck. i finally have all the drop brackets mounted, but need to drill a few holes before i can call that part finished. i still have to replace the inner axle stub u-joints, replace the axle pivot bushings, install new brake pads and rotors, replace the front driveshaft u-joints, swap over a set of warn hubs, and eight trillion other things. i'm sick of not having my '84 to drive but i'm also sick of working on it.
11-17-2010, 05:31 PM
If I was closer, i'd lend ya a hand on the 84. You'll eventually get her done though, and she'll be one heck of a trail rig.

As far as my truck, i've been paying alot more attention to my Ranger than the F100, so I haven't been able to do anything to the F100. I noticed the other day that the rear bumper was sagging, so I will need to get under there sometime and find out why it's sagging.
11-17-2010, 08:50 PM
11-17-2010, 08:51 PM
11-17-2010, 08:59 PM
11-17-2010, 09:05 PM
i appreciate the words guys. i just rented a building tonight that i can work in during the winter and use for vehicle storage, so i'm feeling a bit better. i'm going to slap the truck together this weekend to get it rolling again and trailer it out there to finish it up.

FordNFishinLover: i live in the rockford area. i've been out to the mattoon area quite a bit in my life. my brother went to school at eiu and i visited him quite often (college parties were great when i was in high school).
11-17-2010, 10:02 PM
Join Date: Aug 2010
Location: berea,ky.
Posts: 131
11-17-2010, 11:13 PM
Got that little light back in place for the headlight and wiper switch icons this afternoon. Awhile back I removed the factory blue cover and put red lens-repair tape in its place. The icons light up a nice shade of red to match the gauges.

Tomorrow I'm going with a friend to another friend's house to load up a big log...my church youth is having a lock-in and a bonfire Friday night, and I'm providing the firewood. I already took a load of it to the church the other day. We're going in my truck...my friend has an 80s Chevrolet with some hot rod goodies (it's awesome), I wonder how it'd do compared to my truck? He's got a cam, headers, 4bbl carb, etc., I'm mostly bone stock except for what I'm assuming is a shift kit a PO apparently installed.

1st to 2nd shift is normal, but it holds 2nd for a while before dropping to 3rd. It's a bit weird with an empty truck since it feels like I'm riding on the end of the gear, but when I had it loaded full of wood and stuff the other day, it helped get the load moving.
11-18-2010, 05:25 PM
Had a good day at the JY today. On a whim, I stopped by to see if they had anything that I might pirate, and they had just gotten in a '84 XLT. Ugly thing, but look what I got....
Left and Right power window switches. Both worked great, neither of my old ones did.
Left headlight bezel. Mine was cracked.
Right side body chrome/trim to replace the trim that got left in the woods somewhere...(damn those bushes)
Non-locking glove box latch. Mine was busted.
And then the biggie....!!
My pic is a little blurry, but this panel is in great shape. After I clean off the dust, it'll be perfect. I have the gauge type panel in my truck now, but without the factory tach.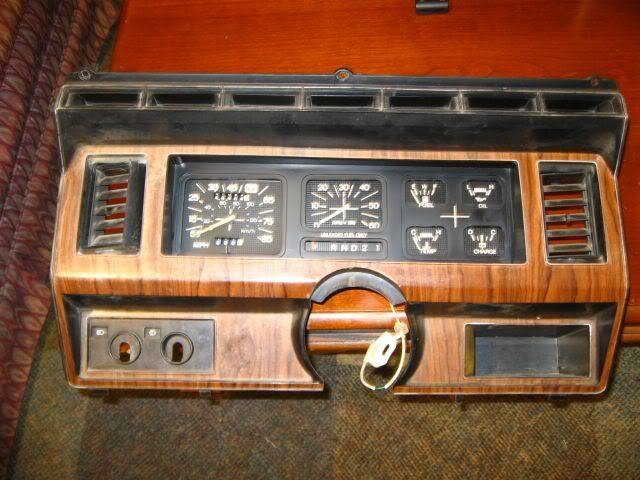 11-18-2010, 07:14 PM
11-19-2010, 12:33 AM
i went to work on my truck today and was met with three cordless drills with dead batteries. i searched high and low for the chargers, but had no luck (they were hiding safe and sound in my house across town). i was forced to pull out the old snap-on air drill that takes eons to drill with... followed by more time wasted looking for the right drill bits. i ended up with a little under an hour of daylight to work with after that and only managed to get two holes drilled. i still have three holes left to go, but at least i'll be better equipped tomorrow.
11-19-2010, 05:59 PM
11-19-2010, 09:03 PM
11-19-2010, 10:10 PM
11-19-2010, 11:54 PM
Pulled my water pump on the supercab, took the radiator out, drained all the coolant, then re-attached the lower hose and filled it with water to see if it was the problem, water started seeping out the weep hole. 50 bucks later and I got a new water pump and lower hose, and fuel line. Will go about installing them tomorrow.