08-22-2010, 12:37 PM
2000 f350 7.3l lariat limited
---
Year: 2000
Make: Ford
Model: F-350
Price: $15500
Mileage: 130000
Color: white/charcoal
Private or Dealer Listing: Private Listing
Location (State): UT
Transmission: Automatic
Drivetrain: 4WD & AWD
Color: White
Engine: 7.3l diesel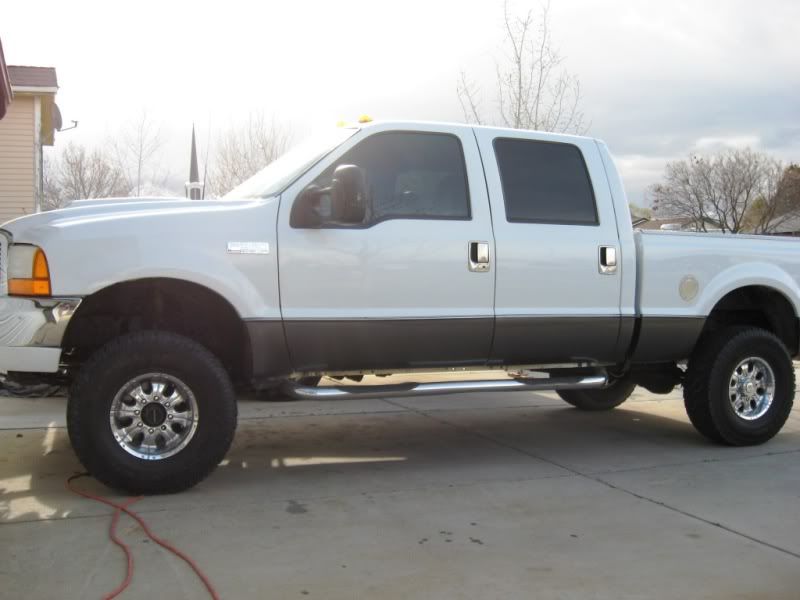 2000 ford f-350 XLT limited, newly rebuilt auto trans, 130k miles, 7.3l diesel. leather

extras- (exterior) lots of chrome, american racing chrome wheels, 35' all terrain tires, spray on bedliner, chrome grill, leveling kit,nerf bars, new shocks, lots of new suspension parts, new driveline, new hub bearings all the way around. New brakes, 2 month olsd 6.0l transmission cooler

(interior) 2 month old alpine stereo, tweeters, tint, great leather seats, and carpet

(engine) new full force stage 1 single shot injectors with about 5000 miles, brand new custom burned beans diesel tuner, new S&B cold air intake, 2 new batteries, 4" exhaust, gauges-pyro, trans temp, and boost,

truck runs, sounds, and looks awesome. I never run the high tuner settings, but they are there if you want them for lots of power. I just want a brand new truck.
__________________
2000 f350 4X4 124K, limited interior, autometer gauges, S&B cai, 4" straight exhaust, local built super hd trans, 6.0 trans cooler, foil delete, casserly stage 1 ss, beans tuner, 4" lift, 35s on 20s
08-23-2010, 06:21 PM
Nice Truck.Wish I was closer. *Free Bump*...
Tags
2000, 2003, 2008, 4x4, 73, 73l, diesel, f350, ford, forums, interior, lariat, ratings, sale, truck, trucks