T-shirts,decals,bumper stickers---Get Yours Now!!!
---
For those of you that weren't able to attend or that did attend and want some extras, there is a limited number of Mid-Atlantic Ford Truck Club-FTE. T-shirts, bumper stickers and window decals left. Click for larger image.

WINDOW DECAL $5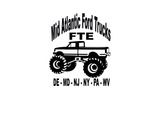 SHIRTS $15.00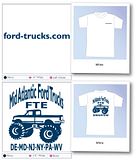 BUMPER STICKER $2.00





Postage and packaging-2.00

Show your club and your support. All proceeds pay for the materials. Any extra is applied toward next years event.

Thanks for being a part of the club.

Contact George (glruff)
__________________
Joe
STUFF IS COOL-TORQUE PULLS MORE STUFF- TORQUE IS COOL

Pennsylvania Chapter, Home of the Mid Atlantic Meet JOIN US HERE!