08-09-2012, 10:24 PM
16" half ton rims.....?
---
Taught I'd try this here, cause i'm not sure where else to go.

I was on the internet looking for tires for the fun of it, and came across these "1980 F150 rims", with 235/85R16 tires on it. The rims look mix matched, from older gen trucks.


heres a pic.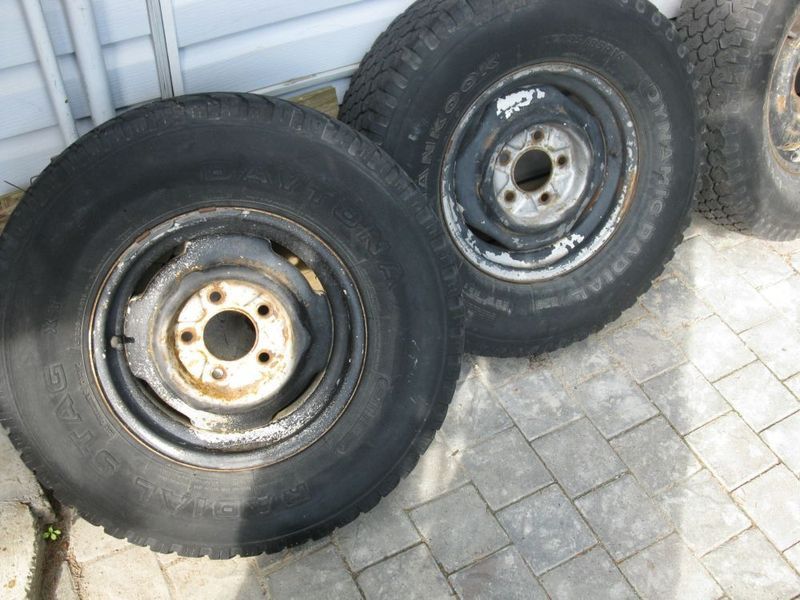 Anyone here knows what generation, if any had 16" rims on half tons?
__________________
1990 Ford F250 4x4, ZF5, L/S 4.10, N/A 7.3L Diesel, 568,808km/377,497 miles, still on the original clutch!
1989 Ford F150 300-6, C6, 2.73, 135,000km/84,000 miles.
1987 Ford E350 26ft. Motorhome, N/A 6.9L Diesel, C6, 3.54, 277,000km/173,000 miles.
1985 Ford E350 Ext Van, 6.9L Diesel, C6, 4.11, 670,000km/419k miles
08-10-2012, 09:40 PM
My 1970 F100 came with 5x5.5 bolt pattern 16" wheels. The tires were g78-16 tube type. Those tires and wheels were stolen from me when I put my mags on for the first time. They lasted one night in the back of my truck before they "disapeared". Anyways, I wanted to find those type wheels again and finally did. Took me quite a while to find them. I have not mounted tires on them yet. The tire size might have been 7.50x16? Now I don't remember the tire size exactly.
08-10-2012, 10:18 PM
Ford Parts Specialist

Garage is empty, add now

Join Date: Nov 2006

Location: Hacienda Heights CA

Posts: 51,730
5 lug, 5.50" bolt pattern 16" wheels were standard equipment thru 1954, became optional in 1955, were available thru 1979.

The left wheel is an "outie" (1965/79). The center and right wheels appear to be "innies" .. depending on width, 1948/52 F1 or 1953/66 F100, 1966 Bronco.

Outie = So called because the hubcap snaps over tabs located on the outside of the wheels center section.

Innie = So called because the hubcap snaps onto tabs located on the inside of the wheels center section.
__________________
Bill / Retired Ford Parts Manager / Part number research: 1928/2001 trucks & 1928/89 passenger cars.

2013 Escape FWD 2.0L Eco-Boost
16" half ton rims.....?
| | |
| --- | --- |
| Thread Tools | Search this Thread |
| | |
| | |
| --- | --- |
| Posting Rules | |