03-05-2012, 03:47 PM
04 F250 SD CC Lariat Fx4
---
Year: 2004
Make: Ford
Model: F-250
Price: $10000
Mileage: 170000
Color: Beige
Private or Dealer Listing: Private Listing
Location (State): MS
Transmission: Automatic
Drivetrain: Rear Wheel Drive
Color: Beige
Engine: Powerstroke 6.0L


04 F250 SD Crew Cab Lariat Fx4 6.0- 10K

170k miles, tan leather int., beige ext., on the drivers seat there are 2 rips, one is on the seam from previous owner taking the step bars off and sliding in and out, the there is a rip on the arm rest where your right elbow would sit, i can get pic of that, jus text me for more detailed pics and i can send them that way, other then that int. has no flaws, truck has the power sliding rear glass, truck also has a aftermarket radio with bluetooth- phone calls come thru the trucks speakers when linked to your phone, i also use it to play pandora thru the speaker, truck has black oval aftermarket step bars, tires on the truck are 4 months old with 3k miles on them at most, the headlights are 6k hi/lo Hids, fogs are 3k Hids, truck has the plug for the block heater 4wd engages and disengages everytime, ive used it once for joy, and 3 times to reassure myself on loading and unloading our boat..




sorry its dirty as i havent had time to get it cleaned up, these are the most recent pictures, names Justin Coltrain 601-408-2648

VIN number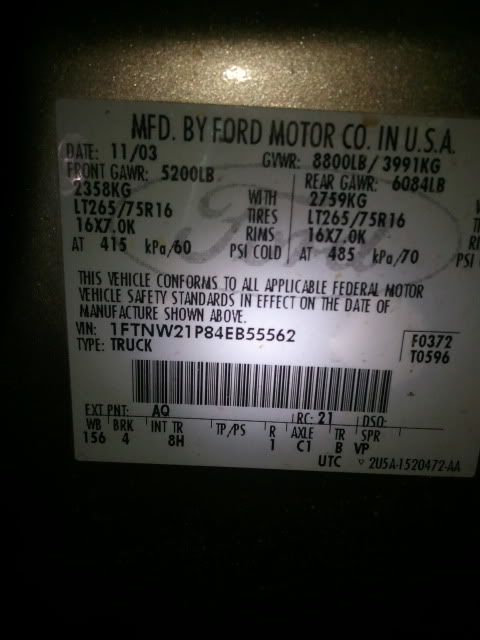 __________________
Coltrain- 04 F250 Lariat Crew Cab Fx4 6.0L
03-07-2012, 10:20 PM
SOLD!!!!!!!!
__________________
Coltrain- 04 F250 Lariat Crew Cab Fx4 6.0L
Tags
04, 2004, alaska, drivers, f250, ford, forums, fx4, lariat, number, read, reviews, sale, sd, seat, trucks, vin